Rocket to revenue with Salesforce CPQ.
Chart a new path to bigger sales with easier and more accurate quotes and billing.
Automate your CPQ (configure, price, quote) and billing processes with Salesforce Lightning.
Close more deals faster than you ever thought possible. Generate accurate quotes, better contracts, and faster cash.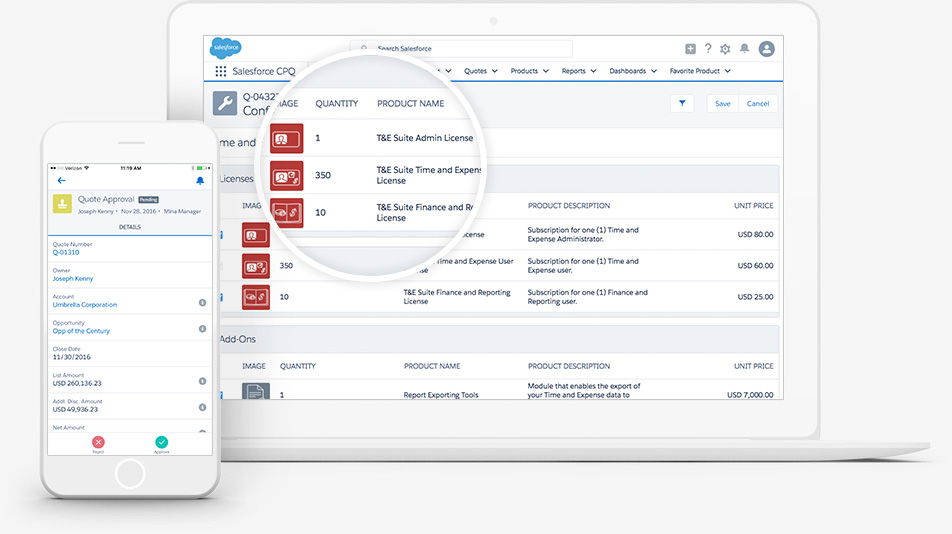 Build easy and accurate quotes.
Let sales reps select the right items for each customer, every time. Get consistent pricing and discounting — and approvals when you need them — even as reps send out more quotes.

Create faster and cleaner proposals and contracts.
Submit proposals that look the way you want every time, and cut time out of the process. Always include the right collateral and terms, and even integrate with eSignature for an easier buying experience.
Streamline billing and revenue recognition.
Send invoices and collect cash without complications. Easily manage subscription billing with flexible terms. Quickly recognize revenue and report on quotes, orders, invoices, and payments.
Find the right fit for your business.
CPQ
Configure, Price, Quote (CPQ) with Renewal and Order Automation
USD/month/user¹
(billed annually)
CPQ+
Rocket to revenue with Salesforce CPQ
USD/month/user¹
(billed annually)
CPQ & Billing Plus
Automate the complete quote-to-cash lifecycle all on one platform.
Pricing varies on your needs
¹ Canadian pricing available upon request
Speed from opportunity to revenue with the power of CPQ software.
Now there's a fast, easy way to streamline configuration, pricing, and quote generation. View a demo and see for yourself.