Personalize interactions with rich client profiles centered on personal goals and pivotal life events. Nurture deeper relationships by staying in touch with proactive tracking and event alerts that remind you to reach out when clients need you most.
Start each day in the Advisor Home page. Powerful productivity tools and integrated partner apps allow you to automate routine processes with customizable actions. And client referral tracking ensures you never miss an opportunity.
Connect with clients from any device, and build stronger relationships by engaging in micro-moments, responding to timely account alerts, and collaborating across the household on key life goals.
Salesforce Financial Services Cloud is built on the world's #1 CRM solution, with leading financial services partners, including PwC, Accenture, Deloitte, Yodlee, ASI and Informatica.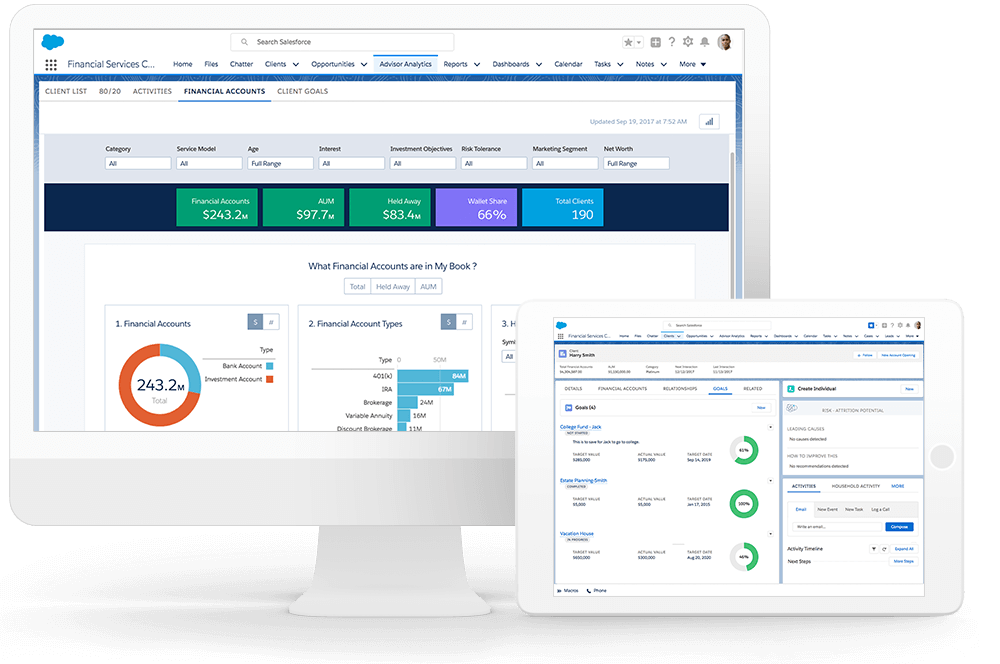 Visit our Financial Services Cloud page and explore all the ways you can guide clients on a journey to achieve their financial goals.
"With Financial Services Cloud, our advisors manage clients' entire financial lives."


80+
offices united and working together
63%
would like a collaborative relationship with their financial advisor *
37%
said their financial advisor is actually aware of their life goals *
67%
prefer financial advisors who offer mobile apps and the latest interactive tools *