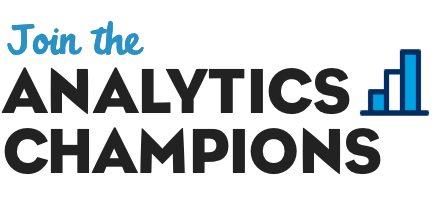 Be a Trailblazer. Share your expertise and help others blaze their trail.
Are you a pro with Einstein Analytics? Do you love to share your knowledge? Then you might be an Analytics Champion: an innovator who motivates and inspires others to learn new skills and advance their careers.
Show others that analytics is a powerful business transformation tool that can help them get a career edge.
You're passionate about Einstein Analytics


You're excited to share your expertise and help others advance their careers


You're up for a yearlong commitment to the program


You have significant experience using the product.
Becoming a Champion has its perks.
We want to celebrate you and reward you for sharing your expertise. We also want to help you feel and look like a champion.
Custom Analytics Champions swag


Access to our private Champions networking community


Exclusive opportunities to participate in Salesforce-sponsored events


Invitation to a private Champions event at Dreamforce


Eligibility for other perks like product feedback sessions and photo shoots
To be an active Analytics Champion, you'll need to:
Commit to a one-year participation period
Lead at least one activity each quarter, such as:

Speaking session
Hands-on workshop
Event booth staff shift
Publish a new blog post

Nominate at least one new Analytics Champion within the year
Share monthly highlights via social media