Trailblazer Guide for Sales
Optimize every selling day.
Welcome to the third in a three-part series of guides to help you get more from Salesforce. In this guide, you'll learn how to raise rep productivity, tap into the power of mobile apps, and guide your team to hit their numbers over and over.
Make these 6 moves to reach a new productive peak.
Each new day is a bold opportunity, especially if your team can skip the admin work and spend more time with customers. You can accomplish this and more by tapping into parts of Salesforce you have access to but may not be using. Consider automating sales tasks and create faster pathways from lead to cash faster. Then embrace breakthrough mobility solutions and email integration. Now your reps are ready to bounce out of bed each morning and crush quota. 

Set (and share) daily goals.
For your sales team to hit the next target, it needs to make daily progress — not try to work wonders at the close of the period. You can help reps pace themselves and stay energized by adding a dashboard with daily goals and priorities to their home page. We also recommend using Chatter to celebrate wins and high points of success, so the leadership and the entire team stays involved. 
Your reps should focus on what's most important, not just the first thing that comes up. Help them prioritize and leap ahead. With Lightning, you can give your reps a personalized home page, where they can receive intelligent alerts and recommendations on top priorities, including five-star opportunities and deals that need attention. They'll also get relevant news about their top accounts and industries with Account Insights.
Automate, automate, celebrate.
Let your reps spend time selling and winning, not on repetitive tasks. Process Builder is a simple point-and-click interface to automate the approval process for simple or sophisticated business requests. Use it to automate anything from deal discount approvals to travel and expense reports — without losing oversight. You can create email alerts for deals over a certain size, auto-assign tasks as a deal moves through different stages, and more. And approvers can respond at lightning speed via Chatter, email, or the mobile app.
Guide reps through the sales cycle.
Mistakes take time to correct, so make it easy to do tasks right the first time. You can guide behavior by building in requirements for each stage in the sales cycle. For example, you can use conditional formatting to require that products be attached before reps can move on. In Lightning, Sales Path makes it even easier to build in step-by-step guidance and requirements throughout the sales cycle.
Connect your email to Salesforce.
Keep working with the email applications you like, but let Salesforce help you do more with every click. Sync Gmail, Outlook, or Exchange with Salesforce and easily capture new contacts, events, and tasks. To save even more time, tap into the artificial intelligence of Einstein Activity Capture.
Rollout Salesforce for iOS and Android.
You know those times when you don't have your phone with you? Neither do we. Activate Salesforce for iOS and Android, and you'll turn your reps phones into efficient business tools. They'll be able to collaborate, prioritize their day, and manage their customers from anywhere. And no, you don't have to be a road warrior to get a huge boost of mobile productivity.
Take a fresh look at the mobile app.
Salesforce for iOS and Android is your key to productivity, whether your team is in the office, on an airplane, or checking in from a coffee shop. Everyone can access all their CRM data, existing customizations, and breakthrough productivity tools. 

Tap into sales insights anywhere.
Plan your day by cross-referencing your calendar with Salesforce to give you targeted information for your appointments.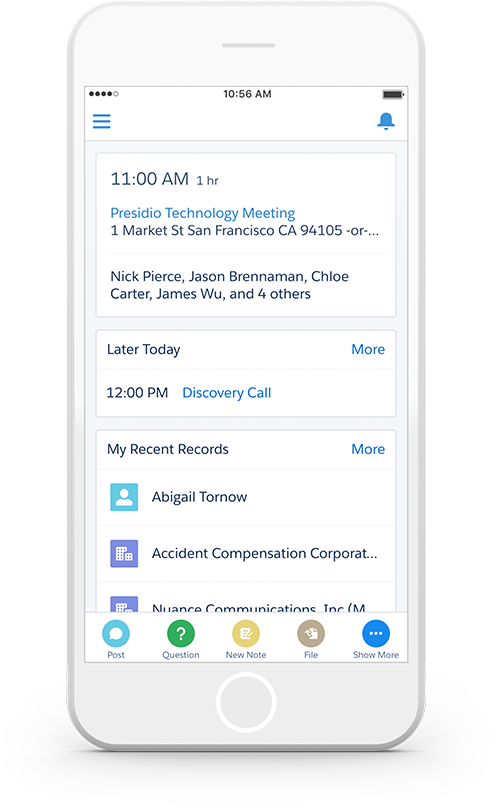 Surface news about the accounts you follow to give you a timely heads-up on new opportunities or challenges.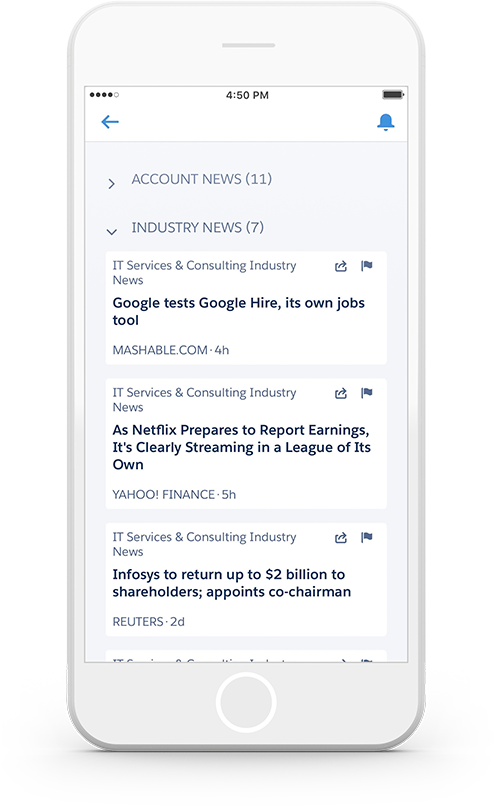 It's the best place to take notes during client meetings, because they'll be saved to the right record, where you can always find them.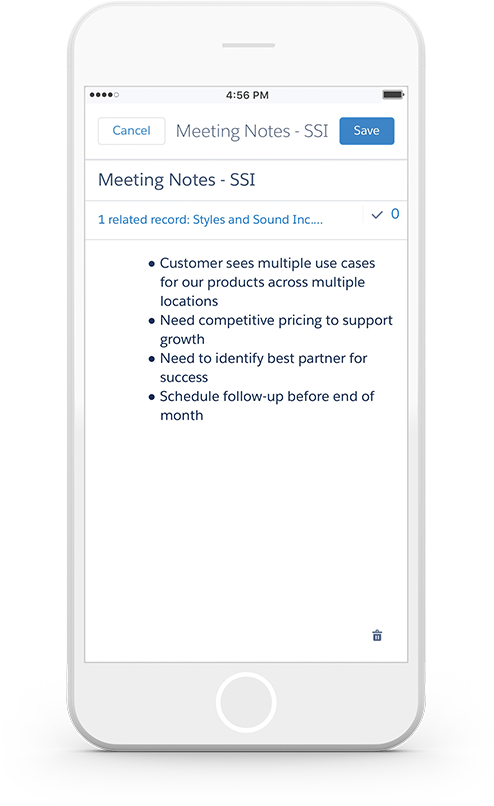 Gain easier access to the entire team from your mobile device, so everyone can collaborate from anywhere.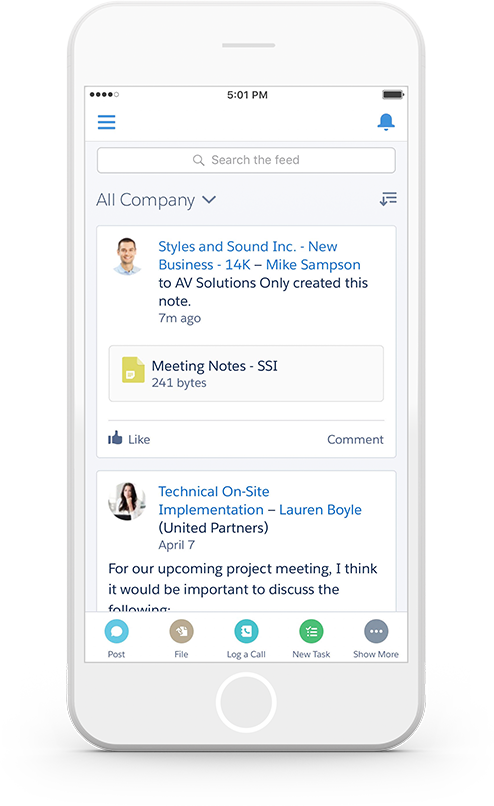 Designed for admins, this app makes it easy to approve deals and discounts and update user records on the go.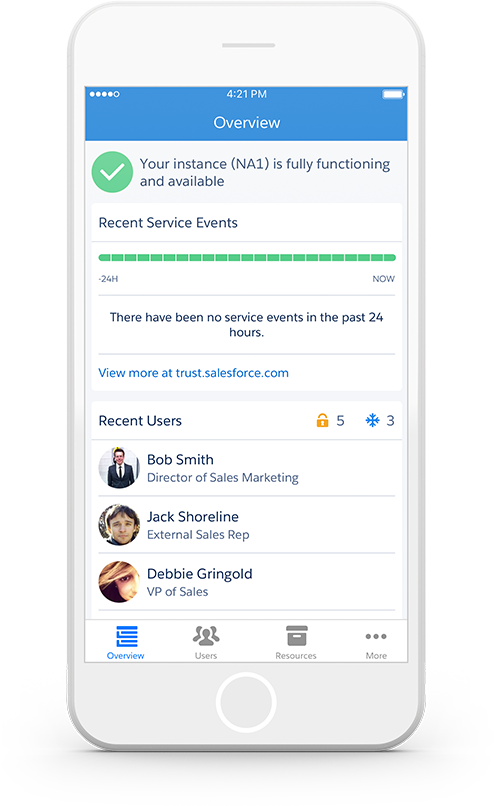 "We need to make it easier for reps by having them focus on answering questions like this: What accounts should I work on next? What calls should I make next? What piece of research should I put in front of my client next through these nurture campaigns and other things that we do? Build a point of view with your sales team and do it quickly."
Jump on the path to productivity with these expert guides, resources, and paths to learning. 





Read more guides, and blaze new trails.
Are you dreaming of fresh ways to engage with data, reps, and customers? You can make your dreams come true with these additional Trailblazer guides and the CRM you already have:
OPTIMIZE EVERY SELLING DAY