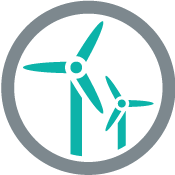 We're committed to a sustainable future for all
We believe that the business of business is to improve the state of the world, and we work to make sure Salesforce is a platform for change through serving the interests of all our stakeholders — employees, customers, partners, communities and the environment. We're working to play a meaningful role in creating a sustainable, low-carbon future by:
Working toward 100 percent renewable energy for our global operations
Continuing to deliver our customers a carbon neutral cloud and operate as a net-zero greenhouse gas emissions company
Pursuing green building certification and other innovative green office initiatives
Leveraging our people, technology and resources to help environmental causes around the world 
When it comes to protecting our planet and combating climate change, we know that companies have a key role to play. We aspire to never settle for the status quo. At every turn, we look to innovate, taking bold action and paving the way for others to join us. Together we can create a more sustainable future.
Our Road to 100% Renewable Energy
Commitment to Clean Energy
As a cloud company, our most significant direct environmental impact is the emissions associated with the electricity consumption at our data centers. We are focused on sourcing clean, renewable energy and improving efficiency throughout our
operations
. In 2013, Salesforce became one of the first cloud companies to commit to powering all data center operations with renewable energy. In 2015, we
expanded our commitment
to cover all global operations. Each year, we work to improve our renewable energy procurement practices, moving toward more locally sourced, impactful purchases.
Investments in Renewable Energy
We're making progress by supporting renewable energy projects, advocating for clean energy, and partnering with likeminded organizations. At the end of FY16, we signed two 12-year wind energy agreements in West Virginia and Texas. This represented our biggest step yet toward powering 100 percent of our global operations with clean and renewable energy. Together, these virtual power purchase agreements are expected to generate 227,000 megawatt hours annually.
We see the development of renewables as an important part of our sustainability strategy. To address the challenges companies face when buying renewable energy, we became a founding member of the Business Renewables Center (BRC) and helped to develop both the
Corporate Renewable Energy Buyers' Principles
and the
Corporate Colocation and Cloud Buyers' Principles
. Salesforce is thrilled to be participating in this work and contributing to a global shift toward clean energy and more sustainable data center operations.
Operating as a Net-Zero Company
Salesforce achieved net-zero greenhouse gas emissions in 2017 using a three-step, iterative process: Avoid, Reduce, Mitigate. Here are examples of key activities for each step:
Avoid emissions by siting facilities on clean electricity grids
Reduce emissions through resource efficiency and renewable energy procurement
Mitigate remaining emissions through renewable energy or high-quality carbon credits
To mitigate our climate impact, we're supporting sustainable development projects through the purchase of carbon credits. Each carbon credit represents the removal/avoidance of one metric ton of carbon dioxide (or its equivalent) from the atmosphere. These offsets cover Salesforce's global Scope 1 and 2 emissions, as defined by the GHG Protocol.
To deliver our customers a carbon neutral cloud we went even further, offsetting emissions throughout our data center supply chain. This includes indirect (Scope 3) impacts such as manufacturing servers, data center operations, and the impact of our customers using Salesforce on their personal devices.
Read more about our mitigation program here.