Conagra brands is a Trailblazer
Conagra grows iconic brands with Salesforce and Google.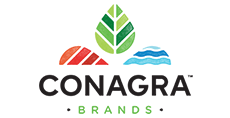 ~17,000 employees
Salesforce customer since 2014
Conagra Brands finds a recipe for success with both consumers and B2B customers.
How do you take a 100-year-old food manufacturing conglomerate, turn it into a branded food company, and undergo digital transformation to drive scale and agility?
In 2016, ConAgra Foods had all that change ahead of it. The company saw the potential to drive growth by investing in its popular brands, so it refocused, divested noncore businesses, and changed its name to Conagra Brands.
That ensured the company was well-positioned to tackle the challenges facing all consumer goods companies, including lack of access to consumer data and balancing the needs of consumers with those of their business-to-business (B2B) customers such as retailers. Conagra turned to Salesforce to assist with its transformation.
Conagra is a Trailblazer in branded food.
Conagra has more than 100 food brands, including iconic names such as Birds Eye, Marie Callender's, Healthy Choice, and Angie's BOOMCHICKAPOP. Headquartered in Chicago, the company spans 50 locations across the U.S., Canada, and Mexico, with approximately 17,000 employees.
One key to its reinvention as a consumer goods company is its ability to engage with consumers in real time to build successful brands. However, excelling in consumer marketing is only one part of the equation for consumer goods companies. They also need to deliver their products seamlessly and forge close relationships with B2B customers to deliver better brand outcomes. In Conagra's case, that means food distributors and retailers. And with so many brands and relationships, Conagra also needed to drive scale and efficiency — as well as speed to market and innovation to keep it ahead of the competition.
All this required a comprehensive digital transformation. "We needed to bring new digital capabilities into our company. Salesforce has really helped us scale those capabilities across three crucial areas — sales, marketing, and service. All are vital to how we are turning ourselves into a consumer-centric company," said DeLu Jackson, Vice President of Precision Marketing.
Explore the products that are helping Conagra Brands grow.
Data analytics becomes "demand science."
Data is at the core of Conagra's strategy. "We're reinventing what we used to call data analytics into what we now call demand science," said Bob Nolan, Senior Vice President of Demand Sciences at Conagra. "It's the start of every conversation we have here. What are people doing? What are they consuming? How are their behaviors changing? We work with everybody in our company, including the brand teams, the marketing team, and the R&D team."
Nolan's team gathers insights using Marketing Cloud's data-sharing platform, Data Studio, and data management platform, Audience Studio. "In the past, we had lots of different systems that didn't talk to each other. Salesforce has brought together our customer data into one place," he adds. This enables the company to better understand and connect with its consumers.
Consumer insights enable innovation and tailored content.
With much improved insights from this data, the company can target consumers with tailored content using Advertising Studio and Email Studio. The company also offers digital experiences that help capture first-party consumer data and provide strong brand interaction. For example, its Ready Set Eat website offers consumers customized newsletters and personalized recipes based on their individual profiles on the site.
Demand science is helping Conagra innovate with new processes and new products. To this end, it has started using Marketing Cloud's integration with Google Analytics 360. "Google Analytics integration allows us to uncover more consumer behaviors — what people are actually doing as opposed to what they say they're doing," says Mindy Simon, CIO of Conagra Brands. "Then we activate those insights using the Salesforce Platform, contextualizing our marketing content, identifying pockets of growth, and innovating with products."

"We needed to bring new capabilities into our company. Salesforce has really helped us scale those capabilities across three crucial areas — sales, marketing, and service. All are vital to how we are turning ourselves into a consumer-centric company."
B2B becomes "more like consumer ecommerce."
Sales Cloud is crucial to helping Conagra's sales teams work smarter and faster, while building relationships and trust with B2B customers. For example, the company is using the "next best actions" feature in Salesforce's artificial intelligence tool, Einstein. This feature uses rules and predictive modeling to provide sales reps with in-context recommendations, so they can make the right offers and responses to customers at the right time.
"With Salesforce technologies, our traditional B2B model is starting to look more like consumer ecommerce — with enhanced, personalized services for our customers," says Jackson.
Data analytics becomes "demand science."
Meanwhile, Conagra is using Marketing Cloud's Social Studio to gain a deeper understanding of consumers. In January 2019 alone, Conagra gained insights from more than 15 million @mentions in social media — and these insights are already yielding results. For example, the company discovered that "soccer snacks" were a growing need among consumers. So it created a "Soccer Snack Pack," opening up new shelf space in stores and driving greater demand.
In addition, Service Cloud is helping Conagra improve its service for B2B customers — and connect with consumers. "We're using Social Studio and Service Cloud together to 'listen' to consumers — to understand what they're asking for and telling others about us," says Jackson. By tuning into social sentiment and feedback, they can proactively create cases and reach out to consumers. This allows Conagra to drive improved customer sentiment, improving brand stickiness. This allows the company to proactively tackle issues, improve consumer satisfaction, and better manage its brand image and voice on social media.
Integration helps drive the connected consumer experience.
With the integrations between Salesforce clouds like this, Conagra is providing a connected consumer experience. "This is really important for us — to understand consumers' demands, deliver great products, tell them about our great products, and make sure the products are easily available to them — all in a very seamless way. And data is the key to those connections," Jackson says.
To ensure the company continues to evolve for future success, Conagra is also investing in workforce transformation. Conagra's people have collectively taken more than 260 "trails" — interactive training modules under Salesforce's Trailhead program — to get more out of the technology platform.
Conagra has also instituted a training program in agile methodology. This is helping hundreds of employees from across departments work together more effectively and help drive innovation and agility throughout the company.
Keep exploring stories like this one.
Questions? We'll put you on the right path.
Ask about Salesforce products, pricing, implementation, or anything else. Our highly trained reps are standing by, ready to help.