"With Salesforce, we can grow our customer base and reseller network more easily."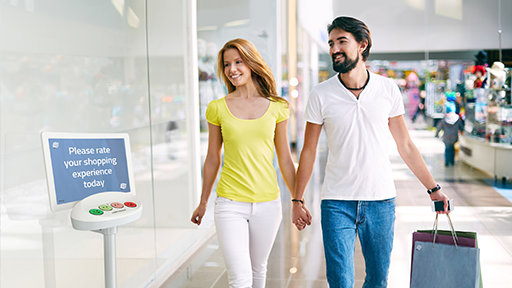 HappyOrNot grows their customer base and reseller network with the help of Salesforce
HappyOrNot is the global leader in instant customer and employee satisfaction reporting. Its innovative approach to collecting feedback via smileys and intelligent data analytics reporting service help clients to improve their customer experiences, relationships, and employee engagement. HappyOrNot helps many high-profile brands such as LinkedIn, IKEA, Heathrow Airport and American Express to improve their businesses by continuously measuring satisfaction levels of its customer and employee experience. 
As HappyOrNot reaches new customers through an extensive network of resellers as its own direct sales efforts, managing the sales pipeline was becoming increasingly complex. "We need to make it as easy as possible for our resellers to do business with us. We needed to enable greater integration and automation across our business to enhance growth," said Heikki Väänänen, CEO and Founder of HappyOrNot. 
"Salesforce has transformed our business processes and automated key tasks, which helps make us more effective, profitable, and competitive in a global market."
Salesforce platform offers flexibility
Since deploying Sales Cloud and Community Cloud in September 2014, HappyOrNot has gone on to add a billing solution from AppExchange and Pardot, and build its manufacturing, delivery, and financial processes with Salesforce App Cloud including the necessary integrations. 
"The Salesforce platform is not only scalable, but it's supported by an ecosystem of developers and apps that enables us to continuously expand and evolve our capabilities," said Esa Vasara, Director of Business Services at HappyOrNot. "Thanks to the flexibility of the Salesforce platform, we were able to start configuring the system almost on the fly while sourcing end user feedback. This meant we could bypass the usual requirement and review sessions, which would have impacted time-to-value for the business and our users," said Vasara.
Responding to the demands in the global market
"Salesforce has transformed our business processes and automated key tasks, which helps make us more effective, profitable, and competitive in a global market." Lead assignment, order fulfilment, invoicing, delivery management, and revenue tracking are just some of the processes that have been streamlined.
Online community fosters collaboration
To help resellers collaborate on leads, HappyOrNot has created an online community using Community Cloud. Resellers can not only view and manage leads and opportunities, but also track orders, returns, and deliveries, as well as check price lists, invoices, and their performance against sales targets. "Indirect sales are key to growing the business," said Vasara. "With the Salesforce community, we've transformed how we engage with resellers to make working with us easier, quicker, and more satisfying."
Lightning platform provides agility
To ensure it can fulfil demand for new terminals, HappyOrNot has built its core manufacturing and distribution systems on the Lightning platform.
With Salesforce, HappyOrNot can ship hundreds of terminals a day all over the world — and track the exact status of every delivery. "We now know when a customer has received their terminals and who has signed for them," said Vasara. "With Salesforce, we've reduced the order-to-implementation time at least by 50%."
Efficiency advantage with the help of Salesforce App Cloud
HappyOrNot has also radically reduced order-to-cash times. The invoicing processes that previously could take two months from order time can be now done in minutes if required. HappyOrNot has implemented solutions from the Salesforce App Cloud to take care of its order-to-cash processes, such as creating invoices and taking credit card payments. "What is really nice, is that as invoices are being created automatically and accurately, we've improved both cash flow and efficiency. For example, we eliminated two weeks of work per month for a member of the finance team who was previously stuck with a manual invoice process.
Greater self-service to support customers online
HappyOrNot is now turning its attention to its customers, with plans to implement an online community to enable greater self-service. "The sky's the limit with the customer community," said Vasara. "Although the initial focus will be around providing multi-channel support and a knowledge base for technical queries, we could extend it to licence management, upselling, and all sorts of other areas. We're really excited about the new Community Builder tools that are being introduced all the time."
Seamless multi-channel support with Service Cloud
HappyOrNot also wants to transform its approach to customer support. "Our service processes are getting too complex for our current system to handle effectively," said Vasara. "With Service Cloud, our small team will be able to provide seamless multi-channel support to a growing global customer base." It has already clocked up some great growth statistics: since deploying Salesforce in 2014, HappyOrNot has onboarded loads more resellers, expanded its services to 117 countries and tripled its headcount. "It's all about speed for us," said Väänänen. "With Salesforce, we can grow our customer base and reseller network more easily and quickly. And we're already getting results — Q1 of 2017 was our best quarter ever!"
Keep exploring stories like this one
Questions? We'll put you on the right path.
Ask about Salesforce products, pricing, implementation, or anything else. Our highly trained reps are standing by, ready to help.