Salesforce Webinars
Questions? Call us at 1-800-667-6389.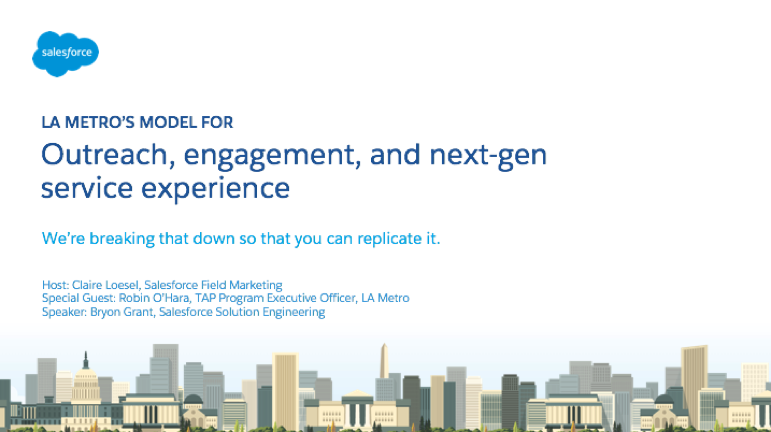 LA Metro's Model for Outreach, Engagement, and Next-Gen Service Experience
Featured Speakers:
Robin O'Hara, Executive Officer, Transit Access Pass Program, L.A. Metro
Claire Loesel, Senior Marketing Manager, Public Sector, Salesforce
Bryon Grant, Marketing Cloud Principal Solutions Engineer, Salesforce
---
LA Metro, one of 27 transit systems moving LA County's 10 million people, combined traditional and modern transportation services, building a strategic model that turned transit cards into transit accounts and as a result demonstrated what it really means to "think regionally."

Robin O'Hara, Chief Executive Officer of Transit Access Pass Program L.A. Metro, joins us to break this down in a webinar that not only looks at the model's design criteria, but also the tools behind it — Salesforce Marketing Cloud, Salesforce Service Cloud, and the Salesforce Platform.

Learn from her experience, understand her insights, and use her advice to create a real-time, one-stop, cross-channel service experience across your mission.
Please fill out all fields.