Salesforce Webinars
Questions? Call us at 1-800-667-6389.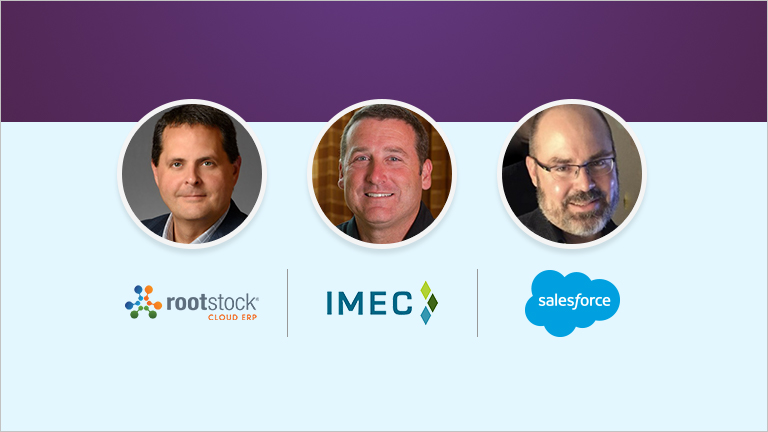 Unlocking the ERP: Breaking Down the Platform Silos to Improve ROI
Featured Speakers:
Dave Stephans, Chief Revenue Officer, Rootstock
John Remsey, Senior Technical Specialist, IMEC
Tony Kratovil, RVP, Industry Go To Market, Salesforce
---
According to the 2018 'State of Digital Business Transformation' Forbes report, 55% of startups have already adopted a digital business strategy compared to 38% of traditional enterprises.In this exclusive webinar led by IMEC, in partnership with Salesforce and Rootstock, we will explore how more established manufacturers can unlock the potential of their ERP and other legacy platforms.

Our panel experts have decades of manufacturing experience designing and improving ERP systems. They will offer "on-the-ground" reflections on the current state of the manufacturing back office and offer suggestions for how to unlock the data stored in your legacy systems and accommodate for new vital technology, including the integration of AI and machine learning. Gain a clearer understanding of why 92% of ERP systems often require manual intervention in order for users to enable data sharing and achieve a unified data view*. And learn how to create a single digital thread that offers complete visibility into your operations from invoicing to field service.

The webinar will explore topics, such as:
How to integrate information from ERP, Supply Chain, Operational, and IoT systems and leverage machine learning and AI into your overall business processes.
How to improve customer experience, leverage enterprise product and customer knowledge, and reduce the overall cost to serve customers.
How to gain better visibility into your invoicing, supply chain, internal or channel-led sales processes.
How to view and run reports on data from multiple platforms
How to get closer to your customer through insights and more relevant communications
How predictive forecasting can change the business
Please fill out all fields.