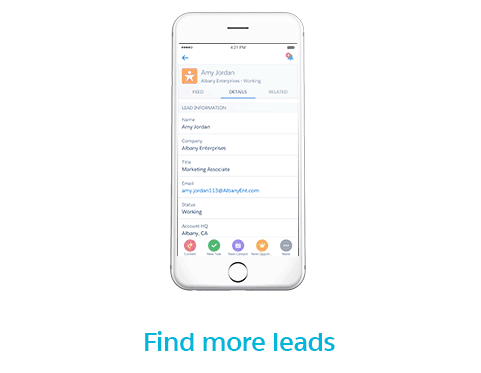 Sell, service, market, and connect to grow your business every day.
Salesforce is an easy-to-use, cloud-based CRM (customer relationship management) solution used by businesses in every industry to increase sales, generate more leads, improve customer service, and ultimately grow. With no hardware or software to maintain, Salesforce scales to your business needs and helps you keep costs down and do more with small teams.
It's the business management solution for those who don't want the hassles of business software — and there's nothing to install. You simply log in through a Web browser and everything you need to succeed with your sales process, lead generation, and account management is at your fingertips.
In fact, Salesforce CRM solutions save your company time and money by automating tasks that can keep your people from focusing on customers and big picture initiatives. And because our products work 100% in the cloud, they eliminate the need for costly on-premises IT staff, costly repairs, downtime, and software upgrades.
What makes Salesforce ideal for you?
It's a cloud-based CRM solution.
Low setup costs. No hardware, no software, no hassle.
Automatic upgrades: 3 times a year.
Out-of-the-box and customizable CRM to run your business in one place.
Scales with your business. Add users when you need to.
Integrate with best-in-class apps.
Enterprise-level cloud security for businesses of any size.
It helps increase sales.
On average, Salesforce customers see a 37% jump in sales revenue.
Want to learn more about CRM? Contact us.
Small business CRM from Salesforce
At Salesforce, we believe small businesses can use technology as a force multiplier to punch way above their weight. Our cloud-based CRM solution levels the playing field for your small business.
Because Salesforce is in the cloud, it can grow and scale with your business. You can easily add features from tons of apps in our marketplaces without adding costly infrastructure, and Salesforce upgrades are instantly implemented as soon as they're available. With all your information on customers, prospects, and leads stored on a single online platform, everyone in your business has access to the latest information — no more version control headaches or out-of-date spreadsheets. Need to ensure your salespeople have access to the information they need when out at customer meetings? No problem. Our CRM system is fully mobile, so your data is available on any connected device, at any time.
On average, Salesforce helps our customers boost their sales by 37%. But the benefits of Salesforce CRM for small business don't end when you make a sale. Customer service benefits, too. Our solutions help to build stronger relationships with your current customers, win new ones, and accelerate business growth. And intelligent marketing automation helps you focus resources on the tasks that really add value, while a common platform for all your data helps to build strong relationships across all your channels, including social, Web, email, and customer call centers.