How Salesforce builds equality into organisational DNA

Francis Anthony was in a good role in Bangalore when personal circumstances forced him to start looking for a new job in Hyderabad. His search led him to Salesforce. Three months down the line, Francis is convinced that this was the best thing that could have happened to him.
Highly stimulated by the kind of work he does and loving the fact that being here is more than 'just a job', Francis says that most importantly, he can be a 100% himself at Salesforce, transforming and living his every day to the fullest.
Tell us about your background and how you got into tech.
I actually have a Master's degree in Literature and Linguistics, and had absolutely no intention of getting into technology. 16 years ago, when I was studying Japanese at the Central Institute for English and Foreign Languages in Hyderabad, a company visited our campus to recruit technical writers. They were offering good money and the tech sector was a fast-growing sector. So purely by happy accident, I set foot in this sector.
I have variously worked as a technical writer, curriculum developer, instructional designer, and people manager. And here I am, 16 years later, working as Technical Writing Leader for one of the foremost tech companies in the world.
How did your Salesforce adventure begin?
Honestly, I was very happy in my previous job and not looking for a change. But personal circumstances forced me to start looking for jobs in Hyderabad. I started applying to any relevant role – I was not too discriminating about the organisations I applied to.
Salesforce was one of these jobs. It was only as I went through the interview process and learnt more about the company that I realised what a legend the company is in the tech space.
Three months into the job, I am convinced that this is the best thing that could have happened to me! Salesforce has really upped the ante around the kind of work I do. I have worked for big brands before, but this company is unlike any other. The energy of the place, the incredibly smart people I work with – all stimulate my mind.
Describe a typical day for you.
I strive to achieve a work-life balance. I come in early at around 8:30 am and leave at 4:00pm. In the morning, there's usually a lot waiting for me because things have been progressing in the US while I was sleeping. I spend the first hour catching up on and ensuring that I am across everything that needs to be done.
I then spend most of the day working on content for Trailhead, our innovative and fun training programme for all Salesforce solutions.  This is what gets me up in the morning and brings me in to work. I love working on Trailhead. Imagine creating content for a tech company and being encouraged to infuse it with your personality and creativity. What more could I ask for as a writer?
Besides these daily tasks, everyone at Salesforce is also encouraged to participate in  a thousand other initiatives around volunteering, organising conferences, and working with charities. I, for example, volunteer with the Indian National Trust for Arts and Cultural Heritage (INTACH), helping lead their digital marketing and communication efforts. At Salesforce, I get to do so much more than just work and that really keeps me going.

We are a values-driven organisation. What Salesforce value resonates with you the most and why?
That would definitely be innovation. Salesforce is successful today because it does not rest on its laurels; it is constantly innovating.
For instance, the very first project I worked on was around chatbots for enterprises. We are now working on enterprise voicebots, and no one has done that kind of work before on this scale. It's phenomenal to work for a brand that is at the leading edge of technical innovation. I can say from first-hand experience that Salesforce's reputation as the world's most innovative company (Forbes magazine) is more than well deserved!
A lot of companies talk the talk, but few 'walk the walk'. How does Salesforce live the value of equality?
To me, Salesforce feels like an NGO masquerading as a multi-billion-dollar software firm! It is an extremely humane organisation. I have never been out at work before, always worrying about how employers would perceive my sexual identity, and whether it would affect my career progress given the conservative environment in India.
Salesforce empowered me to be my authentic self – I came out to everyone on day one, within the first hour of being in the company. The moment of truth was simple. I was sitting through the company's orientation programme with the other new employees, and saw a purposeful slide with an image of two guys holding hands. Many companies talk about equality, but here was a company that actually included a provocative image like this in a standard orientation deck. Images hold power and force people to face reality, and this one spoke volumes to me about the company's commitment to equality.
Salesforce has truly embraced equality and made it part of the company's DNA. I'll give you a few examples. When you fill out your profile on Chatter, our internal social networking tool, you are asked to choose your preferred pronoun – 30,000+ employees are doing this! The preferred pronouns of one of Salesforce's mascots, Astro, are 'they' and 'them'.
Every day, Salesforce is pushing boundaries and encouraging employees to do the same. Initiatives like Outforce, an employee resource group, empowers us to engage in discussions around equality of LGBT communities. I have had many conversations with colleagues; we have even disagreed without being disagreeable. These are conversations I would expect at a place like JNU, not in the world's best tech firm. And that shows me that for Salesforce, equality is just business as usual.

We strive to allow employees to bring their true self to work each day. How does Salesforce enable you to bring your authentic self to work?
In joining Salesforce, I did not compromise on brand or salary. But more importantly, I have not compromised on my personal value system.
I wake up every morning and know that I can bring all parts of me to work. I don't have to check in some part of me at the door before I enter. In earlier jobs, I always hid my sexuality because I felt that I would not be accepted for who I was. But here I can be confident in who I am.
How has working at Salesforce transformed your life and/or career?
Salesforce has decluttered my head and my life. Earlier I had two personalities – one at home with my friends and family, and a different one at work. Now, I don't need to worry about what I say, how I behave, what I represent – this has unshackled my mind and allowed me to work harder and be more productive.
Career wise, I did have to make compromises because of personal circumstances; the role I am in now is a step down from what I did previously. But at the end of the day, I am very happy. I am more at ease with myself and have peace of mind.

What superhero power would you choose and why?
Definitely teleportation! I love to travel and would enjoy the opportunity to be anywhere I want, whenever I want. I especially have a great fascination for Islamic cultures and would love to visit Islamic countries and experience them as a local.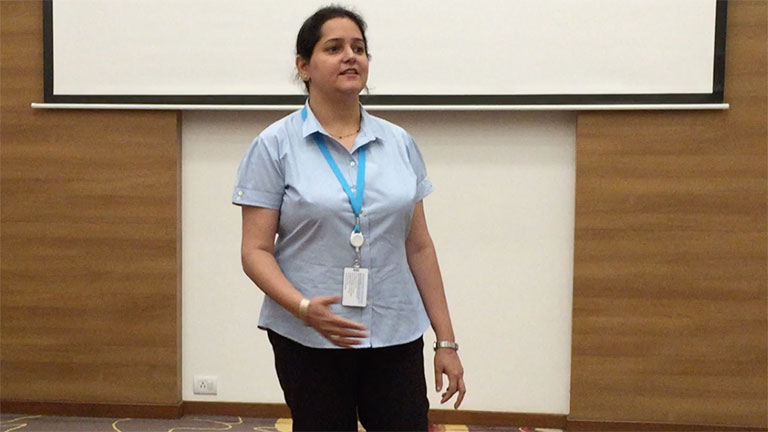 Sign up for our newsletter to stay in the know about upcoming jobs, tips to improve your work/life balance at your current job, and more!