May 31, 2018 by Sriram Dinavahi
Salesforce Industries: The Engine of Growth in India

In Salesforce's race to $20 billion, the first ever local Industries team in India will be the driving force for success. In this interview, we meet Sriram Dinavahi, Senior Vice President of Engineering, based in Hyderabad. Sri will lead a team of engineers who will develop industry-specific technologies that solve complex challenges to fuel customer growth. Learn more about his vision for the team, and what he looks for when he hires. 
Talk us through your background - where you grew up, career experience, etc.
I grew up in Mumbai, which is the financial capital of India. I did my undergrad for a few years in India before I went to the USA to do my Masters. Interestingly enough, I started my journey at a startup in San Francisco, then exited successfully after a few years and joined Oracle in the late 1990s. And here I am! I am in my fifth year at Salesforce, and I can truly say I am having the time of my life. Throughout my 20+ years of professional experience, I've captured opportunities in the enterprise space, server technology, and more. In terms of moving around, Salesforce is going to be my last stop. I'm thrilled to be here.
You were at Oracle for more than 10 years, so what inspired you to join salesforce 5 years ago?
It's funny you ask that because throughout my time at Oracle, Salesforce was looked at as a "cool" company in the enterprise space. Then very, very quickly, Salesforce became the force that changed the industry. Because of its reputation, I always aspired to be a part of the company. But for me, it wasn't about the amazing culture or the "coolness factor" that inspired me to join - it was the
technology innovation
. What was amazing to me at the time (and still is!) is the fact that Salesforce is able to deliver new innovation 3 times a year. Being able to deliver innovation at that pace was unheard of in the enterprise space. Even today, most of our competitors struggle to do this.
The innovation
is what drew me in, but now is only one part of what we do.
You've had the opportunity to work at headquarters in San Francisco for three years, and now in India for 2 years, so you've been a part of the rapid growth India is experiencing. what's it like to be in an environment like that?
We're seeing exponential year-over-year growth in the Technology & Product team in India. It is off the charts! The pace of innovation we deliver to our customers is going to be a brand new experience for everyone who is a part of the Salesforce Ohana - our employees, customers, partners, and communities.
We're on pace
to create 1.1 million jobs in India by 2022.
Speaking of growth - You're building out the first ever Industries team in India. Tell us about this team and the value it will bring to our customers.
I'd like to start with a brief background before talking about Industries specifically. At Salesforce, the customer is at the center of everything we do. We are laser-focused, committed to our customers and their success. It's very important for everyone to understand it starts with the customer. The second aspect of it, looking back at the 19 years of our history, the first objective was to get to $1B - we called this chapter one. The second chapter was to achieve $10B - and we are proud to be the fastest growing enterprise company to get there. Now we're on to the third chapter, which is getting to $20B. We will double our revenue from $10 - $20B in just the next few years. The focus on customer success and growth over the next few years will be exponential across the world.
Now I want to bring it back to the context of Industries because Industries will be the engine of growth to achieve that milestone of $20B - it's a key part of our strategy. We're in the midst of a technological transormation, and every company is coming to Salesforce to help them reinvent their business models and connect to their customers in a whole new way. It's very important for us to be able to speak the language of every customer and every potential customer. This is where Industries fits in.
We have Industries today - clouds like Health and Life Sciences, Financial Services, Commerce, and Retail - that are experiencing exponential growth as they go through this transformation and are changing the business and engagement with their customers. The team we are building here in India will be a part of the global team and will drive growth into new industries as well as deepen our existing industries. They will be completely empowered sitting in one location to develop and deliver innovations to our customers.

What do you look for when you hire? what makes an ideal candidate for this team?
I'm proud to say that we attract the best talent at Salesforce. Whether we are hiring interns or professional engineers, we work with the best of the best. I see three things that we look for when hiring engineers that is critical to their success:

You must be passionate about solving problems, no matter the size or scope of the problem.
Our engineers drive innovation, so it's essential to come in with a hunger to learn.
We have a very collaboartive culture here, so it's essential to be a strong team player.
These three things will really set the tone fr someone to come in and be successful here. 
What apps, gadget or tools can't you live without?
This is very obvious, but cell phones - we literally can't live without them! We are always connected to the virutal world. Everyone is runnign their business from their phone, and I'm no different! I can't go on vacation to a location that doesn't have cell service! That's just the world we live in. 
Okay, so even if you can't completely "unplug" in today's interconnected world, How do you recharge?
I love to play sports with my daughter - we play a lot of racket games together. The best part of playing with her is losing to her! I also do a lot of cooking with my wife. As much as possible, I try to take one day of the month (usually on the weekend) to not use my cell phone at all. 
I think i'm going to take your advice. Speaking of, What's the best piece of advice you've ever received?
It may seem like a cliche, and it's very hard for anyone to do this unless you are in an environment that encourages it - but focus on something you are passionate about. It's easier said than done, and unfortunately, it hasn't always worked for me like this in my career, but I received this advice many, many years back, and I'm now living at Salesforce. Honestly! Not many people believe me when I say you can work on whatever you want here. As long as you don't leave Salesforce you can work on any projects you're passionate about. People don't believe this until they are actually here, but it's true!
Hear more about the future of this team by listening to this recording.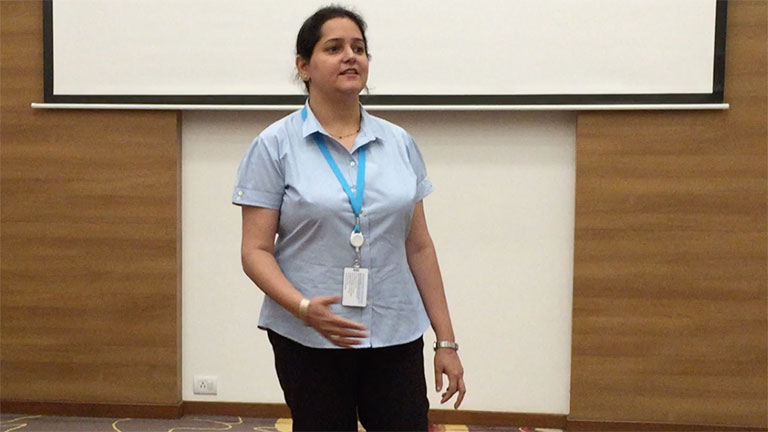 Sign up for our newsletter to stay in the know about upcoming jobs, tips to improve your work/life balance at your current job, and more!