May 31, 2018 by Tejaswi Attota
Hyper-Growth in Salesforce India and the Impact of the Network Operations Engineer

This is Tejaswi. She's an out-of-the-box thinker and Network Operations Engineer in Hyderabad. At Salesforce, she goes beyond delivering network support services for the company - she's empowered to make an impact in her job and in her community. Read about Tejaswi's journey to find Salesforce, and learn what keeps her here. 
Tell us about your interview process and what inspired you to join Salesforce?
I was actively looking for new opportunities in March 2017 when out of the blue I received a call from a Salesforce recruiter who was hiring a Network Operations Engineer role based in Hyderabad. I was excited about the opportunity as I had already heard about Salesforce, its impact on the market, and had used Salesforce products in my previous roles. I started doing my own research before my scheduled interview and fell in love with the company and its culture. I was even looking forward to the interview! The discussion I had with the team helped me to understand how my career could grow with the company.
I was then invited to a Social Hiring Day, which sealed the deal for me. It was a full day of interviews, which generally is exhausting, but it turned out to be a refreshing experience! I was able to meet with my hiring manager, peers I would be working with, and other employees in roles across the organization. This was the day I felt that #Salesforce Ohana is not just a word. The display of culture was authentic and the Aloha Spirit was infectious.
The recruitment team was extremely efficient with turnaround times. My entire hiring process was complete in 10 days! Before I knew it, I was being on-boarded and here I am, working at Fortune's #1 Best Company to Work For.
What is the impact of the work you do at Salesforce?
Network Operations Engineers are responsible for managing the availability of production services. The role aims to maximize service availability. This is achieved by means of monitoring, prioritizing and troubleshooting events that occur, coordinating all changes occurring in the IT environment in real time, and proactively mitigating an incident when applicable.
The job's roles and responsibilities are widespread - we triage and troubleshoot, we coordinate and handle incidents, and monitor the IT environment - just to name a few! Hence, the engineer in this role works with different internal and external business units.
The role also promotes out-of-the-box thinking and innovation. We ensure our engineers have exposure to the upcoming technologies so they can expand their skill set and deliver success to the various business units of the Salesforce ecosystem. Our team works out of three locations (Hyderabad, Dublin, and Oregon) to ensure we maintain 24/7, 365-day availability and coverage without affecting the work-life balance of the team members. With the growth of the team, we are now able to use the "follow the sun" model so our team doesn't burn out and we are able to provide consistent service.
Describe a typical day for you.
A typical day may include:

Following incident management process from start to resolution for incidents that affect multiple users, following various channels as needed.
Setting up Monitoring of IT Services and it's components using monitoring application as per defined standards and directions from respective service managers.
Coordinating the execution of IT change cases performed by other teams.
You've been here about one year - what's something you learned in your first year that surprised you?
When you are enjoying what you do the time flies! It feels like yesterday that I was interviewing for the role. The thing I like about Salesforce is that there is no barrier to express your views and opinions. Your voice will always be heard. You can walk up to the CIO and take a picture with them and talk about the upcoming technology.
The most surprising part is the growth rate of the IT team in Hyderabad. When I started, we had barely 15 people. Now we have 150+ and counting! Every Monday it seems we have a new team member joining. It continues to surprise me how the company stays laser-focused on employee success from Day 1 to ensure we maintain our culture and core values during such rapid growth.
Another surprise for me has been that the company truly believes in giving back. This is a very important feature for me personally. My team in Hyderabad has partnered with a local non-profit organization named Cherish that works with orphans, street children & slum dwelling kids. I am a member of IT-Volunteer-Ambassadors and I am proud to have been named a "volunteer rockstar" and have a $500 grant to donate to a non-profit of my choice! Salesforce encourages you to take time to help the community. We get 56 hours of paid leave a year to volunteer! The sky is the limit of the impact you can make - with the full support of the company!

Salesforce India is currently at an
all-time high growth rate.
Our Hyderabad office is a major growth target for the company. The current environment offers an amazing opportunity to grow along with the company. You have the chance to expand your horizons, explore various roles, and get a chance to
be a Trailblazer
. There is a reason why Salesforce is ranked one of the best places to work for!
I believe, adopting the right attitude can convert the ambience around you and can make it positive and energetic. I always keep smiling as a smile is infectious and it is the best contagious disease you can spread all around you. I like to be upfront and transparent with people instead of hiding back and worsening the situation. I truly believe in values and can never cross the line when it comes to trust, values and principles.
Fun Fact: I can read at least 4 books in a week. I am currently reading the Harry Potter series for the 10,000th time! I love traveling, playing, animated movies and comics and everything fun.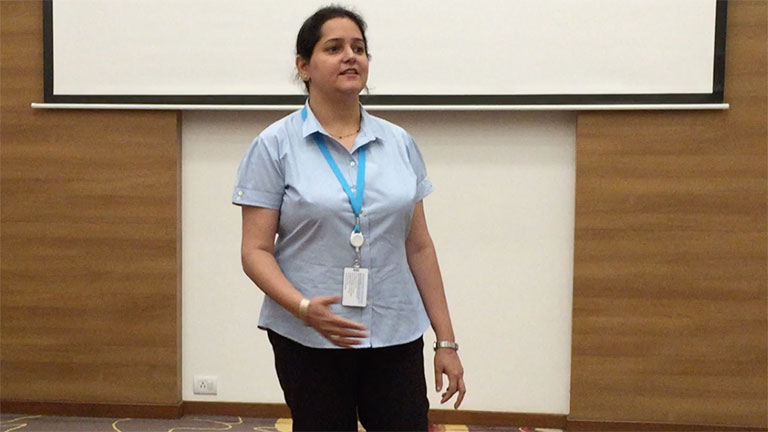 Sign up for our newsletter to stay in the know about upcoming jobs, tips to improve your work/life balance at your current job, and more!