August 30, 2018 by Umesh Tiwari
5 Reasons Why I Decided to Relocate for a Job at Salesforce

Making the decision to change jobs can be a trying experience. For Umesh Tiwari, it meant uprooting his stable life and relocating with his family to Hyderabad to be a senior manager on the Engineering team at Salesforce. During this Q&A, Umesh will share why he took the risk and why it was one of the best career decisions he's ever made.
Tell us about your background - where you grew up and where you started your career.
I grew up in a small town called Mandal near the Bhilwara district in Rajasthan, India and did my schooling there before moving to New Delhi for higher education. I earned my Bachelor's degree from JIIT Noida and Masters in Computer Science from BITS Pilani. I started my career with a startup called Appin in New Delhi, which was founded in 2004 by two IIT Delhi graduates.

I have a strong technical background in multiple technologies, including programming languages, system design, analytics, and cloud. In my career, I have been able to work my way from a junior Software Engineer to a Senior Engineering Manager. This experience has enabled me to successfully guide groups of highly talented & technical individuals to reach their potential. My philosophy of management is to mentor and coach my team, so they are empowered to innovate without the fear of failure. I have done this successfully in the past, and I am here at Salesforce to do the same.

I unknowingly learned coaching principles from my father - he was my first mentor and coach. He empowered and inspired me, he did not fault me for failure, he taught me that it is a part of success. My father gave me the support to learn from my mistakes and move forward. Throughout my professional career, I have been fortunate enough to learn from some of the most inspiring leaders in the industry. It is this enriching experience that motivates me to pay it forward and coach others to reach their potential.
How did your Salesforce adventure begin?
I first came to know about Salesforce when it was named among the World's Most Innovative Companies in 2011. However, it did not have a presence or offices in India, so I didn't track the company further. Fast forward six years and while I loved my job at SAS, where I had happily been for almost ten years, I needed a new challenge. I came across an exciting opportunity at Nuance, which creates AI related products like Voice Biometric and Talking Cars. I was hired at Nuance to lead two scrum teams. We were working on a server-based product to manage MFP devices to create a transformational customer experience and were creating security features for these devices.
I re-discovered Salesforce earlier in 2018 ranked on Fortune's 100 Best Workplaces. I still didn't know much about the company other than that it is innovative and best known for being the world's best SaaS-based CRM platform. It was only later in the interview process I discovered that it is more than just a CRM, but a whole ecosystem of products and services around data that allows its customers to build new applications in the cloud. I realised that the company had matured a lot in the last ten years and was growing very fast in India. I started to do my own research and saw all the amazing things Salesforce were doing, especially on the topics of equality, transparency, and culture. From my research reading blogs and watching videos, I saw that Salesforce takes culture very seriously, and company culture is something I value very much.
Describe your interview process.
The interview process was different from other companies because the team focused on demonstrating the values we live by at Salesforce. Through personal research about Salesforce, I discovered that my personal values were connected to the company values of Trust, Innovation, Customer Success, and Equality.
After a few remote interviews, I was invited to the Hyderabad office for face-to-face discussions. I was amazed to see how the public description of company culture and values matched with my in-person impression. Mutual respect and equality were truly reflected throughout the day. The cafeteria food was also really great!
A few days later, I was offered the job and was very happy to accept! I was so caught up in the excitement of the offer, I didn't process that I would have to relocate my family to Hyderabad if I were to join. This was a very difficult decision - I discussed the pros and cons with my wife for days - I also consulted my parents, close friends, and two previous managers who spoke highly of Salesforce - the decision to relocate and accept the offer was sealed that day!

Tell us more about your thought process behind the decision to relocate.
I was settled in Pune for over 14 years - I had built a life there. Coincidentally, just before I got the offer from Salesforce, I was considering joining another company. However, I was impressed with how serious Salesforce takes company culture and focuses on values, so I took the risk to relocate. The following factors heavily influenced my decision:

Stability: When considering my next job, I knew I wanted to work for a company long term. I wanted to create a legacy for myself, and such value creation takes time. I also wanted to work for a company which is financially stable - one that is growing and innovating in a globally competitive environment. No one beats Salesforce when it comes to innovation.
Company Culture: People typically do not join companies for the managers or leaders - they join for the organizational culture. A great culture and a great workplace don't happen by accident. My research about Salesforce revealed that Salesforce founders were as intentional about creating a strong company culture as they were about building transformational products. Our culture is centered around the Hawaiian concept of Ohana, which means family. This Ohana includes not just its employees, but customers, partners, and communities. Personally, for me, following stands out:

Transparency: Transparency is the foundation of trust, and trust is the foundation of a great workplace culture. Trust is our #1 value at Salesforce.
Purpose: Salesforce has a higher purpose - to use business as the greatest platform for change and to improve the state of the world. Salesforce encourages employees to give back - we get 7 paid days off to volunteer. It's no surprise that Salesforce ranks #1 on People Magazines 'Companies That Care' list. This relocation and move with Salesforce was an opportunity for me to be a better human.
Equality: Salesforce ranks among Fortune's 'Best Workplaces for Diversity'. We mean it when we say we are committed to Equal Rights, Equal Pay, Equal Education and Equal Opportunity for all.

Company Benefits: I was impressed by the excellent set of employee benefits, which beats many companies in India. Personally, following stands out for me:

Health Insurance coverage including medical, dental and vision coverage for the entire family. In addition, parents up to the age of 90 are included in the Health Insurance plan without any extra cost!
Monthly wellness reimbursement
Free food - Breakfast, lunch, dinner and snacks
7 paid days off (56 hours) to volunteer
Education reimbursement
Flexible working hours
Employee Stock Purchase Plan
Relocation Support

The Brand: I take pride in working for the #1 company on Fortune's '100 Best Companies to Work For'.
The Role and The Technology: I work with the best and brightest in the industry. It's a creative and challenging environment that is using cutting-edge technologies. This environment creates job satisfaction and the opportunity for professional growth. 

What advice do you have for others considering relocating for a job?
Get clarity on the role and determine how it fits into your long term career objectives.
Is the culture of the company important to you? How important is it?
Stability and growth should be key factors in determining to relocate or not.
You've been at Salesforce less than 2 months. What is one thing you've learned so far that has surprised you?
The level of transparency across the company has blown me away. I was astonished to learn that we live stream our leadership planning meetings twice a year for the entire company to watch, so we can all get aligned on the company goals for the year. Our leaders are very inclusive about decision making, and as an employee, I feel that my personal and team goals are directly contributing to the company vision. It's an incredible way to keep our employees engaged. 
The unique V2MOM management tool enables all employees to get aligned and hold ourselves accountable for delivering on our commitments to our customers, our partners, our communities, and ourselves. At any time, I can see the goals of any employee in the company and see how each person is accountable and connected to the overall company vision. This level of transparency enables all 30,000+ employees to work together toward a common goal. The Ohana culture only augments this model by ensuring that we help each other and we win as a team.
Tell us more about the Teams you are leading:
As a senior engineering manager, I am currently leading two products teams in the Business Technology division: Concierge and AEM. Concierge is Salesforce's search and ticketing engine and used by our Ohana. We are revamping Concierge to build AI into the platform so our employees can interact with, and talk to the system to help solve their work challenges. AEM runs salesforce.com.
I get the incredible opportunity to build these teams from the ground up. We've never had a Business Technology Engineering team like mine based in Hyderabad before. This was a huge selling point for me - the opportunity to onboard this team and help coach and mentor them to reach their potential. At Nuance, I was managing a team that was a well-oiled machine - they had established processes and procedures. Here, I am starting from scratch. I am involved in determining the scope of work for my team with my counterparts in other parts of the world. There is so much learning happening - we are all solving the same challenges of being new and onboarding together. It's a rewarding feeling to get to learn and grow with my team.
What do you look for when you hire?
When I hire, I don't look for the perfect match. I don't expect to find a perfect candidate, so, therefore, look for someone who has the aptitude to learn new things quickly and innovate. I primarily look at following three things in a candidate:

Personal Integrity
Skills Set
Energy Level
I give very high importance to personal integrity, that way, I can compromise on the skill set, because skill set can be acquired and taught during the onboarding phase. I look at the potential to learn new things and the ability to adapt. I look at these things rather than fitting that person 100% because technology is constantly involving and technology expertise may be outdated tomorrow, 6 months, or a year from now.  


Can you share three fun facts about yourself that others may not know?
When I type, I sometimes like to use three dots…instead of a comma or full stop at the end. It just feels more me. Editorial comment: We are sticklers when it comes to grammar, so we removed the ... - sorry, Umesh!
When I really enjoy a book by a particular author, I read EVERYTHING that he or she has ever written, including letters to their editors :). For example, I recently read the book "The Five Dysfunctions of a Team" by Patrick Lencioni. I enjoyed this book very much and have now read everything that Patrick Lencioni has published.
My biggest indulgence is driving my grocery cart down the aisles at Big Bazar or Dmart and putting amazing and delicious things into my basket without looking at the price — a rare pleasure!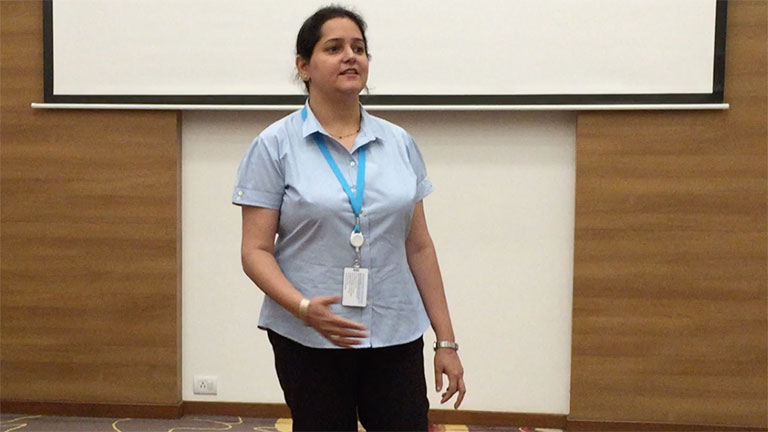 Sign up for our newsletter to stay in the know about upcoming jobs, tips to improve your work/life balance at your current job, and more!