Awesome Service Design Centers
12 Awesomely Designed Support Centers and What Makes Them Rock
Where do you go when you need help from a company? For instance a widget is broken or a site isn't doing what you want it to, or you just need help with any number of things.  More often than not, your desire for information leads you to Google where you type in your query and you get a support center. A great support center is where your customers can go to find answers to commonly asked questions and if it's done well it should be packed with useful information. If you set it up right and take the time to customise it, your support center can also be a seamless extension of your brand.
As part of a customer service team, I spend a lot of time with customers advising them on support strategy and helping them get their support center up and looking good.  We've seen the gamut of support sites, from bare bones to completely tricked out and we wanted to tip our hat to a few outstanding examples. These support centers not only provide excellent content, but they've also feature some clever design elements.
Take a look at our top picks and see how they knock it out of the park when it comes to great customer support.

The folks at SmugMug have done an excellent job starting with integrating header and navigation integrated into template.
Their use of the app navigation bar is a smart way to organise support center articles
Adding embedded videos on the page enhances the user experience
The uncluttered design and iconography makes it easy to find information

Fitbit now supports multiple products and they've done a great  job organising the new editions within their help center.
The content is really visually appealing and engaging
The graphics are fresh and fun and the colors pop
The layout makes it easy to find what you're looking for

Square has customers around the globe and they've done an excellent job utilising the multilingual support to address their growing customer base.
Integrating a "sign in" button is a smart way to authenticate users before they can submit a case
The ability to view support center by topics or by articles is a great way to organise content

The Help Center from Eventbrite gets a gold star for multilingual support feature too. That along with the page organisation and design make it easy for all levels of users.
The Support Center is content heavy and beautifully designed
The Multilingual feature a stunning example of drop down menu design
The colors and typography are solid, strong and consistent with branding
When you evaluate Zendesk alternatives, there are many considerations. The above five are just a handful of some of the ones we compared and believe are the most important across-the-board. Good luck in your search.

Pandora gets props for the simple yet slick design that focuses on support center articles. It's an easy implement this design that goes a long way for customers looking for information.
The organisation of content makes it simple to find the exact answers you need
This is a great template that's easy to customise and maintain
This is a intuitive, easy to use and beautifully designed website

Support center articles are a big part of the simple design from Instagram. They've also optimised their Help Center for mobile devices so it is able to display correctly for all their legion of cell phone toting fans.
The design is simple and clean and doesn't distract from the important content
The site looks great on all devices from mobile to desktop
The support center articles are well written and easy to understand

Do we even have to tell you why the Space Heroes support center is cool? Yes, it has very cool design, great graphics and very useful information.
The colors and fonts are fun, unique and engaging
They have a great background image that doesn't detract from the content
The support center articles are very detailed and informational

Olark puts a personal touch to the support experience with photos of the team and a public facing question and answer channel.
The photos of their support team really personalises the Support Center
The bright colors and bold fonts makes the content pop and stand out
The help guides clearly walk you through how to set up up their product

Vimeo is all about video so it's great to see video tutorials grouped in an easy to access area on their support center.
There's a ton of helpful information from community questions to how-to videos
The content is well organised and it's easy to find what you're looking for
The bright colors and bold fonts are very eye catching

Spotify has a lot of style in their support center with great use of images and iconography.
The iconography makes topics easy to identify and stand out
The design is simple, clean and easy to navigate
The support center articles are very visually appealling and easy to follow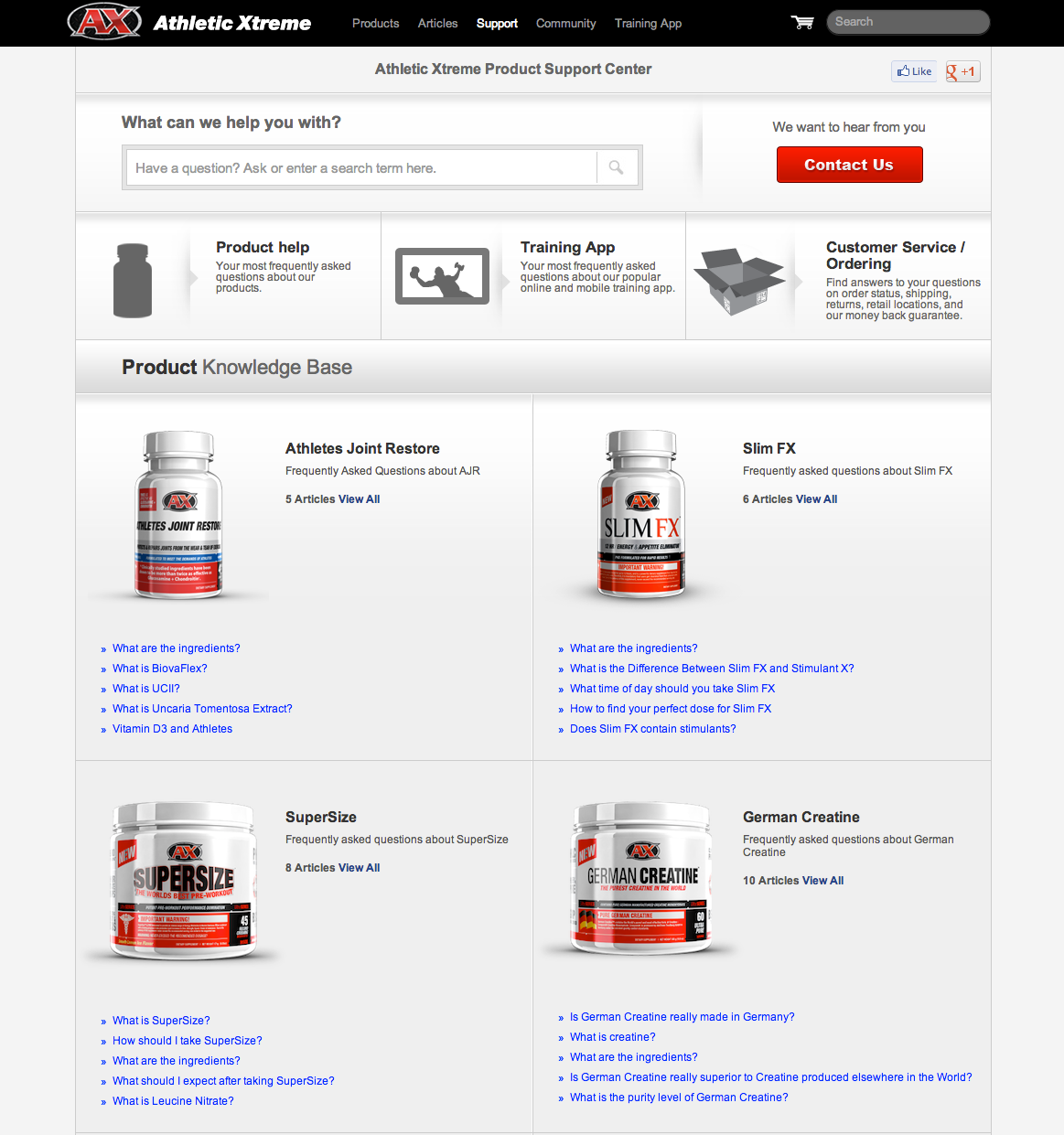 We like how the folks at Athleticx use products to categorise content about their products.
Using images as support center topics is a fresh, unique way to categorise content
Adding images make it easy to find information for a specific product
Adding a header is a smart way to organise support center articles
We hope this has inspired you to clean up and improve your current support site or, even better, if you haven't created your support page yet and are ready to after seeing our awesome examples, these examples will give you some solid muses to work from.
Questions? We'll put you on the right path.
Ask about Salesforce products, pricing, implementation, or anything else. Our highly trained reps are standing by, ready to help.