Sales Cloud es el
CRM de ventas
de Salesforce. La solución automatiza tareas, integra y apoya la gestión de las áreas de ventas, marketing y atención al cliente. Con Sales Cloud, usted acompaña toda la información de ventas y las interacciones con sus clientes en un solo lugar de forma fácil y en informes personalizables. ¡Conozca más detalles!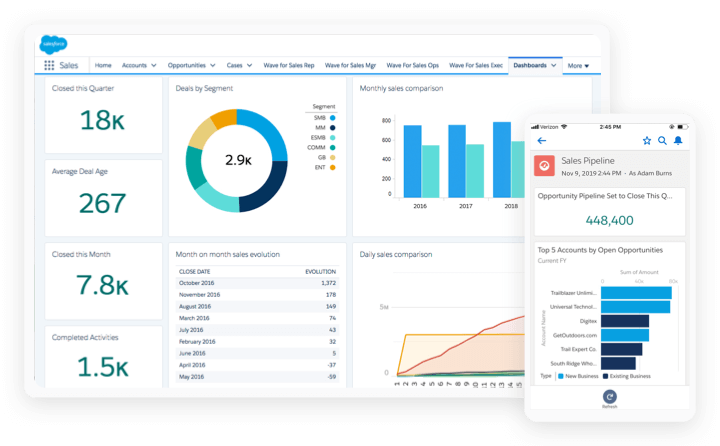 Acompañe en cualquier dispositivo toda la información desde previsión de ventas e interacciones de los clientes hasta el desempeño del equipo para
vender más y mejor
. Concentre los representantes en las acciones más importantes, proporcionando insights inteligentes en el momento correcto.
No importa si usted es un agente de campo, ventas internas o si apenas prefiere trabajar a partir de la bandeja de entrada del correo electrónico. Haz más, en cualquier lugar, con un
CRM fácil de personalizar
e impulsado por
inteligencia artificial
. Lo más importante: usted puede automatizar procesos complejos de negocios para aumentar aún más la productividad.
Con el CRM de Salesforce, la información está en un solo lugar, lo que facilita la definición de prioridades y la toma de decisiones rápidas con base en la información más reciente. Ayude los representantes a vender de manera más inteligente capturando datos automáticamente y recibiendo insights instantáneos, como leads principales, próximas etapas y acciones sugeridas.
Cultive leads hasta que estén listos para la venta y los encamine automáticamente a los agentes correctos. Acompañe la eficacia de las campañas de marketing, asegurando la cualidad de todos los leads.
Out-of-the-box CRM for up to 10 users
USD/user/month*
(billed annually)
Complete CRM for any size team
USD/user/month*
(billed annually)
Deeply customizable sales CRM for your business
USD/user/month*
(billed annually)
Unlimited CRM power and support
USD/user/month*
(billed annually)
* All per user products require an annual contract.
"No es sólo un sistema CRM. Es una plataforma que podemos usar para construir todas las funcionalidades que necesitamos."

Si tiene preguntas sobre productos, implementación, integración o cualquier otro tema, llámenos. Nuestros representantes altamente capacitados están esperándolo con las respuestas.