Reach your customers with the world's #1 email marketing platform. Use data from every department to build smarter email — from basic marketing campaigns to sophisticated 1-to-1 messages.
Learn why top brands trust Salesforce to help them drive success with email — and how you can manage customer journeys at scale using data from any source.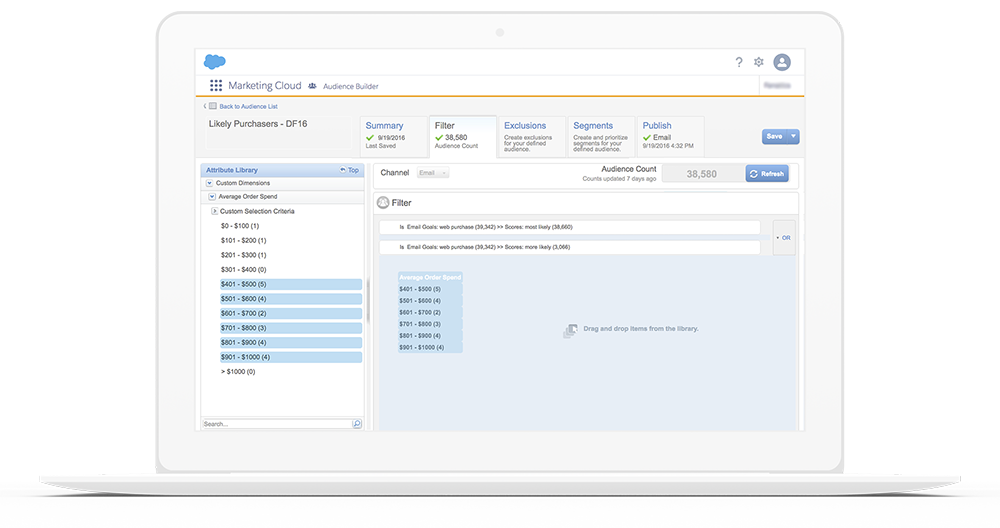 Use drag-and-drop segmentation tools to hone your subscriber list, so your messaging is always relevant. Filter millions of profiles in seconds, and get instant counts for sending.
Schedule messages, distribution of custom reports, and imports of data from any source — so you can focus on creating great campaigns.
With Einstein, recommend great content that resonates. Identify highly engaged subscribers and increase conversions.
Push segments to your DMP to leverage your profile data from landing pages and user behaviour, targeting engaged — and unengaged — subscribers across digital channels.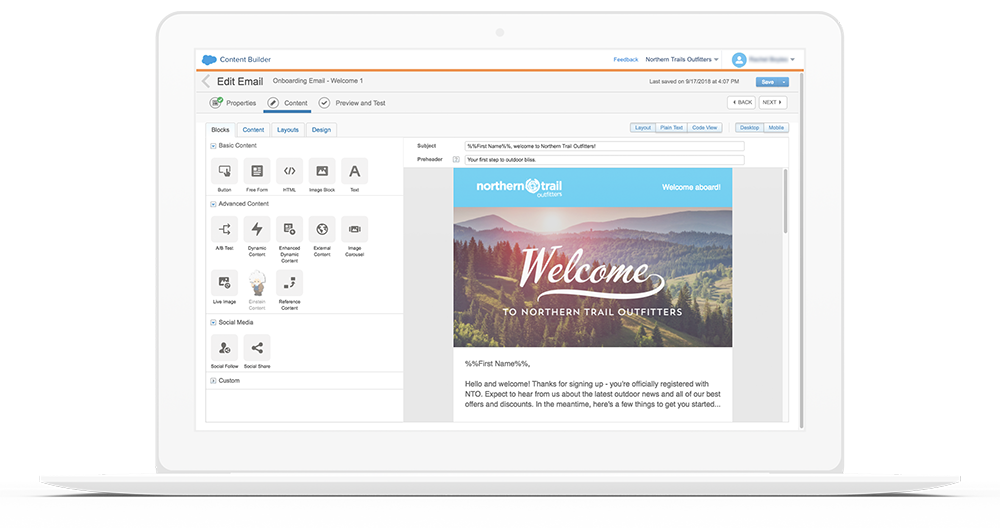 Quickly and effortlessly optimise for mobile so your emails always appear exactly as you intended — wherever they're opened.
Use content blocks to populate email designs quickly, with best-in-class templates designed by industry experts.
Whether taking advantage of drag-and-drop functions, or employing HTML code and personalised scripting language, surprise and delight with tailored, real-time content.
Strengthen your customer relationships with email conversations that drive every stage of the customer lifecycle.

Get your message to the top of the inbox — at the time your customer is most likely to see it — and establish guardrails to prevent accidental delivery of test messages.
Increase your team's efficiency. Set up a delivery schedule so customers experience your brand the way you want — without a heavy manual workload.
Unmatched flexibility and scalability empower you to maintain 1-to-1 relationships — even with enterprise audiences of millions.
Set A/B tests and run sophisticated performance reports to determine what's working, what isn't, and how to perfect each campaign.
Ask about Salesforce products, pricing, implementation, or anything else. Our highly trained reps are standing by, ready to help.