Discover the full suite of B2B marketing automation tools to create meaningful connections, generate more pipeline, and empower sales teams to close more deals.
Watch a one-minute overview to learn how B2B marketing automation by Salesforce can help you increase leads, boost sales, be more productive — and transform your business.

Automatically send emails and perform marketing tasks based on triggers including time, user interactions, and other custom parameters.
Use data to personalise the customer experience, display targeted offers, and seamlessly develop nurturing and email paths as you uncover new information.
Respond to prospects when it matters, learn what's happening between sales calls, and get alerts about prospect actions.
Create more relevant conversations and target sales pitches with in-depth data about prospect activity.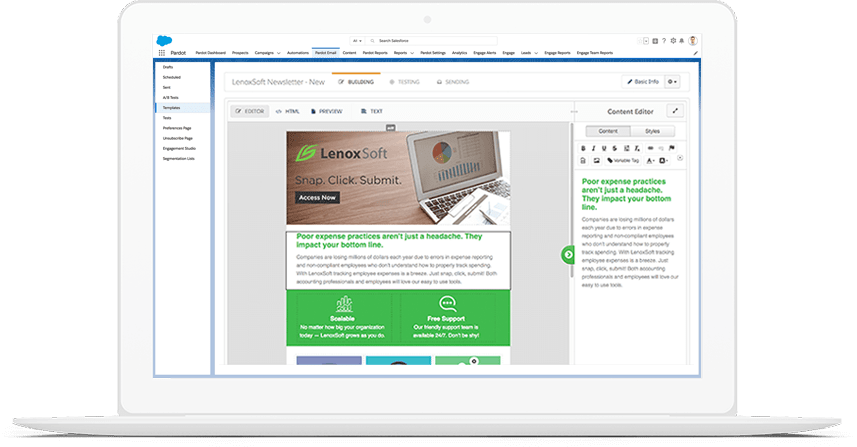 Launch beautiful, branded landing pages using templates — and customise content from a powerful visual editor.
Build professional email campaigns, at scale, that earn proven results and drive customer engagement from prospect to advocate.
Integrate SEM and SEO programs to determine the ROI of your campaigns and perfect your marketing strategies.
Manage and track all your events down to the last detail — all from one centralised marketing platform.

Tie your individual closed leads back to specific marketing efforts and analyse campaign success by channel.
Create and save custom views of your data, understand how prospects are engaging, and enjoy a holistic view of every customer.
Check the health of your funnel at a glance and identify where opportunities are stuck — so you can get them moving again.
Share key insights and make data-driven decisions to continually improve on marketing programs.
Ask about Salesforce products, pricing, implementation, or anything else. Our highly trained reps are standing by, ready to help.