Reach customers on any device by personalising your mobile messaging with SMS marketing, push notifications, and group messages.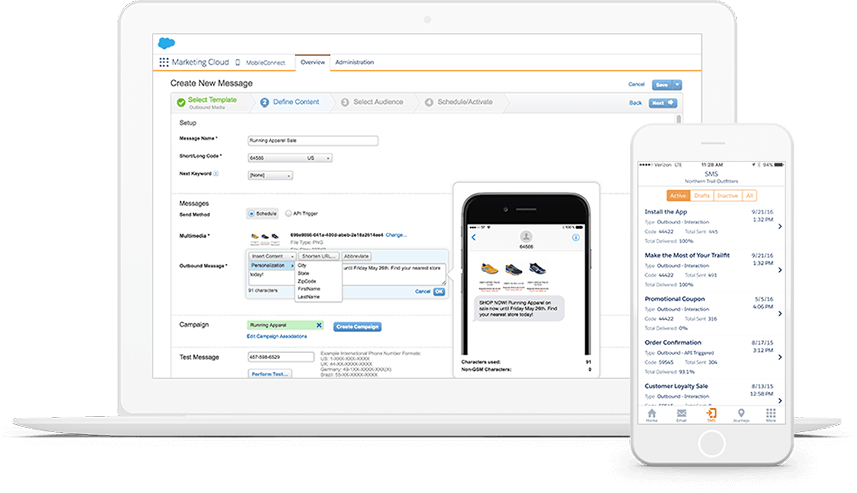 Build and automate your ideal mobile campaigns with custom templates for outbounds, text-response, email opt-in campaigns, info capture, and multimedia messages. 
Build complete user profiles by capturing preferences, behaviours, and attributes during group messaging. Plus, combine data from all other channels and CRM tools.

Market with mobile phone alerts, deals, or discounts to drive in-app purchases and increase app usage. Build user profiles with data such as location and device type.
See how your brand can become as much a part of your customers' daily lives as the handheld devices they carry.

Drag-and-drop tools make it easy to segment mobile subscribers. Send your personalised message based on location, demographics, and individual customer preferences.

Deliver transactional, time-sensitive messages such as password resets, shipping reminders, alerts, and updates by using an open API platform.

Schedule marketing efforts to trigger messages — when and where they'll get noticed — based on predetermined events or user behaviour.

Monitor performance with mobile reports to understand deliverability and engagement — even on the go with our mobile app.

Create geofenced messages that automatically send coupons or promotions to your customers when they're entering or exiting a targeted area.

Create contextual pages for mobile, then deliver them with rich push capabilities. Share event maps, restaurant menus, or other visual content specific to time and place.
Deliver even closer proximity messages — within feet — using Bluetooth, low-energy beacon devices to draw attention to specific offers.


Deliver mobile messages alongside your email, ads, and web campaigns to create a consistent customer journey across every channel and device.
Trigger mobile messages instantly based on how users interact with your brand and boost engagement.
Identify which channels your customer uses to engage with your brand so you can communicate better in all of them — and drive more mobile interaction.
Ask about Salesforce products, pricing, implementation, or anything else. Our highly trained reps are standing by, ready to help.