"I love manufacturing because we're not just selling a product. There is so much that goes into every machine we build. So many people touch it and that creates jobs. Manufacturing... is job creation."
Winton Machine was founded in 1997 by company owners George and Lisa Winton in the basement of their home in Lawrenceville, Georgia. Lisa came from a business background, and George was a mechanical engineer. Their start was reminiscent of many bootstrap entrepreneurs. In 1997, George wrote an article in The Fabricator on hand tube bending. In response, an inquiry came in asking the couple if they could create a tube bending machine for a local bicycle manufacturing company. Having never built a bending machine before, George Winton said, "Sure, we can do it." As Lisa described it, "We converted the basement and house to a machine shop and assembled the order in our garage. Our bedroom became the office. And we figured it out."
Needing to establish a clear path forward, the couple began to do their own research. Lisa recounted watching VHS videos at the local library on how to finance companies through credit cards. They also began attending classes and workshops aimed at helping and educating budding startups. At one of these classes, Lisa was introduced to Darrel Hulsey, the local Small Business Development Center's loan officer. In 1998, the couple moved into their first manufacturing space and hired their first part-time employee. According to Lisa, "Our first employee gambled on Winton and came on full-time shortly after moving into the new space. We're happy to say that he's still with Winton and is a part of the team that we depend on every day."
Today, Winton Machine Company has more than 30 employees and operates out of a 13,000 square-foot facility in Suwanee, Georgia. Over the past 15 years, the company has grown significantly and now manufactures more than 100 machines. It has also developed its own proprietary software that is used exclusively on Winton Machine products.
One of the things that Lisa and George take pride in is their ability to evolve and innovate. When asked to detail two key decisions that helped accelerate the company's growth, Lisa shared the story of how Winton Machine Company secured its first SBA grant and how its marketing has evolved to fuel new revenue, particularly among existing customers.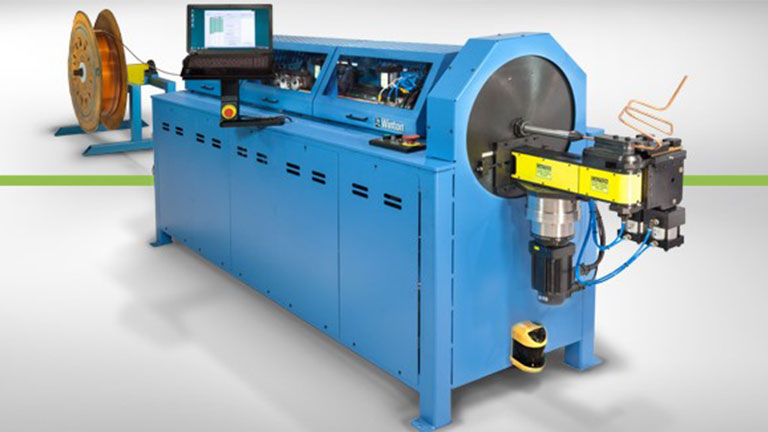 "At the time, no bank would even talk to us. It was the polar opposite of what it is like now. Banks didn't understand the cash flow, so none of them were investing in small manufacturers."
Winton Machine Company needed to upgrade its equipment and lease a larger facility, but it was unable to secure a loan.
Working hand-in-hand with its local Small Business Development Center (SBDC), Winton Machine was able to secure its first Small Business Administration grant to finance the expansion.
By 2002, Winton Machine Company had expanded to the point where it needed to purchase both new equipment and lease a larger facility. Lisa and George approached a number of local banks to secure a loan but were repeatedly denied. Lisa said, "At the time, our current bank was in the midst of a merger, and no other bank would even talk to us. It was the polar opposite of what it is like now. Banks didn't understand the cash flow, so none of them were investing in small manufacturers."
Again, Lisa and George met with Darrel Hulsey, their SBDC counselor who had come from a banking background. He suggested that they apply for a Small Business Administration (SBA) grant.
Darrel and a third-party SBA loan specialist helped Lisa and George put together an application. Within a year, the Wintons received their first SBA grant, allowing them to invest in new equipment and upgrade their facilities. As Lisa said, "We really couldn't have done it without Darrel. We were the bank's very first SBA loan." The couple also worked with the SBDC to set up their QuickBooks account and participated in the SBDC's Fast Track program. They have worked with Darrel for almost two decades, and he now helps them with exporting and other key aspects of the business. When asked about the role Darrel and the SBDC have played in supporting the company's growth, Lisa said fondly, "He's been a great advisor to us over the years and is someone we really trust. We feel like we've grown together."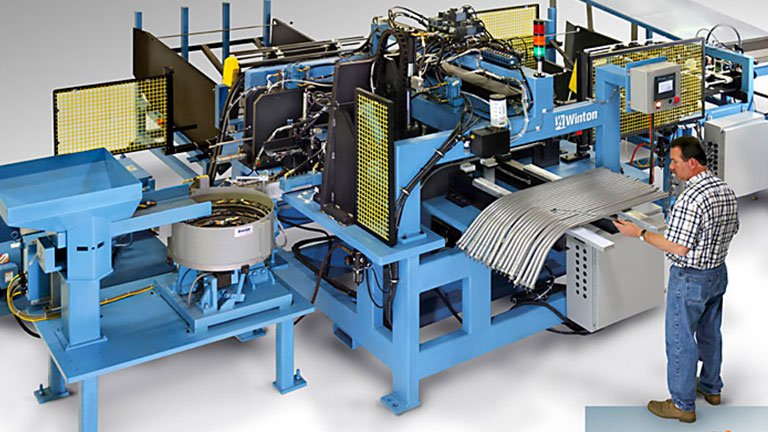 "Part of growth needs to be steady cash flow. The more marketing you have in the field, the more you are going to have cash flow."
From its earliest years, Winton Machine Company invested heavily in marketing and was able to attract new customers. However, its marketing to existing customers was less efficient.
Winton Machine Company implemented a content strategy with existing customers that has been a key driver of growth to date and is where the company expects the biggest future growth in revenue.
Winton Machine Company always understood the power of marketing. In 2001, long before websites were popular, George launched the company's first website, writing the code himself. The Wintons invested heavily in professional photographers and videographers to help showcase their machines. And George wrote a technical column called,"Tech Talk" in the Tube & Pipe Journal for seven consecutive years; he is one of the few contributing authors not on staff to have a tenure lasting more than a few months. In fact, in 2000, the company made its first international sale to a client in South Korea, who had only discovered the company through the internet.
However, while its marketing was effective in sourcing new prospects and clients, Lisa realized they were missing an opportunity. As she succinctly said, "Your biggest opportunity to grow is with existing customers. The more machines you have out in the field, the more opportunities you have for growth."
In 2015, the company invested in Salesforce. It needed a system that would allow it to better segment clients and launch a content strategy that would facilitate "a continuous touch with existing customers." With so many different customer segments, it was important that the company share the right information with the right customers. As Lisa said, "I know how many emails I get in a day, and I get annoyed by them. I don't want my customers to get information that is not useful to them."
The new CRM platform dramatically improved Winton's ability to market to customers, resulting in a significant jump in revenue. However, Lisa still faced one major hurdle: She couldn't get the sales team to use the software appropriately. "We build these great automated, software-driven machines and yet we couldn't utilize this software system to its full potential."
A year ago, Lisa brought on a marketing intern to act as the Salesforce administrator. His role is to make sure data is entered the right way, the company is pulling accurate dashboards, and it is using the appropriate data to inform a more advanced content strategy. Lisa believes the company has barely touched the surface of what the platform can do to help grow its business.
When asked to reflect on the company's overall approach, Lisa paused for a second and then drew an analogy. "It's like the shoemaker who walks around in worn-out shoes. When you're a manufacturer, it's your job to solve problems for your customers. But how often do you look at yourself and ask 'How do we become more efficient?' Sometimes the answer is internal… not external."