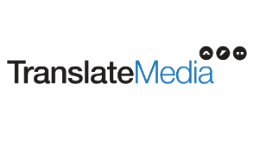 By accessing and using the Commerce Cloud XChange User Community Website in any way, you agree to and are bound by the 
terms of use
.

North America, Europe, Asia Pacific, Global
Marketing/Email Marketing
Translations
TranslateMedia is a global translation and transcreation agency specialising in fashion, retail, apparel and luxury goods. Our reputation and track record is based on our high quality translations for retail and ecommerce clients. Half of our work comes from working directly from brands and retail clients. The other half is from working indirectly, through creative, marketing and digital agencies. What makes TranslateMedia a leader in the industry is our ability to pass on our substantial experience and skills in localization and offer critical insights and potential improvements into our clients' tone of voice and workflow processes. We offer our clients the language support they require to successfully expand their operations globally.
We possess a large infrastructure to scale operations and the flexibility and skills to provide customized workstreams for multi-channel. We only work with the most suitable translators for your project – hand-picked from a network of over 7000 linguists. Our proprietary translation workflow management platform, STREAM, integrates seamlessly with the Salesforce Commerce Cloud. Our Commerce Cloud Cartridge has been used for 3 years by a wide range of international ecommerce clients and recently we launched a new software upgrade with extra features for websites with large catalogues. TranslateMedia has been ranked in the Deloitte Fast 500 EMEA for the last three years. We offer 24-hour support from our offices in London, Munich, Zduńska Wola, New York, Hong Kong and Guangzhou.
TranslateMedia Integration Brochure
The Language Cartridge enables seamless integration with Commerce Cloud and STREAM, TranslateMedia's professional translations management system. The technology can be integrated in minutes and extends the Commerce Cloud Business Manager with its own translation interface. The interface enables text for product and content assets to be sent and retrieved for translation, with a facility for different text versions for multichannel. It provides an instant quotation and approval tool, real time job tracking, job history and invoicing information and links to an online text editor and translation memory and glossary tools for SEO management.
Automatic change detection
Batch or manual selection
Content filtering and selection
Different text versions for multichannel
Job submission history
Instant quote and approval process
Integration with Glossary of Terms and Translation Memory
Product or content asset selection
Real-time job tracking