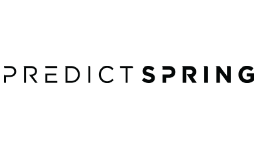 By accessing and using the Commerce Cloud XChange User Community Website in any way, you agree to and are bound by the 
terms of use
.


PredictSpring is one of the fastest mobile commerce platforms designed exclusively for brands and retailers. Its innovative technology connects consumers to brands in a highly personalized way via mobile web, native consumer app, and store-based Clienteling, Endless Aisle, and mPOS. The patented, dynamic mobile technology enables merchandisers and digital marketers to make on-the-fly changes without the need for complex coding.

Founded by the visionary behind Google Shopping, PredictSpring powers mobile commerce for the world's leading brands and retailers, including Calvin Klein, Cole Haan, SMCP, Vineyard Vines, Skechers, Charlotte Russe, and Claire's. To learn more, visit predictspring.com.
Predictspring has built a robust and secure integration with Salesforce Commerce Cloud which allow for deployment in 4-12 weeks. The integration includes the flexibility to enable several features independently and/or as a combined offering. These features include user account management, real-time user cart synchronisation and checkout. These components can also support several forms of payments including digital wallets such as Google Wallet and Apple Pay, guest credit cards and stored credit cards.
Currently, PredictSpring partners with leading Commerce Cloud customers to drive consumer app and store app experiences such as Clienteling, Endless Aisle and mPOS. Predictspring supports find in-store and ship-to-store capabilities delivering a true omni-channel shopping experience for customers. Personalized content and promotions can be served at customer group level for higher conversions.
A state-of-the-art CMS which allows for on-the-fly updates without coding, so you can reap the benefits of mobile commerce sooner. Scheduling capabilities also at disposal.
All mobile commerce experiences in one platform: Progressive Web Apps, Native iOS and Android Consumer App, and Store-based Clienteling, Endless Aisle, and mPOS
Support all fulfilment channels for a true Omni Channel shopping experience: BOSS, BOPIS, and BOFIS.
Support Omni Channel features such as barcode scanner, store locator, find in store and instant messaging.
Seamless checkout experience via native checkout, digital wallets (Android Pay and Apple Pay), guest credit cards and stored credit cards
Native notification features available for rich media push notifications, geo-fence and personalised user lists. All notifications can be accessed by users via a messages inbox.
Support personalised experiences based on user groups and/or loyalty status.
Premium Customer Success support to assist you from your deployment to reaching each of your milestones.
Integrations with leading partners in the fields of analytics, loyalty, payments, social commerce, messaging, ratings and reviews.
In line with our global clients expansion plans, our solutions support multi-regional and multilingual capabilities.