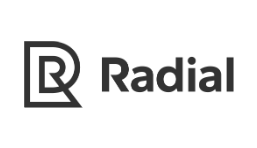 By accessing and using the Commerce Cloud XChange User Community Website in any way, you agree to and are bound by the 
terms of use
.
North America, Europe, Asia Pacific, Global
Radial is the leader in omnichannel commerce technology and operations, enabling brands and retailers to profitably exceed retail customer expectations. Radial's technical, powerful omnichannel solutions profitably connect supply and demand through efficient order management, fulfillment and transportation options, intelligent store fulfillment, fraud management, payments, and tax systems, and personalized customer care services.
Hundreds of retailers and brands confidently partner with Radial to simplify their post-click commerce and improve their customer experiences. Radial brings flexibility and scalability to their supply chains and optimizes how, when and where orders go from desire to delivery. 
The Radial LINK Cartridge extends the Salesforce Commerce Cloud Platform with a powerful suite of omnichannel technologies, payments, tax and fraud services, and global operations from Radial. Salesforce Commerce Cloud customers can seamlessly integrate Radial's Retail Order Management (Inventory Management, Distributed Order Management, Analytics and Customer Service Tools), Dropship Manager, and Store Fulfillment (inclusive of Ship-from Store, Ship-to Store, and In-Store Pickup capabilities). In addition, Salesforce Commerce Cloud customers can confidently grow their business, convert more orders, and eliminate fraud liability through Radial's comprehensive Payment & Fraud solutions including our fully outsourced Payments, Tax, & Fraud, Fraud Zero, and Fraud Insight solutions. The Radial LINK Cartridge also enables Salesforce Commerce Cloud customers to confidently scale their global operations through Radial's Fulfillment, Freight and Customer Care services - streamlining commerce so your customers get their order whenever, however, and wherever they want it, while receiving a best-in-class experience. Radial + Salesforce Commerce Cloud offers a unique and powerful combination of technology and service to enable true end-to-end omnichannel commerce execution.
Inventory Management
Order Brokering
Order Management
Address Validation
Tax, Duties & Fee Calculations
Fraud Management
Payments
Store Fulfillment
Dropship