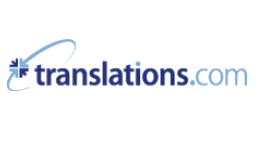 By accessing and using the Commerce Cloud XChange User Community Website in any way, you agree to and are bound by the 
terms of use
.
North America
Europe
Asia Pacific
Global
The world's largest retail brands trust Translations.com's services and GlobalLink platform to launch into new markets.  With over $470 million in revenue in 2014, Translations.com is the world's largest privately held translation solution provider.  We provide translation, call center and chat services in 100+ languages and maintain 85+ offices around the world to provide in-market support for your global initiatives.  Our GlobalLink platform - which features a Certified Link Cartridge for Salesforce Comerce Cloud users - helps to lower cost, speed time to market and reduce hassle for over 3,000 organizations worldwide.  Translations.com works with 90% of the Fortune 500 and 83 of the Interbrand Top 100.  We have 40+ Commerce Cloud clients utilizing our services and GlobalLink solutions.
Translations.com's Certified Link Cartridge for Commerce Cloud provides Commerce Cloud users with a powerful solution to initiate, automate, control, track, and complete all facets of the translation process. The unique combination of the robust Commerce Cloud functionality and the extended localization workflow capabilities of GlobalLink Project Director gives Commerce Cloud customers a comprehensive solution for managing enterprise content for markets around the globe with minimal effort and virtually no IT overhead.
Certified Commerce Cloud Integration
Scheduled or on-demand translation initiation through Commerce Cloud UI
One-click export and import of catalog content
Automated change detection for catalog updates
Web services integration with localization workflow engine
Automatic handling of custom Commerce Cloud attributes
Provides reference links to catalog content during translation process
Integration with translation memory to reduce cost, shorten turnaround time and manage content consistency
Works with any combination of internal or external translation resources
Full visibility reporting and automated quote capability.