Bolstering Your Ecommerce with Email Marketing

Want to boost your e-commerce sales, but don't know where to put your marketing budget for your next campaign? Consider this: 64% of companies consider email marketing the most effective marketing channel. Even with numerous new marketing channels — such as social media, direct messaging, mobile app marketing, and so on — email marketing still provides a remarkably effective solution. Additionally, the relative low cost of implementation associated with email marketing makes for an astoundingly high return on investment; the average return for email marketing is $38 for every dollar invested, or an ROI of 3800%.
Historically, email marketing has been very effective. If current trends are any indication, it will likely become even more effective as technology continues to improve. Email open rates, engagement, sales, number of emails sent, and traffic generated from emailing are all on the increase.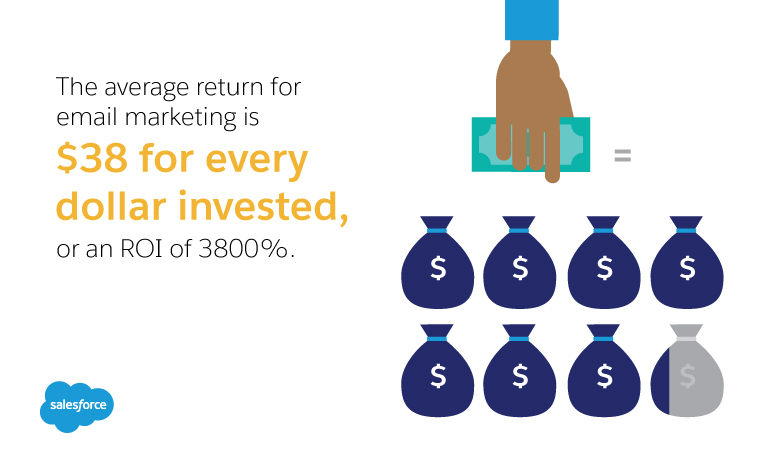 Email marketing has many benefits for ecommerce.
E-commerce email marketing has changed from a static, one-size-fits-all approach, to a personalized, automated, and dynamic experience. That said, it's not a forgone conclusion that all e-commerce email-marketing strategies yield positive results. Unless you take the time to familiarize yourself with e-commerce email-marketing best practices, you might discover that your carefully crafted marketing messages are ending up in spam folders and trash bins. Help your emails avoid this fate, with these email marketing tips for e-commerce:
Make it personal.
Email marketing can utilize transactional emails that connect past user purchases to targeted email marketing. Experian reports transactional emails have 8x more opens and clicks than any other type of email, and can generate 6x more revenue. Yet, the reality is that most marketers don't utilize personalized transactional data to market to their leads/customers. 42% of marketers don't use segmentation in their email campaigns and 33% of email marketers don't optimize their emails. Personalize your messaging by using transactional data, and you'll get a much more desirable result.

Create an effective subject line.
In each email you build, whether it be an automatically generated email or an original campaign, be sure to put some real thought into developing your subject line. Digital Marketer reports that the subject line has the biggest impact on email campaigns. Consumers spend an average of 4 seconds scanning your email in their inbox when deciding whether or not to open it, so you need a subject line that is clear and offers your customers something of value. Avoid sales words such as 'special offer' and 'discount.' Keep the subject line short and easy to scan (so that it will show up completely on all devices and email accounts). Personalize it with customer information (such as the customer's city). Finally, always be honest about what you are offering.  

Consider automation.
In e-commerce email-marketing software, it can be much more effective to rely on an automated program than to attempt to create and send out customer emails yourself. This is particularly true with the introduction of smart email automation programs. These programs can be programmed to create relevant, personalized messages that are automatically generated and sent when specific events take place. For example, if a customer looks at a particular product, the system can automatically send them sales and promotional emails around that product. Likewise, e-commerce email-marketing automation can be used to remind users of abandoned shopping cart items, welcome new users and email subscribers, and provide confirmation of completed services.

Upsell and Cross-sell.
Once a client has committed to a purchase, they'll be more willing make further purchases. Upselling and cross-selling is a great way to turn a single small sale into something more. Automated systems can automatically send purchase suggestions when customers by related items.

Don't forget about past customers.
E-commerce conversion rates are not known to be very high, averaging only 1–3% for new customers. However, returning customers are a different story, with an estimated average conversion rate of 60–70%. There is a lot of potential profit to be made from repeat customers. It makes sense to want to keep them informed of any new developments. Automated email can use stored purchase and browsing information to provide pertinent notifications to former customers. This can bring former customers back to your site with little to no effort on your part.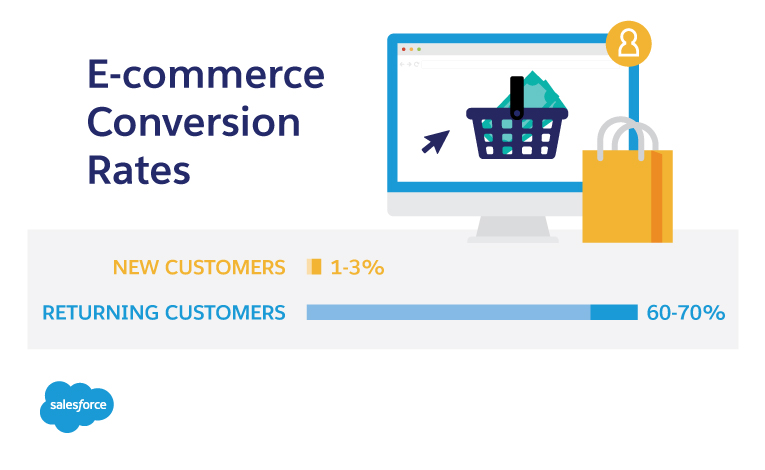 How do I select an ecommerce email marketing solution?
With so much potential money to be made from an effective email marketing strategy, it would be ill advised to commit to an email marketing system without making sure that it can do the job. After all, finding the right ecommerce email marketing software is key to generating effective ecommerce email marketing campaigns. Here are the most important features that an automated email system should have:
Mobile-First Design
Not long ago, mobile computing surpassed desktop in regard to digital media use. This means that the average user prefers to access the internet via mobile smart devices such as smartphones and tablets. Despite this, many software providers are still failing to optimize their systems for mobile use. Make sure that your ecommerce email marketing solution offers full functionality on all mobile and desktop platforms. Cloud-based solutions make this a reality, and can also easily share information across all user platforms.

Ease of integration
Cloud-based tools also enable authorized users at all levels of your business — from sales, to customer service, to marketing, and beyond — to coordinate their efforts. They can easily integrate with any platform or existing system, promoting coordination between your agents and providing a seamless experience for your customers. Additionally, by integrating with the other customer-facing areas of your business, you'll be able to build a client profile that builds a more complete picture. This will help you send out the most relevant messaging possible.

Drag-and-Drop Tools
No matter how many emails you plan on sending, their effectiveness always depends on how the individual emails are crafted. To put it simply, there are correct ways to word your emails, and there are incorrect ways to word your emails. Platforms that offer templates and drag-and-drop content blocks help ensure that your customers are getting the message clearly.

Tracking and Reporting
Email campaigns should be dynamic and adaptable. Real-time tracking and reporting capabilities help ensure that you always know how effective your campaigns are, enabling you to make course corrections when needed. Advanced reporting features should rely on easy-to-comprehend, image-heavy visuals. They should also allow you to interact with and customize your reports.

Usability and Adaptability
Email automation is designed to make your life easier. An overly complicated email marketing solution does exactly the opposite. Choose a tool that is easy to use and that includes built-in tutorials and multi-channel customer support options. A difficult learning curve will only end up hurting employee adoption rates.
The best ecommerce email marketing systems will likely run a higher price than those with fewer features and reduced capabilities. A good way to find something that is an acceptable fit is to familiarize yourself with customer reviews of specific options and to take advantage of free trial offers. This will allow you to gauge the tools' effectiveness without having to commit money beforehand.
See what Salesforce can do for your email marketing.
Our CRM ecommerce email marketing solution provides an effective all-around platform. Vetted email templates, easy-to-understand controls, multichannel customer service, pre-defined event triggers, predictive content, and advanced tracking and reporting features, all based in the cloud make reliable email campaigns a reality. With a Salesforce email marketing solution, you'll be able to utilize predictive analytics and Personalization Builder to deliver more relevant content to your leads, automatically. At the same time, our system is flexible enough to be able to adapt to fit your changing needs as your organization grows.
Boosting ecommerce sales doesn't have to be difficult. With the right email marketing and automation solution, you'll be able to reach interested, sales-ready customers without having to lift a finger. And, when it comes to ecommerce, that may be the most attractive offer of all.
Questions? We'll put you on the right path.
Ask about Salesforce products, pricing, implementation, or anything else — our highly trained reps are standing by, ready to help.