How to Assess Your Need and Invest in Marketing Automation Software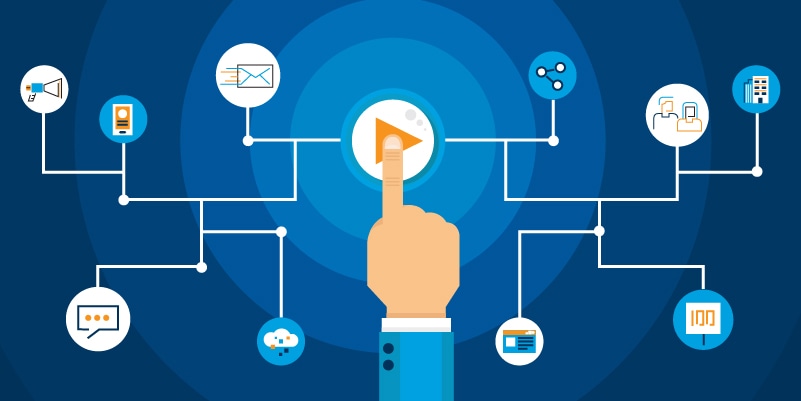 By Kathryn Casna
Chances are you've heard the term "marketing automation software" tossed around a bit. Perhaps you already use a platform, but are considering trying something new or upgrading to a more robust system. After all, 67% of marketing leaders currently use an automation platform, and 21% say they plan to in the next two years.
Using automation to boost marketing is an easy choice. The difficult part may be choosing the right system for your company's needs.
What Is Marketing Automation Software?
With marketing automation, just as the name suggests, you can automate your marketing and sales engagement. This software gives you the power to generate more leads, close more deals, and measure your marketing success. Automation tools are the key to growth, especially for small companies. When companies invest in this type of software, they upgrade their marketing; the buyer journey is more easily personalized, which helps improve a company's relationship with its customers.
Marketing is further improved with automation because the platform takes care of repetitive tasks, freeing your team to tackle more complex tasks, such as creating the perfect content or developing strategy. Meanwhile, the platform works in the background to help guide the customer journey.

Furthermore, this software limits many of the expenses that would otherwise accompany launching large-scale campaigns or conducting market research. In the past, heavy-hitting marketing strategies were reserved for enterprise-level companies that could afford teams of researchers, database managers, and administrators to handle all the little tasks associated with them. The results were massive, generalized campaigns that aimed to maximize reach, but often failed to inspire conversions. It became a numbers game instead of a chance to build relationships.
Marketing automation has helped change the marketing game. With it, marketers find more leads, guide cold leads further into the funnel, help your sales team close more deals, and maximize marketing ROI.
Your company needs to align marketing and sales with a platform that helps these traditionally siloed departments work together. With marketing automation software, these departments can seamlessly deliver a personalized experience to every prospect, no matter where they are in the funnel. Data and intel on both prospective customers and current customers give insight so your marketing and sales teams can have the right conversation with the right person at the right time.
If this sounds too good to be true, the good news is that it isn't. A marketing automation platform can transform a marketing department and help it become a well-oiled machine. The trick is finding the best software for your needs.
First, you need to assess your automation needs.
Every company has unique needs when it comes to marketing, so how do you know if upgrading your system would be worth the investment? Savvy leaders begin by assessing what they need most right now. They look at their current marketing system and ask:
Are we doing a lot of repetitive, time-consuming tasks, such as building reports by hand?
Do we need to hire more marketing staff?
Are we generating enough quality leads for sales?
Do leads sometimes fall through the cracks when they're handed off from marketing to sales?
Are there any gaps in team or interdepartmental communications?
Do we spend too much time on tedious administrative tasks?
Do we have a comprehensive method for measuring our successes?
Could we use more data and insights about our customers, as well as the general consumer?
Marketing automation for small business is important.
For companies that struggle with any of the tasks above, or with staying ahead of their competition, it's time to invest in marketing automation. The growth of your business depends on it so that you save time and money now while marketing has more on its plate than hours in the day or cash in the bank. Before choosing a platform, however, look beyond your current needs and try to anticipate what your marketing team, and your company, will look like in the future. Ask questions like the following:
What marketing strategies are we likely to use in the next five to 10 years?
How large will the marketing team need to be to accomplish them?
How will the role marketing plays in the company change as the business grows?
Most small businesses experience a greater need for sophisticated technology as they get larger and earn more customers. Capturing new market segments requires more complex strategies as companies learn how consumers want to be marketed to and where to reach them. The best marketing automation software for your business is one that handles your immediate needs and easily scales alongside the company.
Why do you need marketing automation?
If you've never used a marketing automation system before, it may seem like just another marketing expense. The truth is, automation increases your profits. Many adopters, for example, see a
23%
increase in the ROI of their marketing activities. There are numerous ways that automation can help you accomplish this, such as those listed below.

You can improve your productivity.
There are dozens of channels to reach potential customers: content marketing, mobile and social media marketing, email, direct mail, and text messaging. These don't include the traditional, tried-and-true offline campaigns, such as ads in publications, on television, and on the radio. There are so many ways to connect with your audience, and they all come with their own to-do lists. Even the savviest marketers can feel pulled in multiple directions and struggle to keep it all organized. With automation, however, marketers can improve their productivity by
34%
.
Marketers benefit from more accurate forecasting.
Are you unsure of how much to budget for that end-of-year social media campaign that will help boost your holiday sales? Do you know how long a customer typically hovers at the research stage of your sales funnel? Your marketing automation tools can help with that, too. By tracking more data while marketers tackle other tasks, automation can improve forecasting accuracy by
42%.
Integrated platforms keep everyone on the same page.
While marketers are discovering just how critical automation is for capturing the attention of prospects, sales, customer service, and other departments are leveraging its benefits, too. Sales can see automatically generated reports on each customer's journey, while customer service agents can easily learn about a customer's preferred method of communication. Meanwhile, leadership can access automatically generated reports to see what's working and what needs work.
Your marketing automation system should integrate easily with other technologies, such as your customer relationship management (CRM) platform or sales management software, especially when these tools are all part of a single provider's suite of products. These types of systems are ideal for ensuring that multiple departments take full advantage of the data and insight that marketing automation platforms provide.
Consumers' needs are changing.
Compared to baby boomers, millennials are
2.5 times as likely
to want personalized offers based on their purchasing history. The days of Don Draper sitting around and creating ad campaigns in a near vacuum are long gone. Now it's all about the consumer, and what consumers want is changing. According to the Salesforce State of Marketing study,
52%
of customers leave brands that prove they don't understand their customers when they send irrelevant or impersonal messages. Meanwhile, 57% of marketers say artificial intelligence (AI), especially when it's integrated into marketing automation platforms, is essential for creating personalized experiences on a massive scale.
Use marketing automation software to outperform your competition.
No business operates in a vacuum. Every company has competitors who want to snap up more market share, and chances are those companies already take advantage of marketing automation. More and more, automation technologies are becoming standard operating procedure, not just something enterprise-size corporations use.
How can you use marketing automation software?
Not every automation platform offers the same tools, so successful leaders focus on those that matter most to their businesses. Those targeting millennials prioritize strong social listening tools, while B2B businesses may invest more in robust email marketing. Listed below are some of the most popular tools, and how to get the most out of them.

Email marketing reigns king of marketing channels.
Marketers are still seeing a high ROI with email marketing. Personalized communications perform best, and many marketers create automated touchpoints with email marketing automation. With marketing automation software, they can:
Segment an audience by demographics, interests, or sales funnel position
Create personalized, targeted messaging
Schedule posts at specific intervals or in response to action
Automate who in the company receives reports and when they receive them
It's easier to build automated customer journeys.
Building personalized customer journeys from the ground up allows marketers to guide prospects through the sales funnel in a way that makes prospects feel a company truly "gets" them. Gathering information about behavior and sentiment throughout that journey helps businesses optimize the customer experience from start to finish. Automating customer journeys allows marketers to:
Create automated triggers that send specific messaging to guide each customer through the funnel
Pull in and organize data from as many sources as possible to glean meaningful insights
Keep an eye on prospects and adjust as preferences, behaviors, and sentiments change
You need software for data management, analysis, and sharing.
The most powerful marketing automation systems are nothing if they aren't based on hard data. Many automation systems will integrate with data management platforms (DMPs). The most robust use their own DMP to track and adjust their performance based on information they collect along the way, fueled by AI. To get the most out of automated marketing data, businesses:
Link as many data sources to it as possible
Utilize AI features to segment their audience
Look at all touchpoints and channels as part of the overall customer experience
Create reports and share data across the company
It's important to select the best marketing automation software for your needs.
Choosing the right marketing automation platform begins with assessing your current needs, as well as those your company will experience in the future. To invest in the best software for your business, choose one that will drive growth as well as scale with you.
Share "How to Assess Your Need and Invest in Marketing Automation Software" on your site: