Sell better by getting to know your customers better.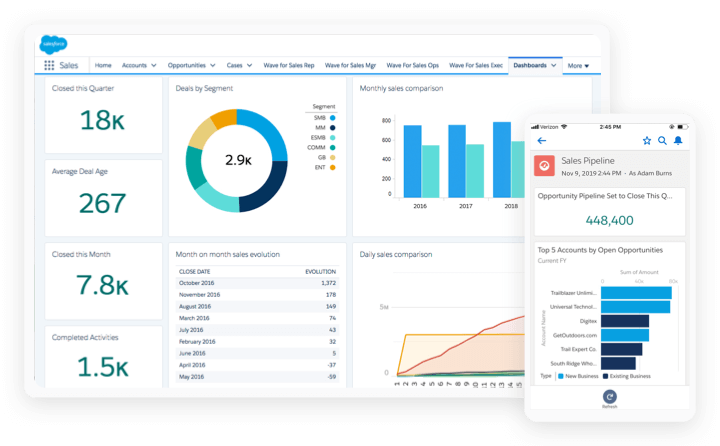 Convert more leads, close more deals, and understand the health of your entire business with Sales Cloud.
Deliver personalized buying experiences to every one of your customers.
Build longtime, loyal customers at every interaction. Connect sales, marketing, finance, billing, and service teams to guide each prospect through a personalized customer journey.
Empower sales reps to work faster and smarter.
Make every minute count: standardize processes, automate manual tasks, and access data on any device –even offline. Boost team impact with insights, guidance, and forecasts from built-in AI.
Expand your reach, and adjust your strategy on-the-fly.
Evolve your sales strategy, whether you want to move into a new industry, a new market or just a new neighborhood. Plan territories, see team performance, track rep execution, and more.
You have business needs. We have the gear.
All-in-one sales and support app*
USD/user/month**
(billed annually)
Complete CRM for any size team
USD/user/month**
(billed annually)
Deeply customizable sales CRM for your business
USD/user/month**
(billed annually)
Unlimited CRM power and support
USD/user/month**
(billed annually)
* Essentials edition good for up to 10 users.
** This edition requires an annual contract. Monthly pricing available on Essentials edition.
Add Einstein to Sales Cloud
USD/user/month
(billed annually)
CUSTOMER SUCCESS SPOTLIGHT
Amazon Web Services is a Trailblazer.
"It's not just a CRM system. It's a platform that we can use to build all the functionality that we need."

Sales teams work best on the Salesforce Platform.