Famous Customer Service Quotes
Famous customer service quotes from famous business leaders in history

Harry Gordon Selfridge, John Wanamaker, and Marshall Field were three popularly known businessmen back in the 1900s. These three pioneering retailers believed that customer success is a core aspect when it comes to entrepreneurship. Marshall is often credited as the person who first said, "Right or wrong, the customer is always right," which ultimately became the most popular catchphrase in customer service, "The customer is always right."
All three men used the concept behind the phrase to guide their workforce in their stores, setting the tone of customer service for decades to come. The Marshall Field's chain of department stores, based in Chicago, used the phrase as its slogan. The phrase was also popular in the U.K. Selfridge, founder of London's Selfridge department store, encouraged the use of the phrase, having worked at Marshall Field's from 1879 to 1901. Since then, this well-known phrase has exhorted retailers and businesspeople everywhere to prioritize customer needs as the core focus of their job.
Famous Quotations on Customer Service from Field, Wanamaker, and Gordon
These three great business leaders shared similar strengths: great dynamism, creativity, and the innate ability to run a business efficiently and productively. They were not only early pioneers in retailing but were also a source of memorable slogans that emphasized the importance of customer service.
Sayings attributed to the three entrepreneurs have become some of the most famous customer-service quotes of their time. Here are 11 of our favorites:
"The customer is always right." As mentioned, this short five-word quote sums up the importance and necessity of the customer's happiness over everything else related to the business.
"Assume that the customer is right until it is plain beyond all question he is not." Those that love to regurgitate the first quote in every instance often aren't aware that Field also placed common-sense restrictions on the catch-all phrase. Basically, go above and beyond to make the customer happy, but also be smart about it.
"Give the lady what she wants." Marshall Field coined the customer-centric phrase to emphasize the importance of serving the customer.
"Honesty always pays." This quote, by Selfridge, was part of a larger quote, but we picked this out because it underlines the importance of how doing the right thing and having good values will always translate into good business.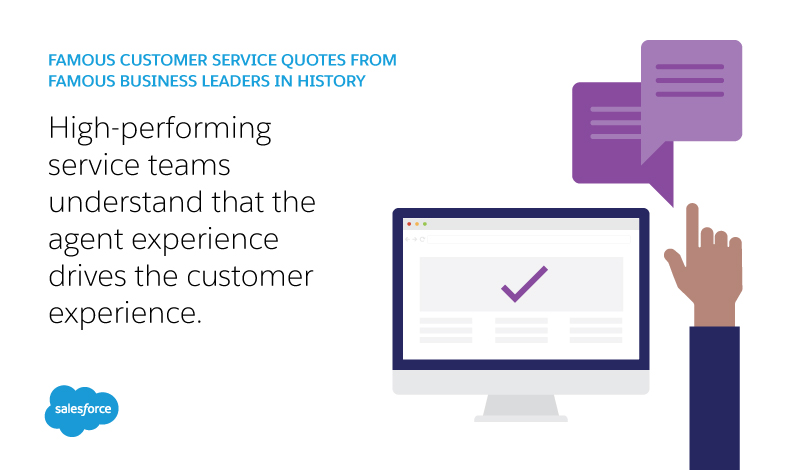 "When a customer enters my store, forget me. He is king." John Wanamaker is remembered most for this famous customer-driven quote, Wanamaker worked at Field's store for more than 20 years, and during that time he lived and breathed — and adopted — the ideologies by Marshall Field on customer services.
"People will sit up and take notice of you if you will sit up and take notice of what makes them sit up and take notice." Of all of the business motivational quotes by Harry Selfridge, this one is our favorites. It's fun to say, easy to remember, and points to an undeniable truth in business: Customers reward those who understand their needs.
"Goodwill is the one and only asset that competition cannot undersell or destroy." What Field is saying here is that tangible items and money are easily adjusted to bring customers into your store, but it's the intangibles (for example, goodwill, courtesy, respect, and dignity) that make the difference.
"Get the confidence of the public and you will have no difficulty in getting their patronage." Focusing on the intangibles again, the first sentence of Selfridge's longer, oft-quoted thought on business invokes how critical it is for your company to have the trust and confidence of your customers. Once you have that, everything will fall into place.
"Courtesy is the one coin you can never have too much of or be stingy with." This well-known Wanamaker quote highlighted the constant dilemma faced in business — making customers happy or making money. Modern day companies struggle with customer service, often choosing the bottom line and short-term goals over the customer experience.
"Courtesies cannot be borrowed like snow shovels; you must have some of your own." Wanamaker again emphasizes the importance of courtesy. "Treat [customers] as guests when they come and when they go, whether or not they buy." This Selfridge customer-service quote challenges employees to treat all customers as equals — whether they walk out without spending a penny or break the bank and spend $27 ($1,844 in today's dollars).
Famous Quotations on Customer Service from Modern-day CEOs, Founders, and Business Leaders
Wanamaker, Field, and Selfridge were doing business in the 1800s and 1900s, so how do their business motivational quotes and customer-service expressions stand up in today's world? Even with new technology and modern expectations, the quotes hold up surprisingly well, because the key components of excellent customer service haven't changed.
Today, most modern businesses and business executives work as hard as possible to ensure their customers' needs and expectations are fully met. Newer technologies such as social media, live chat, and real-time texting have been put in place by most companies to improve customer service, moving it away from being a cost center to being a profit center.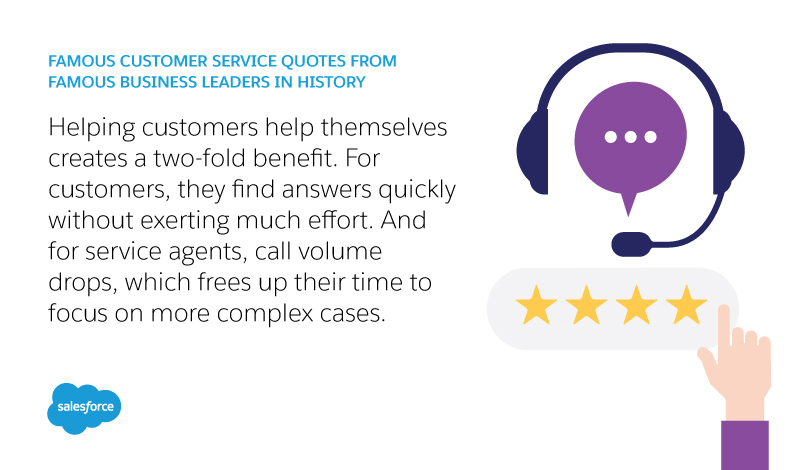 High-performing service teams understand that the agent experience drives the customer experience.
As such, a lot of prominent business personalities share the same credos as the three pioneer entrepreneurs when it comes to customer service. Below are 15 of the best customer-service quotes from prominent leaders, CEOs, and founders in business.
Bill Gates, Founder and former CEO of Microsoft, on learning from your customers: "Your most unhappy customers are your greatest source of learning."
Elon Musk, former CEO of PayPal, SpaceX Founder, and current CEO of Tesla, on the value of feedback: "It's very important to have a feedback loop, where you're constantly thinking about what you've done and how you could be doing it better."
Jeff Bezos, Founder and CEO of Amazon.com, on improving the customer experience: "We see our customers as invited guests to a party, and we are the hosts. It's our job every day to make every important aspect of the customer experience a little bit better."
Tony Hsieh, Founder and CEO of Zappos, on how well-treated customers can bring in more and better business than traditional advertising: "We take most of the money that we could have spent on paid advertising and instead put it back into the customer experience. Then we let the customers be our marketing."
Joseph Jaffe, Founder of Evol8tion, on the impact of customer service: "Customer service is everything and anything that touches a customer – directly or indirectly. Customer service means servicing customers, and it's so much more than just solving problems or addressing complaints. Customer service is part of a holistic customer experience that is capable of providing a critical competitive advantage in today's increasingly cluttered and commoditized marketplace."
Larry Page, CEO of Alphabet (Google's parent company), on morality and responsibility: "We have a mantra, don't be evil, which is to do the best things we know how for our users, for our customers, for everyone." (The original "Don't be evil" was suggested by either Google employee Paul Buchheit or Amit Patel. This company slogan has since been retired and replaced by "Do the right thing.")
Marc Benioff, Chair, Co-CEO, and Founder of Salesforce.com, on how essential to customer service modern communication channels have become: "The future of communicating with customers rests in engaging with them through every possible channel: phone, email, chat, web, and social networks. Customers are discussing a company's products and brand in real time. Companies need to join the conversation."
Richard Branson, Founder of Virgin Group, on the team responsibility of customer service: "Setting customer expectations at a level that is aligned with consistently deliverable levels of customer service requires that your whole staff, from product development to marketing, works in harmony with your brand image."
Sam Walton, Founder of Wal-Mart, on the central importance of the customer: "There is only one boss — the customer. And he can fire everybody in the company from the chairman on down, simply by spending his money somewhere else."
Seymour Fine, author of The Marketing of Ideas and Social Issues, on the value of customer complaints: "When a customer complains, he is doing you a special favor; he is giving you another chance to serve him to his satisfaction. You will appreciate the importance of this opportunity when you consider that the customer's alternative option was to desert you for a competitor."
Shep Hyken, a customer-service speaker, on what customer loyalty really is: "True loyalty doesn't come because of an app. It doesn't come because you have a punch card where after 10 punches you get a free sandwich. It is about the relationship. Take away those perks and would the customer still be loyal?"
Steve Jobs, Founder and former CEO of Apple, on the importance of understanding customer needs; "Get closer than ever to your customers. So close that you tell them what they need well before they realize it themselves."
Walt Disney, Founder of Disney, on the importance of doing an exceptional job; "Whatever you do, do it well. Do it so well that when people see you do it, they will want to come back and see you do it again, and they will want to bring others and show them how well you do what you do."
Zig Ziglar, author, salesman, and motivational speaker, on how customer complaints benefit businesses: "Statistics suggest that when customers complain, business owners and managers ought to get excited about it. The complaining customer represents a huge opportunity for more business."
How Customer Service Quotes Can Help Your Customer Service
As mentioned earlier, the core of providing customer service has changed little over the past century and a half. Even with the speed of technology, many of the same approaches that Marshall Field made famous back in 1852 are applicable to modern companies like Google, Apple, and Zappos.
We know it takes more than a few inspirational quotes from famous business people to get your customer-service process right. Though we listed more than two dozen customer-service quotes, the hope is that you can glean best practices from what these successful leaders have had to say. Use these maxims to help shape your company's approach to serving your customers.
Focus on the relationship you have with your customers and treat them equally, with dignity, courtesy, and honesty. Customer service is more than just solving problems; it's about knowing your customer expectations in and out. When you know what resonates with your customers, you can exceed their expectations, preferably in unexpected ways.
If you achieve that (and have a good product), everything will fall into place for your business.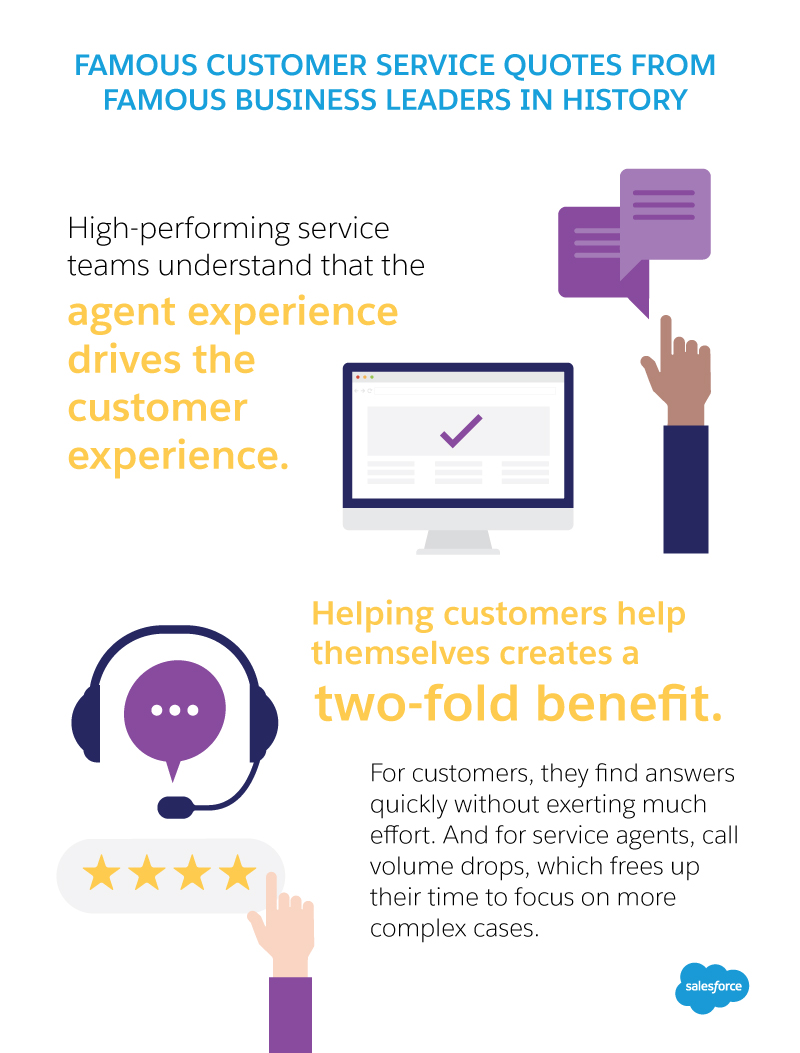 Want to pass on the good news? Share "Famous Customer Service Quotes" on your site: