How to Use Chatbots for Customer Service

The use of artificial intelligence (AI) by service orgs is 
projected
 to grow 143% over the next 18 months — and with good reason. AI-powered chatbots greatly improve both your customers' experience and your agents' productivity. You may be wondering where, exactly, you can start putting AI to work. What are some good examples of chatbots for customer service? How can you use AI to free up your agents and give them more time for complex, human interactions? To help you answer these questions, we've come up with a list of some specific ways you can improve the customer experience using AI. 
Some Examples to Get You Started with Chatbots
Senior executives often have assistants to handle routine tasks, freeing them up for more strategic problem-solving that keeps the business running smoothly. It's useful to think of chatbots in the same way. 
Chatbots tackle problems like password resets and arrival times, tasks that don't require the soft skills and experience of an agent, but still require their energy and dedicated time. For example, let's say a customer asks a simple question about a delivery time over chat. AI can quickly answer a question like that, freeing up your agents to focus on building deeper customer relationships. The more time AI saves for your agents, the more time they have for the kind of complex problem-solving needed for unique or delicate cases that keeps customers satisfied and loyal. 
If your company is just beginning to invest in AI, the first objective should be to automate your agents' routine tasks and delegate frequently asked questions to a chatbot with AI. The following tips are good to keep in mind when designing your initial AI implementation.
Personalize every greeting. You train customer service agents to be friendly, greeting customers by name and often recognizing their status or tier of service. Your AI interface can do the same thing. You can program chatbots to pull in values like "First Name" for customers who are already logged in, ensuring bots greet them by name in a friendly and natural way. It's useful to think of chatbots as an extension of your customer service organization. They attend to your customers' individual needs and let them know that they're valued even when agents are busy helping other customers.
Move from static to conversational. Most customers don't want to fill out a static form online and then wait 24 hours to get a response. When your chatbot dynamically asks different questions based on inputs from the customer, it creates a more engaging experience than staring at a static form. Additionally, serving customers this way means your chatbots collect the initial information that sets the stage for rapid resolution of issues if the call is escalated to an agent. All the initial questions have already been answered and served up in a console to provide context for the agent.
Create interactive FAQs. Instead of prompting your customers to go to an FAQ page on your website, let chatbots bring the answers to your customers. Load your top-level FAQ questions — including any follow-up questions and their corresponding answers — into your AI interface. With natural language processing (NLP), chatbots recognize language as it's used in everyday interactions, making it easy for your customers to get answers. 
If you're just getting started with automation and AI, you might want to check out our blog post, How to Apply AI to Your Customer Service, where you'll learn more about the challenges AI can help you solve. We'll show you how AI can impact your three biggest stakeholders: customers, agents, and managers.

If you'd like to see how to transform your customer experience while increasing customer and agent happiness, watch our Service Cloud Einstein Demo.
Build On Your Success with Chatbots
Once your organization has started to adopt automation and AI, the question often becomes what's next? How do you build on your initial successes? Where can you refine how you use AI in your customer care environment? The good news is, once you've put chatbots to work, you can focus on evolving them to do even more. The following examples can help you make a plan that takes your chatbot game from beginner to advanced.
Deploy chatbots to additional channels. You've likely enabled service across a few digital channels — like mobile messaging, chat, and social — so your customers can reach you on the channels they prefer. But the average customer now uses ten different channels to communicate with companies. For most businesses, that means there are plenty of opportunities to evolve customer service to meet new expectations. Deploying your chatbot across additional channels helps you more easily scale support when you need to because AI automates tasks and helps your team handle increases in case volume. Start by digging into your analytics to find the channel that gets the most traffic for your business. Then dig deeper to find the top ten most common requests on that channel. Save time for your agents by programming your chatbot to answer those repetitive requests. 
Engage customers with rich text and content. Basic text is good for answering simple questions, but rich text — like boldface, italics, fonts, font sizes, and font colors — provides an opportunity to deliver the wow factor to your customers. Imagine being able to insert images or even interactive menus into a chat conversation — that's what rich text and rich content enable for your business. With rich text in your digital channels, agents and chatbots can respond to customer questions with a picture and a little description or even present a menu of products for the customer to select. Rich text also works in SMS conversations but in slightly different ways. Phone carriers place a few limitations on rich text, but you can use a technology called Open Graph that enables graphics and rich text in SMS. If you've ever sent a URL to a friend and watched it transform into a photo and text, that's Open Graph in action. With rich text and content, your agents and chatbots can provide your customers with attractive and helpful graphics that make conversations engaging and delightful.
Embed process automation in chatbots. Empower customer self-service by enabling chatbots to serve guided, step-by-step workflows right within the chat. Ask your team which workflows would be easy for customers to follow — these are the ones your agents could execute with their eyes closed (like replacing a lost credit card, for instance). Once you've identified a few simple workflows, program chatbots to walk customers through the workflow from start to finish. In the case of complex issues, the chatbot may still have to hand off the conversation to an agent. The good news is, the agent won't need to ask as many questions as usual since the chatbot has captured some customer information already.  
When considering the best way to invest in AI at your company, start by using chatbots to personalize greetings, make self-service conversational, and answer FAQs. Once you've got these basic first steps down, expand your use of chatbots to include more channels, rich text, and workflows. Taking these steps will put you on the path toward happier customers and more productive agents.
Learn even more about AI and chatbots with our Einstein Bots starter kit, which includes these two resources:
Nucleus Report: Salesforce Service Cloud Gets Smarter with Einstein

Einstein Bots Developer Cookbook
Dive deeper into chatbots by working through the Einstein Bots Accelerator Webinar presented by our product experts.
Get more ideas for taking your contact center to the next level with Trailhead, the fun way to learn about Salesforce. Take the trail called Empower Managers and Agents with the Service Cloud Platform and learn how to optimize your service center, answer questions everywhere, resolve cases fast, and delight your customers.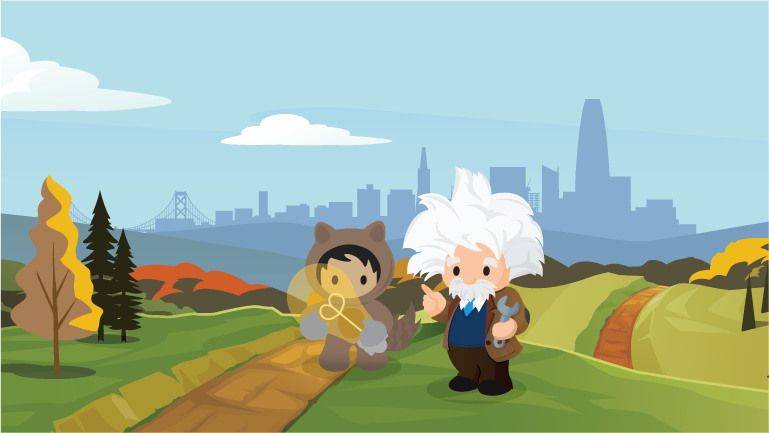 Questions? We'll put you on the right path.
Ask about Salesforce products, pricing, implementation, or anything else. Our knowledgeable reps are standing by, ready to help. Or check out our Pricing and Packaging Guide to learn more.