We use cookies to make interactions with our websites and services easy and meaningful, to better understand how they are used and to tailor advertising. You can read more and make your cookie choices here. By continuing to use this site you are giving us your consent to do this.
How to Hit Your Quota and Do It the Right Way

A few years ago, I met a CEO who shared his company's unique approach to performance reviews. When managers sit down with employees, they only ask two questions: Did you get your job done? Did you do it right?
I think this concept translates beautifully to sales, because it can really help articulate where each individual seller is at various parts of his or her career. This article dives into this model and the different tactics salespeople should take based on where they sit on the matrix. I hope it helps you think about how you manage yourself as a seller and the selling skills you need to work on to improve.
Getting it done, doing it right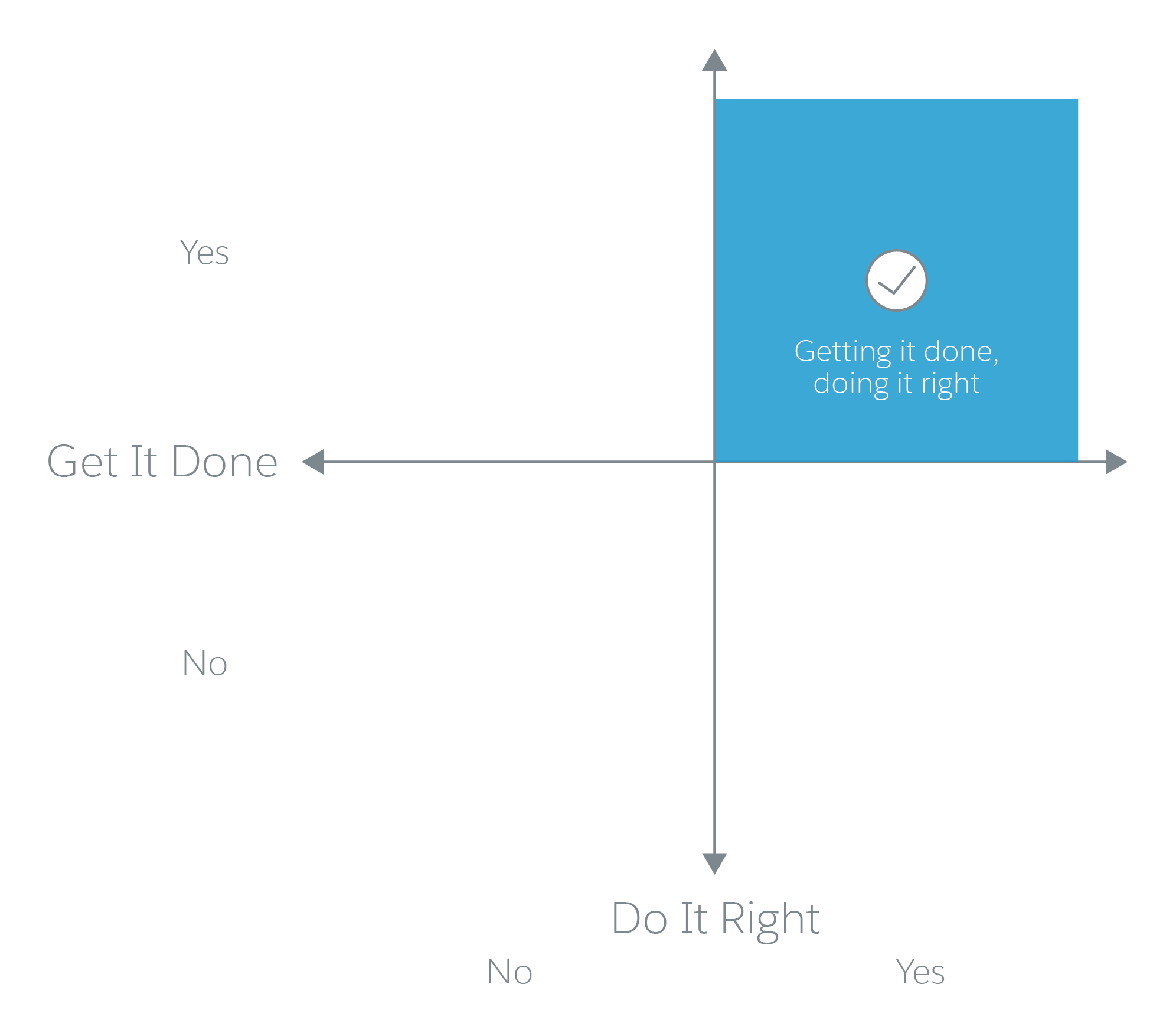 Obviously, every seller should aspire to be in the upper right quadrant. This means you're not only getting it done by hitting your sales quota, but you're also accomplishing this in the right way. At Salesforce, this means you're doing four things well:
You're demonstrating good selling skills: everything from discovery and qualification, to negotiating.

You've got good operational rigor and use our customer relationship management (CRM) tool well, meaning every opportunity is in the right stage, has the right amount, has the correct next steps, and so on.

You've got good product knowledge and know how to sell our product with conviction and passion.

You're a good team player and work well with the other constituents on your team.
If you're in the upper right of this matrix, congratulations. I hope you stay there for a long time.
But not everybody is in that spot.
Getting it done, not doing it right

If you're in the top-left corner of this matrix, there's good news and bad news. The good news is that you're hitting your number. The bad news, at least in the view of the sales leadership at Salesforce, is that if you're not doing it right, your quota success won't be sustainable. Your strategy then should be to move to the top-right square as quickly as possible by working on the four attributes key to "doing it right" that I listed above.
The CEO who originally shared this method with me said that if his company's employees stayed in the top left for too long, they ultimately had to leave the team. He believed that it was too disruptive to keep someone around who was getting it done, but not accomplishing it in a way they wanted to reinforce across the team.
Doing it right, not getting it done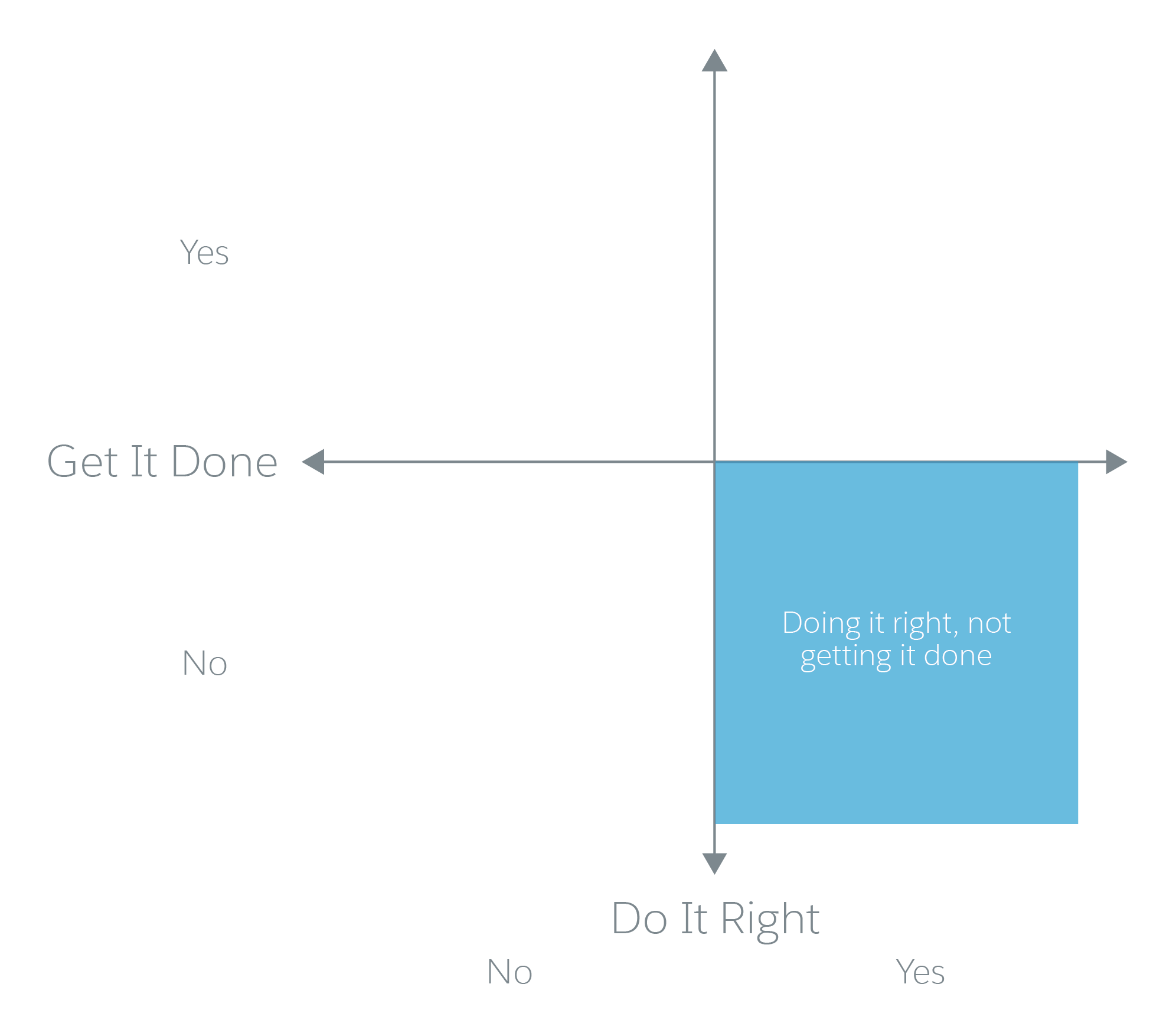 What happens if you're down in the lower-right square? You're doing it right, but you may not be hitting your sales quota. The most important thing here is to be patient. In time, you should be able to move up on this chart.
Make sure you also assess if this is somehow related to skills you need to work on. Maybe you're having a difficult time negotiating or closing off a deal. But mostly, if you're doing it right, have patience with yourself. Sales management should do the same, as this seller is doing the right things and should begin to hit his or her number soon.
Not getting it done, not doing it right

Now this is a rough spot to be in. There are cases where salespeople aren't getting it done and after some self-assessment, realize they're not doing it right. The most important thing sales management can do in this case is focus on moving these sellers into the "doing it right" square. Once again, if people do it right in the near term, they'll start to get it done in the long term.
Try to solve why employees aren't doing it right. Is it because they haven't been trained on what to do? If so, it's on management to articulate what "right" is. Or are they not doing it right because it has been communicated to them, but they aren't listening or executing on it? In both cases, either the manager or the salesperson needs coaching.
"Every seller should aspire to be in the upper right quadrant. This means you're not only getting it done by hitting your quota, but you're also accomplishing this in the right way."


Content published on Quotable is exclusive and cannot be reproduced or republished without the express permission of the Quotable editorial team.
Privacy Statement