Build customer loyalty with every interaction with the world's #1 service platform.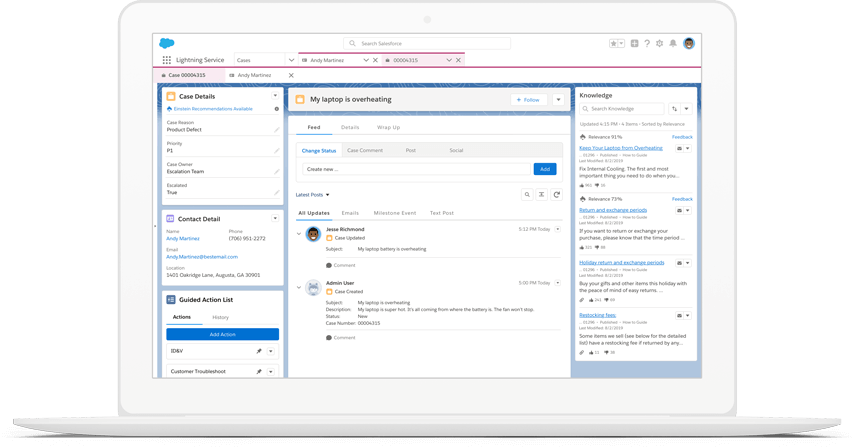 Einstein Article Recommendations
Recommend the best knowledge articles to agents based on case data with an intelligent natural language processing engine across SMS, chat, and other channels.

Provide customers with easy access to multiple support channels. Let them pick their preferred channel from one easy-to-find location without having to search for a "Contact Us" page.

Field Service Lightning: Global Actions
Support Global Actions in the Field Service Lightning mobile app to create a new work order, asset or launch a mobile extension right from the homepage.

Digital Engagement: Messaging for WhatsApp
Empower customers to reach you on their preferred channels, like WhatsApp. Offer on-brand answers to common customer questions. Enhance and automate these experiences with Einstein Bots.

Merge up to three duplicate cases just like you do with duplicate accounts and contacts. Get rid of case clutter and focus on what's important for your business: your customers.

Einstein Bots Enhancements
Unlock granular details about your chatbot sessions and review actionable insights with refreshed natural language understanding and data quality dashboards.

Update multiple records all at once with automated bulk macros, now available in Lightning. Agents can now focus on addressing case spikes instead of repetitive, manual record updates.
Want to learn more about the Spring '20 Release?
Visit Spring '20 resources for the latest in training, documentation, and more. Take the trail to learn more.