"With Salesforce, we can create a sharper business and happier customers. We can try new things quickly and easily, and identify the right trail to blaze."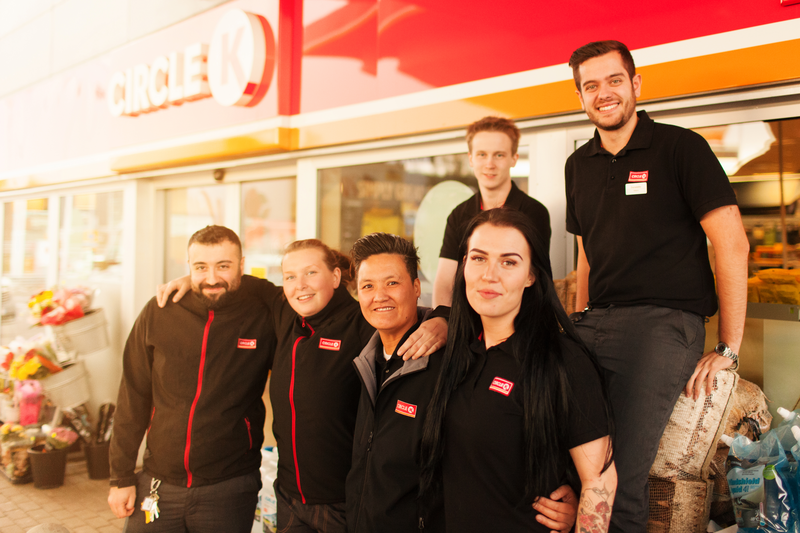 Circle K sharpens its competitive edge with personal customer connections
Stocking up the fridge with groceries. Topping up the car with fuel. Circle K is on a quest to make life easy for its millions of customers around the globe. And that means being a Trailblazer for delivering great customer service across every channel. "We have a shared dream at Circle K; to become the world's preferred destination for convenience and fuel," said Lars Gaustad, Senior Vice President for B2B and Card Sales in Circle K Europe. "We appreciate that our customers' time is precious. We need to show them that we care by delivering a great service and a friendly service."
For Circle K, great service isn't just about improving the customer experience; it's about boosting competitive advantage. "Our approach to customer service is unique; it can't be copied," said Kaisa Bååth, Senior Manager for Inside Sales at Circle K in Sweden. "We encourage our sales and service teams to create personal connections with our customers to help differentiate our business and increase loyalty."
Gaining better visibility of customer relationships.
Circle K makes and maintains these special connections with its customers in the Nordics and Baltics via mobile apps, loyalty cards, social media, and personal relationships. And thanks to Salesforce, it now has a 360-degree view of these connections across eight countries.
For example, Circle K has better visibility of its fleet card programme, which provides its B2B customers' employees with 'cashless' access to fuel while travelling.  "There are a lot of touch points between the first call and the first card purchase," explained Bååth. "With Salesforce, we can track the customer journey and help people start buying fuel faster."
Responding to change faster with a flexible and centralised platform.
Circle K implemented Salesforce in eight business units after an intensive 12-month evaluation. "We wanted a platform and a partner that would challenge us," said Gundars Kokins, a specialist in sales and customer service enablement at Circle K. "With Salesforce, we can respond to changes in the market and customer expectations by updating our processes and products more quickly."
Circle K is already trailing a blaze in its sector by offering drivers a climate-smart alternative to fossil diesel in Sweden, as well as online customer services for managing corporate fuel cards and mobile payment options. "Our company DNA is founded on development, improvement, and entrepreneurship," said Gaustad. "We are continuously seeking to enhance the way we work, so we can 'make it easy' for our customers and colleagues."
Unifying sales people, processes, and performance.
Unlocking richer customer and business insights is key to achieving this ambition. In the past, Circle K had individual customer records for different products, which made it difficult to benchmark performance across geographies and share best practices.
With all B2B customer accounts now centralised in Sales Cloud, Circle K can see if customers have both fleet cards and wholesale fuel deals, and track any pending opportunities. "With Salesforce, we can drive better customer conversations and ensure that we don't miss out on any valuable information during the customer journey," said Marit Skare, Senior Manager for Operational Excellence at Circle K.
Increasing customer yield with richer sales insights.
Smarter customer conversations don't just lead to stronger relationships; they also lead to stronger sales. For example, the average volume of pre-purchased fuel per card has increased with average of 5% since the implementation of Salesforce
"In the past, leads from retail outlets were logged in multiple spreadsheets, which made it hard to identify duplicate prospects as well as existing customers," said Bååth. "With Sales Cloud, we can not only qualify and track leads more easily, we can also analyse our pipeline data more effectively, which leads to better results."
Bååth and her colleagues can access this data via a series of personalised dashboards, which can also be viewed remotely. "With the Salesforce mobile app, I can stay in control whether I am on the bus or in the office," explained Bååth. "I can track customer journeys and sales lifecycles, and react quicker to any issues."

Centralising customer service for a seamless experience.
Circle K is about to enable another step-change in its business by deploying Service Cloud. "We want to close the gap between different departments, so that an inside sales rep in Stockholm can see the same information as an agent working at our customer services centre in Latvia," said Skare.
Every query from both B2C and B2B customers will be funnelled through Service Cloud whether it involves a request for after-sales support, a response to a marketing campaign, or a problem with billing. "By consolidating all B2B and B2C customer-facing services on to a single platform, we'll be able to streamline our processes," said Skare. "We'll be able to see a customer's open cases as well as previous interactions across all channels, which will create a more seamless experience and make our agents proud of every conversation. Acting with pride is core to our company DNA."
A centralised record of all customer service interactions will also make it easier for Circle K to measure customer effort and satisfaction scores, which impact business decisions and team development. "We want to get to a situation where customers don't need to contact us with any queries. And that means making sure they have a perfect experience first time, every time," said Skare. "With Service Cloud, we can transform our customer effort score into something more meaningful and actionable."
Achieving a balance between local customisation and central control.
Once Service Cloud goes live before May in 2018, there will be more than 800 Circle K employees in eight countries, including Sweden, Norway, Denmark, Poland, and Russia, using Salesforce. Establishing an effective platform for such a diverse user base has not been without its challenges. "Bringing together multiple independent business units on to a single system is a massive undertaking," said Kokins, "Working with Salesforce and its partner Fluido, we've been able to achieve a balance between local customisation and central control. One size fits no one but one cloud can fit everyone!"
Kokins and his colleagues use Chatter to track the progress of the Service Cloud deployment as well as other business initiatives and customer accounts. "As a project manager, I need to be able to react quickly. Using Chatter in combination with the Salesforce mobile app enables me to stay in touch while I am out of the office, and view and share updates more easily," said Kokins.
Encouraging entrepreneurship and innovation.
For Circle K, empowering its people to share best practices and ideas is fundamental to its success. With Salesforce, everyone can be an entrepreneur and play a role in the development and improvement of the business. In 2017, the Swedish inside sales team alone came up with 50 new suggestions for how they could work faster and smarter. And with Salesforce, these ideas can quickly become a reality. "With Salesforce, we can try new things quickly and easily, and identify the right trail to blaze," said Gaustad.
With the Salesforce IdeaExchange and Trailhead also inspiring and empowering the teams at Circle K, the retailer is in the fast lane for future success. "With Salesforce, we can create a sharper business and happier customers," said Gaustad. "Satisfied customers will come back time and time again, helping us to achieve our mission to become the preferred destination for convenience and fuel."
Circle K has become one of the most widely recognised convenience store brands, known worldwide for quality products and great customer service. From its humble beginnings in 1950s Texas, the company has grown to operate more than 12,500 stores and employ more than 120,000 people worldwide. 
Processes supported at Circle K
Pipeline management
Card fulfilment
Customer service
Performance tracking
Team collaboration

Keep exploring stories like this one.
Questions? We'll put you on the right path.
Ask about Salesforce products, pricing, implementation, or anything else. Our highly trained reps are standing by, ready to help.