"With Salesforce, we're gaining more insights into the current and future needs of our customers and are able to act on them in the most efficient way. This will help us expand the business in the right direction and keep our customers satisfied."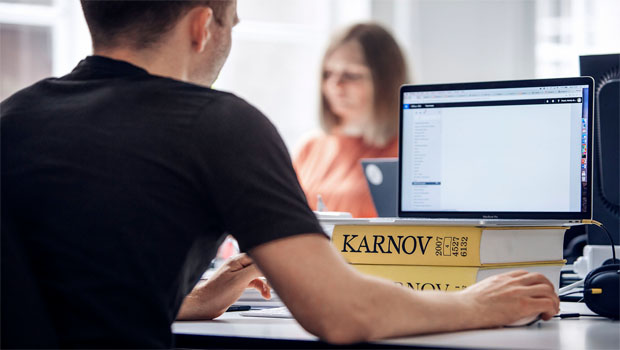 Karnov Group becomes more customer-centric with Salesforce
For the information services industry, digitalisation is not just an enabler: it's a game changer.  And like many other players in the game, Karnov Group has evolved from a traditional ink and  paper publisher to an online services provider. "We deal in knowledge, and the biggest challenge for us is making sure our customers can find the insights they need quickly," said Luise de Kort, Marketing Director at Karnov Group. "Our business is currently in the midst of an internal digital transformation that will help us reach more customers, and help them engage more easily with us."
As well as improving the customer experience, the company's main ambition in the coming years is to broaden its market to helping not  only legal professionals, but others  that rely on legal knowledge, such as case workers in the public sector or financial advisors.
To support these plans for expansion, Karnov Group is reinventing its approach to sales. "With better customer information and deeper business insights, we will be able to put the customer first, safeguard renewals,  and win more new deals," said  Jesper Mortensen, Head of Sales  at Karnov Group.
Getting closer to customers
From legislation and case law to regulatory updates and educational assets, Karnov Group provides legal, tax, and accounting information to businesses and professionals in Denmark and Sweden. The company is renowned for its authority, industry expertise, and innovative technology.
To understand its customers and  engage with them more intelligently, Karnov Group needs good visibility,  but the previous CRM system was  not supporting that need. "Our  legacy solution didn't offer all the features we needed," explained Nina Varming-Petersen, Chief Technology Officer at Karnov Group. "We wanted to offer our internal users a smoother experience – if we are operating effectively behind the scenes, we're better able to serve customers  and invest time in developing  our products."
"We were particularly motivated by the Salesforce platform's flexibility – it's easier to customise and integrate with other systems than our previous solution."
Streamlining sales with better processes
After investigating a number of options, Karnov Group rolled out Sales Cloud and Service Cloud in summer 2016. "We were particularly motivated by the Salesforce platform's flexibility – it's easier to customise and integrate with other systems than our previous solution," said Varming-Petersen.
Sales Cloud is now used by more than 50 sales reps and business analysts across Denmark and Sweden as their central source of customer information and subscription details, and is used to log interactions and customer feedback.
With all sales data captured in the solution, sales reps can see which customers need attention, plan renewal negotiations, and work  more productively. Senior managers can also monitor performance  closely and are continuously improving processes with greater visibility of what works and what doesn't.
"We're optimising the sales function based on the data from Sales Cloud," said Mortensen. "For example, we can slice and dice data by different customer segments to see where we're doing well and where we need to focus more resources. We can also forceast more accurately."
A customer-centric approach to service
With fast and responsive service crucial to ensuring customer satisfaction, Karnov Group has  also deployed Service Cloud for seven customer support agents.
"When a customer calls, the team has a complete history in front of them to help drive more informed conversations," said de Kort.  "With sales and service on an integrated platform, we can take  a more customer-centric approach,  which is a key objective of our  digital transformation.
"To streamline backend processes, Salesforce  is integrated with a number of other platforms,  including Karnov Group's business intelligence application. "The ability to integrate Salesforce  with other systems is really valuable to help  drive change throughout the business," said  Varming-Petersen.
Karnov Group is still in the early phases of its digital transformation, but has big plans for the future.  For example, to further simplify workflows and enable greater collaboration between departments, it's looking to integrate more of its business platforms to enable a fully end-to-end approach. It's also exploring data science to help unlock deeper insights.
"Salesforce is helping us become a better partner  for our customers," said de Kort. "We're gaining more insights into the current and future needs of our customers and are able to act on them in the most efficient way. This will help us expand the business in the right direction and keep our customers satisfied."
Karnov Group is Scandinavia's largest supplier of information solutions for professionals in the areas of legal, tax, and auditing. With brands as Karnov, Norstedts Juridik, VJS, Notisum, Change Board Member, and Forlaget Andersen, Karnov Group delivers knowledge and insights, enabling more  than 40.000 users to make better decisions,  faster – every day.
With offices in Copenhagen, Stockholm, and Malmø, Karnov Group employs 230 people.
Karnov Group is owned by Five Arrows Principal Investments, part of Rothschild Group.
Fortsätt att läsa liknande berättelser
Har du några frågor? Vår personal har svaren.
Fråga om Salesforce-produkter, priser, implementering eller någonting annat – våra välutbildade representanter är redo att hjälpa till.