What Makes Holiday Marketing Campaigns Successful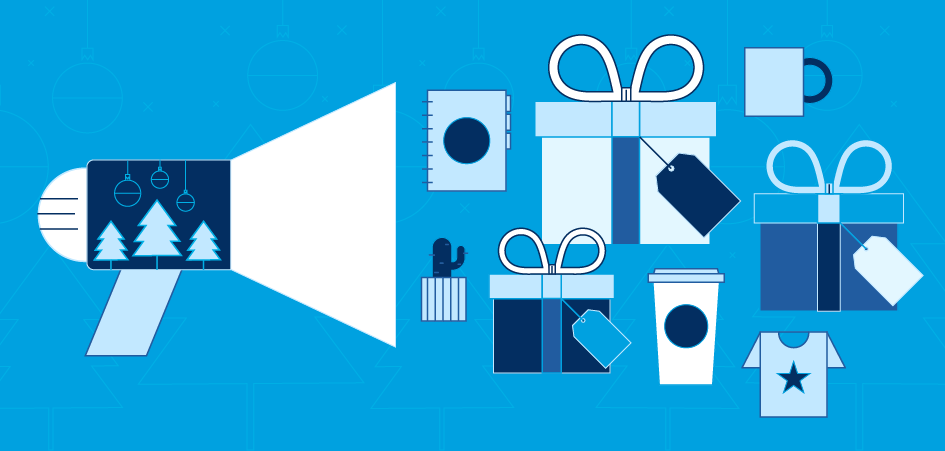 Every day, companies inch closer and closer to the excitement of holiday shopping — for example, "12 Days of Holiday Deals" — and the importance of capitalizing on the busiest retail time of the year.
Roughly 30% of a company's annual sales can occur during the holiday shopping months of November and December. However, in order to spread out their spending, about 40% of customers start their holiday shopping before Halloween. Thirty-four percent say they expect to purchase their last gifts on December 18.
In order to take advantage of these shopping trends, companies need to prepare their holiday marketing campaigns early on their annual calendar. They also have to be smart and strategic in order to stand out in the onslaught of holiday advertising campaigns.
We've assembled a list of successful holiday marketing campaigns. By studying these efforts, your organization can derive ideas to capitalize on the increased spending and stand out in the cluttered holiday marketing landscape.

Consumers know immediately that the holidays are near when Starbucks introduces its holiday-inspired red cups. Every year since 1997, the coffee giant has rolled out its red cups on November 1 to start the holiday season. Over the course of the next 60 days, Starbucks introduces its seasonal holiday drinks, store music, and atmosphere to share the holiday spirit with customers.
The red cups have become a tradition, and they signal that the holiday shopping season has arrived. There is even a Countdown to Red Cups website and Facebook page to document the coming change in seasons.
The best part about this Starbucks holiday marketing campaign? It costs the company relatively little to initiate. Starbucks takes cups they are already producing in bulk and creates a special design for the annual red cup. Yet this simple change has created an almost cult-like fascination and excitement.
Holiday Shopping Lesson #1: Create consistent, identifiable brand campaigns that can excite customers year after year.
Successful marketing campaigns often have repeated, identifiable brand themes. These campaigns do not always require massive financial investments; they simply require a holiday presentation that customers start to anticipate. Other brands that have taken advantage of tradition include Budweiser and its use of Clydesdale horses in commercials, and Hallmark's Keepsake Ornaments collections.
You can participate in this kind of marketing by subtly changing your brand's appearance from November to early January. Redesign your shipping packages, change your physical stores' interior decoration, or add a festive holiday insert to all orders. Companies don't need to invest millions in a holiday-themed marketing campaign when they can add to customers' holiday spirit by redesigning packaging they're already using.

What's the hardest part of holiday shopping for the majority of consumers? Trying to find the perfect gift for the recipient who has everything. This is where gift guides come in handy. Instead of investing in a big marketing campaign, Etsy uses its assets to provide a much-needed service to its customers — and not just around the holidays.
Etsy uses its Gift Guides to funnel customers toward products and packages that fit a specific customer profile, such as "Best Gifts for Dad" or "The Perfect Gifts for the Workout Fanatic."
In addition to helping ease the stress of trying to find a perfect gift, Gift Guides create multiple upsell opportunities. They provide customers with a catalog of products at varying prices, allowing them to purchase multiple products for the same customer profile.
Holiday Shopping Lesson #2: Help customers pick the perfect gift by assembling lists of great products and styles based on customer demographics. This also creates a smart opportunity to upsell your customers on gift items they hadn't originally considered.
Gift guides create an easy way to market your company in a non-salesy way, especially in advertising. Brands can provide immense value to their customers by showcasing products in a manner that doesn't demand they buy a product, but instead positions the company as a partner that wants to help its customers.
A long-standing practice to increase average customer order size is through a special free gift offer. Customers are encouraged to spend a certain amount to receive a small holiday gift or a benefit, such as free shipping. For example, spend $75 and receive a free holiday ornament. Estée Lauder, a cosmetics company known for its Limited Edition gift sets, offers a number of promotions, including free products and services: samples, shipping, returns, and gift boxing. Estée Lauder is far from the only company to offer a gift with purchase, which is known as GWP, but the company famously started using the tactic in 1951.
Your brand can add a small holiday-themed gift from many possibilities: holiday-themed item, buy one get one free, free services or gift wrapping, or free shipping to name a few. Strategically positioning the minimum spend can allow you to encourage a customer to add "just one more item" to their shopping cart. Many companies use this when it comes to free shipping, setting the minimum at three items, for example, slightly more than the company's average order size of two items. This same philosophy capitalizes on the holiday frenzy by promoting the free gift as something that would make for a great stocking stuffer during the holidays, which takes care of one more gift on the customer's shopping list.
Holiday Shopping Lesson #3: Use holiday giveaways as an opportunity to increase the average order value and encourage customers to add additional items to their carts in order to receive the free gift.
High-quality branded holiday gifts such as ornaments, decorations, or stocking stuffers can help raise the average order value during the holidays. Set the giveaway just above your standard order value size in order to increase the chances of customers adding more items to their shopping carts.

Costco and Amazon both participate in this type of campaign, as well as smaller retailers. This classic method helps your company stand out by offering customers a different deal each day during the holiday season. This type of campaign is used to create anticipation leading up to the release of the deals and drive large numbers of traffic to your website each day of the campaign.
The "12 Days" campaign can create a large upswing on a specific product's sales if it's highlighted efficiently and the offer is strong. Choose a variety of products for daily promotion, incorporating holiday-specific gifts and slower moving items, as a way to turn over inventory during a season of increased shopping.
Holiday Shopping Lesson #4: Create daily deals for your customers with strategic initiatives to drive sales.
One way to take full advantage of the daily deals offer is to present it only to certain customers, such as those on your email list or those who like your Facebook page, for example. Your company can promote the upcoming "12 Days of Holiday Deals" for weeks leading up to the release while simultaneously driving customers to the only place to get the details. This will promote subscriber engagement and new customer email registrations.
While keeping the deals exclusive to your email list may limit the overall reach of the campaign, it allows you to strengthen the relationship you have with your current subscribers while building your list in the lead-up to the start of the campaign. Furthermore, every additional customer on your email list provides data points you can use for evaluating future cold customer acquisition campaigns.
Start Early. Be Consistent. Stand Out.
As companies start their holiday promotions as early as pre-Halloween, a successful marketing campaign needs to be finalized, sharp, smart, and memorable in order to capture a customer's attention. For companies to succeed and rise above the clutter of competing holiday campaigns, they need to have their holiday marketing plan in place before summer ends.
Consider using a combination of these holiday marketing tips to provide value to stressed and overwhelmed customers while increasing your holiday order sales. You don't have to break the bank to win this holiday season — you just have to think outside of the box.

Try the retail CRM solution that does everything you've been looking for — and more.
Connect to your customers in a whole new way.