How to Build a Sales Process Flowchart for SMBs

By Danny Wong
Among small- and midsize-business (SMB) owners, one of the hardest things to do is relinquish responsibility to other team members. The company's initial success is a result of their hard work, after all, and relying on staff to execute crucial parts of the business — especially sales — can be difficult.
Of course, it's important to realize that the most successful organizations build processes they can train new employees to use. This means company leaders can delegate tasks, including the art of forging relationships and making sales. To grow your business, it is paramount that you establish a reliable and thorough sales process so you can hire and train salespeople to do the heavy lifting for you at scale. That way, companies are not exclusively dependent on the founders to close deals. Instead, that responsibility can be passed on to eager sales reps who can connect with prospects and convert many into paying clients.
In addition to a formal, explicit sales process, teams also need a sales process flowchart. This documentation accounts for a variety of scenarios that can arise when moving leads through the funnel.
Three Important Definitions to Understand
Before we go any further, let's define three key terms.

Sales Process
The sales process generally consists of steps to move potential buyers from the exploratory stages through to revenue won. Seasoned sales teams follow a structured process to successfully go from one step to the next:
Prospecting

Presentation

Negotiating

Closing

Repeat sales

Referrals
A clear sales process helps you identify patterns and provides insights. For example, you can see where customers get stuck along their decision-making journey, which gives management the opportunity to develop remedies and smooth the process. In this instance, a sales process can help your team reduce friction and convert more accounts.
Sales Process Flowchart.
To determine the right actions to take when a prospect accepts an offer or states an objection, sales teams use a process flowchart. The sales process flowchart outlines best practices for next steps. Think of it as a decision tree for managing your sales leads along each phase of the buyer's journey.
Sales Process Map
In order to expand a sales process and flowchart for use outside of the sales department, experienced sales managers use a sales process map. The sales process map shows the ecosystem that supports the sale. It helps to factor in all the other departments and stakeholders that are involved in the sales process. Among B2B software providers, for example, developers, integration specialists, and technical support associates tend to play a big role in contributing to the long-term success of all new accounts. Marketing also provides support by developing materials that educate buyers on why your company and offerings are the best choice for them.
Now, with a basic understanding of the sales process, what a sales process flowchart is, and what a sales process map is, we can explore more reasons why you need them.
Why Growing Businesses Need a Sales Process Flowchart
A detailed sales process that is tracked and analyzed can help you determine which actions result in more revenue and which inactions consequently lose leads. When businesses establish a sales process, they can also build a sales process flowchart and a sales process map. These tools clearly outline the best-performing protocols sales reps should follow to increase their chances of securing new customer accounts and improving sales figures. In fact, research published in
Harvard Business Review
found that companies with a formal sales process experienced a
28% increase
in revenue compared to companies without one.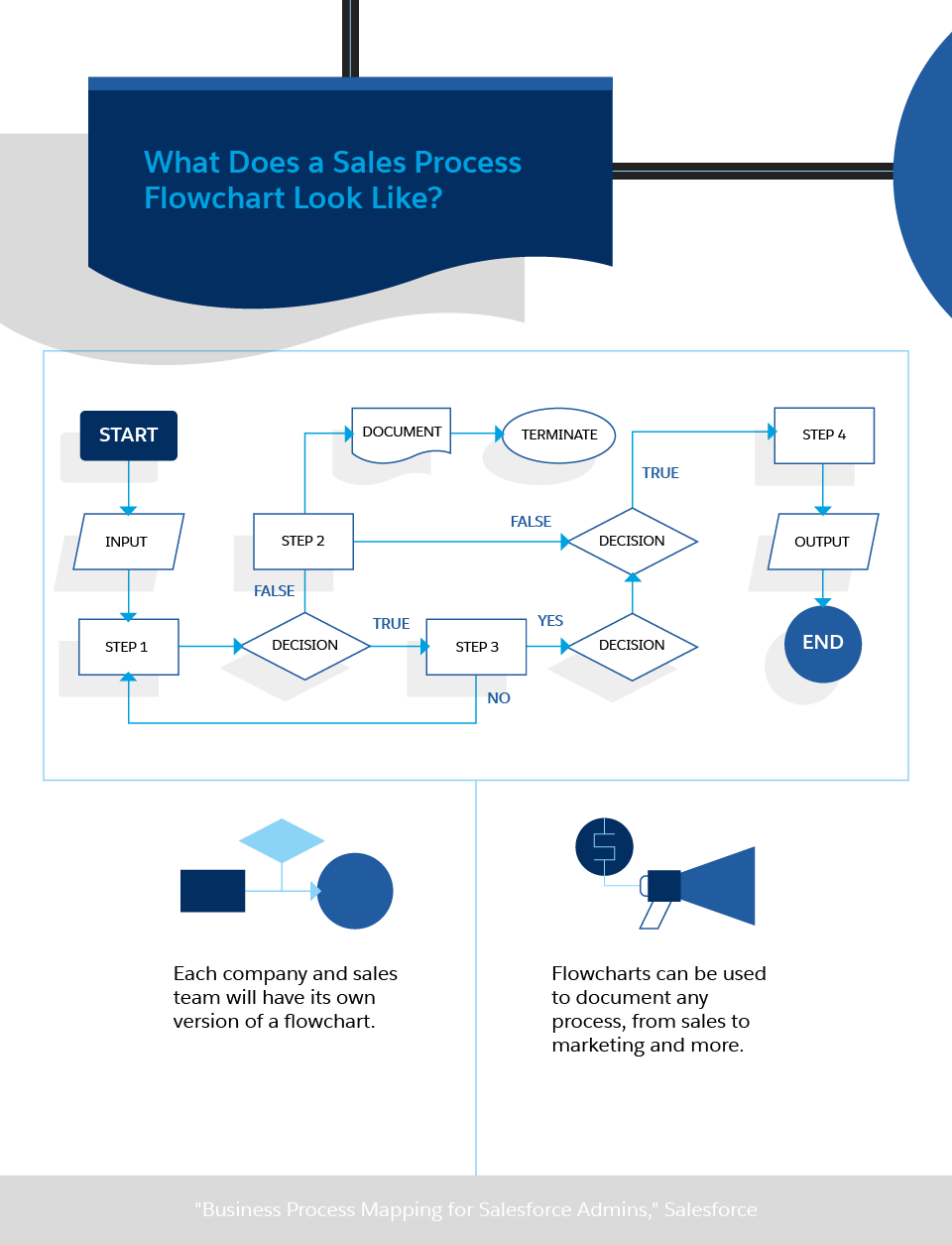 A structured sales process and flowchart give sales teams stability and a consistent approach to moving leads through the sales funnel. They help reps, as well as anyone involved in the sale, provide a high-quality experience for each lead. From a wider perspective, a sales process flowchart helps enforce company branding and tone and makes it easier to plan long-term strategies. Using insights gleaned from these tools, you can pinpoint scalable strategies for your B2B sales, and your sales pipeline and sales cycle become more predictable.
As you scale your sales team, a strong sales process lets everyone know exactly what they need to do to qualify leads, nurture them, negotiate a favorable contract, and then close the sale. When all of your sales staff follow the same established, standardized sales process, your sales forecasts improve. This also gives your team a competitive advantage, since you can more quickly implement wholesale changes across your entire sales department. Salespeople who follow the same companywide sales process can easily adapt when management adds or removes a step, or tweaks branded marketing material and sales collateral. Sales managers can pilot a new process that may have a meaningful impact on metrics, including your closing ratio, sales cycle length, and average account size.
The benefits of a sales process flowchart extend beyond the sales department and include establishing accountability among different departments. The relationship that started before the sale continues after the customer signs the contract. Onboarding, customer service, continued education, and additional sales in the form of upselling, cross-selling, renewals, and referrals are all part of this relationship. Done well, this leaves the customer satisfied and happy to do business with your company.
When you use a flowchart, you facilitate a full-cycle sales process that can boost customer satisfaction and loyalty. Among companies that are eager to grow, an important measurement of customer satisfaction is client retention. A sales process flowchart keeps your team accountable for contract fulfillment, payment collections, after-sales service, and renewals, all of which help maintain and manage your current clients' level of satisfaction.

How to Design Your Own SMB Sales Process Flowchart
A crucial thing to remember when designing your first sales process flowchart is to start small. As a company evolves, so will its sales process. Generally, the steps and branches of the decision tree expand, rather than contract. Thus, for SMBs establishing their initial flowchart, it's important to do the following.
Begin by outlining the most important steps in your sales process and after-sales support.

Keep it to roughly 10 to 15 items to avoid overwhelming your team.

Assign resources and roles to each stage. This ensures that you don't overinvest or underinvest in each customer interaction.

Get buy-in from your sales team and contributing departments so everyone feels comfortable with the new, formal process.

Regularly measure your team's success at each step of the flowchart. Use this data to determine better ways to manage your sales pipeline to generate more revenue, faster.

Add more depth and detail to your flowchart over time to ensure quality and consistency through the whole process.
To complement your sales process flowchart, use technology to automate some of the actions and steps, too. This not only saves time but minimizes human error and provides prospects with exactly the information they need at the most opportune times to further nurture them through the sales funnel.
An integrated customer relationship management (CRM) solution and sales platform can also log each employee's activity in relation to certain customer accounts. This helps you monitor progress through the sales pipeline, prompt sales reps with reminders regarding missed steps, and measure overall results. That way, technology can help your sales team follow through with their tasks more reliably and you can take a more data-driven approach to managing and optimizing your sales process.
As small business owners grow their company, processes for sales, marketing, finance, operations, customer service, and other departments help to better define roles and help you train new recruits. This frees up more of your time to pursue higher-priority projects, including research and development, and other matters that will have a more meaningful impact on your organization.
In using a sales process flowchart and sales process map, everyone on your team can understand exactly what needs to be done to win sales and keep customers long term. This approach keeps your team from omitting crucial steps and helps convince prospects to turn to you, not your competitors.
Embed this infographic onto your site: