5 Tips to Maximise Your Sales Team's Productivity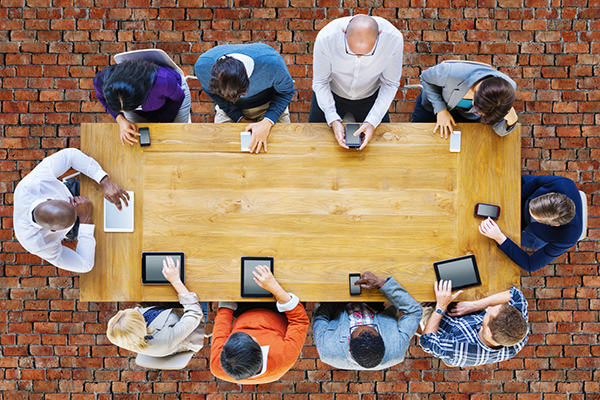 What's a salesperson's most important commodity? Time.
Chasing down opportunities, developing relationships, closing deals – every key sales activity is time-intensive.
And yet, as our recent State of Sales report revealed, the average salesperson only spends 36% of their time selling.
The rest is swallowed by daily admin, service tasks, internal meetings, and a host of other things that – while essential – aren't about connecting with clients and prospects.
So, we asked sales leaders what they do to get the most from every moment, reclaim lost minutes, and maximise productivity.
Here's what they told us:
1. Begin your day the right way
Starting your day well? It starts the day before. Getting a decent night's sleep – 6.5 to 7.5 hours – is a must. And when your team get up, they should be sure to get moving: research suggests exercising for just 30 minutes during a work day can make you 23% more productive.
As the day progresses, regular breaks are crucial. Most people can concentrate for a maximum of 90 minutes at a time – and if you need further convincing, underperforming sales teams are 1.5x more likely than high performers to report a lack of downtime.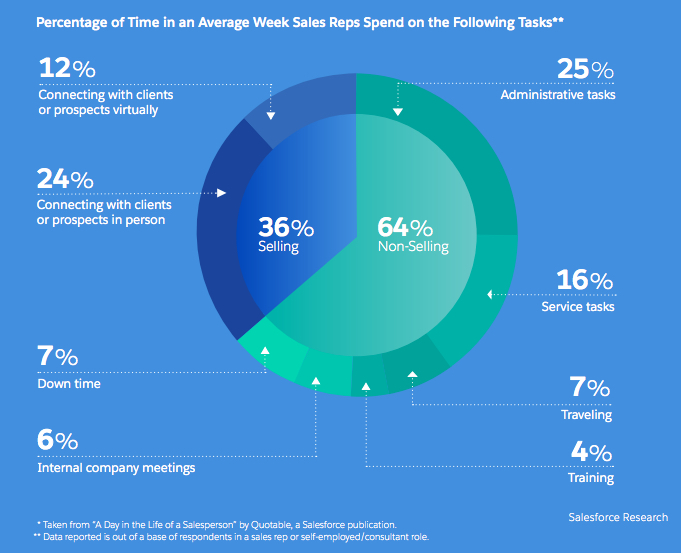 Use apps, wearables, phone alerts, whatever it takes to stop your team ploughing blindly and unproductively on, and take a few moments to regain their lost focus.
2. Go mobile
72% of high performing sales reps say being able to perform sales tasks on their phone is critical to their success.
If you haven't embraced mobile selling, now is the time. If you have, you can still take steps to ensure reps are maximising every sales moment – for example, encouraging them to download important documents and maps before they set off to meet a customer, if they may struggle to get reliable connectivity on the road.
Alternatively, you could make sure you choose a mobile sales app that's also available offline.
And remember, as Colleen Francis, Owner at Engage Selling Solutions, points out: "A mobile selling environment is far more than putting a smart phone in the hands of every member of your team. It's about understanding and embracing a completely new way of doing business."
3. Take control of time-wasting tasks
How long does it take you to send an email? If you don't know, it may be time to find out – research shows 41% of sales people spend too much time on admin tasks.
Once again, apps can help you and your team, tracking how long you give to daily activities, so you can see exactly where you're spending your precious time. You might also want to:
Book shorter meetings – could you cover everything in 25 minutes instead of 30?
Create a strict schedule – what if you only checked your emails at set times of day?
Connect your CRM to your email – how much time do you currently spend switching between applications?
Streamlining sales processes can be a huge help too. According to CEB, 87% of sales leaders are prioritising complexity management, precisely because complexity damages productivity.
4. Get real-time insights
Time may be a salesperson's most valuable resource, but data is a close second – when it's connected to powerful analytics.
High-performing sales people are over 11x more likely than underperformers to rate their team's analytics capabilities as outstanding.
Sales analytics should be mobile, dashboard-based, and real-time. That way, your sales team can open up your CRM, wherever you are, and instantly see their priorities for the next few hours.
5. Automate (almost) everything
From ticking off the actions required at each selling stage, to sharing your details with a contact – automate as much of your sales process as you can.
More automation, means more time actually spent selling. Indeed, high performing sales teams are over 7x more likely to say they've outstanding process automation than their underperforming counterparts.
Productivity heroes – RAM Tracking
One company that's successfully taken sales productivity to new heights is RAM Tracking.
The award-winning GPS vehicle tracking and fleet management solution provider realised one of the biggest hurdles to boosting productivity was its existing IT infrastructure.
With multiple, disconnected, standalone systems, the visibility needed to drive productivity simply wasn't there. So, RAM Tracking turned to the cloud – and hasn't looked back since.
Embracing Salesforce – and the mantra 'If it isn't on Salesforce, it doesn't exist' – the company consolidated on a single, cloud-based platform.
As Scott Chesworth, RAM Tracking's Operations Director, explains:
"We no longer had key information tucked away in glove boxes or in filing cabinets. For the first time, we had real-time access to every step of the sales cycle, which gave us complete visibility and accuracy – in the format that we needed it. […] Overnight it maximised our reps' time with more quality, targeted appointments. So, from a productivity point of view, we're really rinsing every opportunity that we have."
The result of RAM Tracking's transformation? A huge leap in productivity. 30% more sales time is now spent with customers. The company's also seen 50% growth since putting the platform in place.
Moving everybody onto Salesforce has also allowed RAM Tracking to make sales KPIs trackable, visible, and motivational. Here's Scott again:
"We have dashboards at the end of each bay of desks. [...] I can walk through any department, and have a look around, and instantly have my finger on the pulse. […] Everyone's fully aware of what their KPIs are, purely because they can't really get away from them. And that then turns into gamification and internal competition."
Hungry for more?
Check out our e-book, Secrets of the Most Productive Sales People, for more expert tips on selling more, in less time. Or if you're free on April 5th, come and see us in person for our Exclusive Breakfast Briefing: Key Trends Impacting Sales Teams in 2017.