Blaze a trail to success, whatever your business size.
We help small and medium business to sell, reach customers, and improve service.




A single online, scalable platform that will transform your business.
Build an empowered, efficient sales team that drives revenue.
Turn more contacts into customers. Customise your dashboards, integrate your existing tools and automate repetitive tasks to seamlessly manage your sales cycle.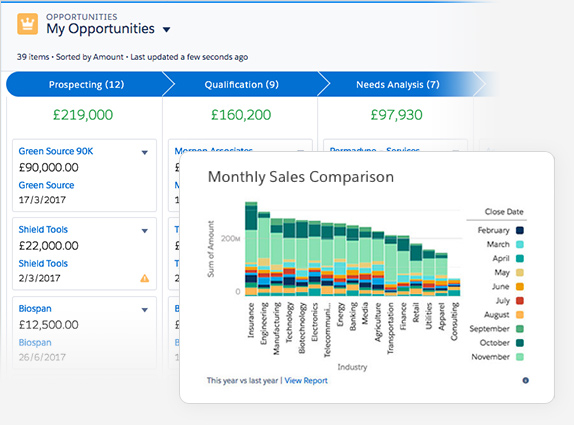 Collaborate to close deals faster with advanced analytics, reporting and forecasting.
Manage every customer service channel from one dashboard.
Scale your customer service capabilities as you grow. Reduce customer response time and build positive, lasting relationships with your clients.


Create marketing campaigns that deliver qualified leads.
Create cross-channel campaigns that work seamlessly to deliver ROI. Make marketing automation, insights, and better measurement key elements of your operation.
Support for every stage of your journey.
24/7 support resources to get you and your team up and running fast.
Connect with Salesforce experts, have fun learning with Trailhead and join a community of customers just like you.

Meet the small businesses growing with Salesforce.
Small and medium businesses like Deliveroo, Epos Now and Dialogue Communications use Salesforce every day to connect with customers. Learn more about why they choose Salesforce and how we helped them grow into the businesses they are today.

Your CRM needs are just as unique as your business.
Request a call back from our experienced team to discuss your individual business requirements, review your current CRM setup, and receive guidance on the right path for you.