Salesforce Webinars
Questions? Call us at 0800 0921223 (Freephone).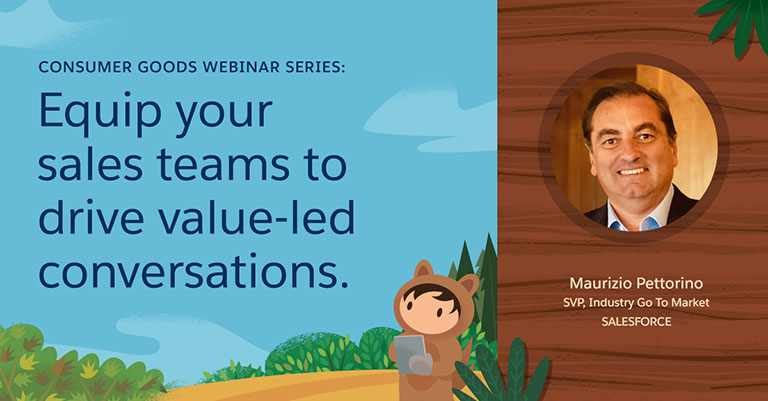 Consumer Goods Webinar Series: Equip your sales teams to drive value-led conversations
Now, more than ever, consumer goods companies are navigating with new ways of doing business. COVID-19 has disrupted everything across the consumer goods landscape, from both consumer and customer demands through to employee, distribution and supplier operations.

According to a recent McKinsey study, "Consumer-packaged-goods manufacturers must anticipate changes in consumer behaviour and set up plan-ahead teams to guide and accelerate decision making."

This webinar, part of our Consumer Goods Leading Through Change webinar mini series, will discuss how we're helping consumer goods companies to return to growth in the new normal. Join us for this online episode as we share how consumer goods companies are :
Maximising the impact of retail execution efforts
Enabling reps to have more relevant conversations, through AI driven assortment optimisation
Transforming order takers into order makers - to achieve better targeted selling
Featured Speakers
Andrew Summers, Senior Account Executive, Salesforce
Ben Mitchell, Principal Solution Engineer, Salesforce
Maurizio Pettorino,SVP, Industry Go To Market,Salesforce

Please fill out all fields.