Salesforce Webinars
Questions? Call us at 0800 0921223 (Freephone).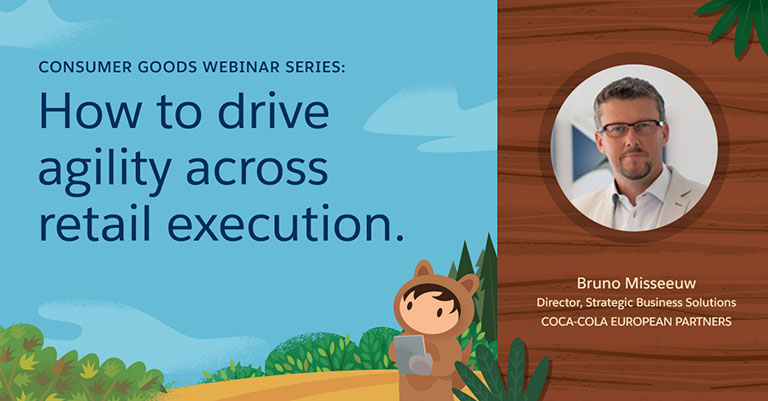 Consumer Goods Webinar Series: How to drive agility across retail execution
As the world enters a new normal the resilience of all businesses is being challenged.

95% of fast moving consumer goods products are sold in traditional retail channels. While consumer goods companies have spent decades optimising distribution, the current disruption across the globe has made it more challenging than ever to deliver for both customers and consumers.

What is the key to delivering flawless retail execution in today's world?
Agility. Brands need agility in their route to market to deliver with market complexities both now and for the "next normal."

Whether it be how you deploy your front line workers, creating always on digital storefronts, portals with critical merchandising information, or delivering service with speed and ease across channels - digital solutions will enable the agility and relevance brands need to deliver.

We see an ever increasing need for digital ways of working and redistribution of execution resources to help our customers and communities flourish as they re-open for business.

In this webinar, part of our Consumer Goods Leading Through Change webinar mini series, we will discuss:
Blend the physical and digital channels to increase coverage , retain granular visibility on retail execution, and ultimately stay closer to our customers.
Encourage our customers to take part in mutually beneficial engagements and share field data and insight to help us help them
Use the power of data to drive real time signal based execution to maximise channel opportunities and plan the right visit for the right store and guide our sales to the right actions to take.
Featured Speakers
Maurizio Pettorino,SVP, Industry Go To Market,Salesforce
Bruno Misseeuw,Director, Strategic Business Solutions,Coca-Cola European Partners
Sally Sabet, Principal Solution Engineer, Salesforce
Please fill out all fields.