Salesforce Webinars
Questions? Call us at 0800 0921223 (Freephone).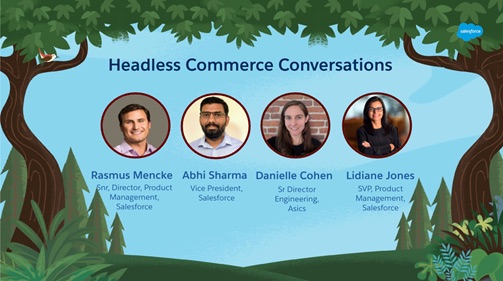 Headless Commerce - The Flexibility to Put Commerce Anywhere
The COVID-19 pandemic has rapidly changed every part of the buying journey, from how customers engage to the platforms where brands need to show up.

This is why it's important for retail brands to embed commerce and engage consumers everywhere – and this is at the heart of the true meaning of the term headless commerce. Whether it be surfacing rich and engaging content on storefronts, implementing buy-now buttons to new social channels, building custom apps, or connecting physical stores with online, it's now essential to meet customers wherever they are now.

Join us, as we discuss why Headless Commerce is the future of retail and learn;
Why Headless Commerce makes your business smarter, faster and more connected
How Headless Commerce impacts your customers and increases CLV
How to get started with a Headless Commerce approach
Speakers:
Abhi Sharma, Vice President, Salesforce HQ
Rasmus Mencke, Senior Director, Product Management, Salesforce
Danielle Cohen, Senior Directorof Software Engineering, ASICS
Lidiane Jones, Senior Vice President, Product Management, Salesforce
Please fill out all fields.