Spend less time in meetings and email, and more time getting things done. Combine your team's work and communication in one central hub that's accessible from every device.
Make it easy to stay organized, and keep work moving with all your critical data at your fingertips, right where you work.

Tell the whole story in one living document by adding spreadsheets, tasks, live apps, and more.
Stop losing discussions in email or chat threads; see them where they belong, linked right to the project. Use Quip's @mentions, inline comments, and push notifications on your phone and desktop.  
Drive your whole project forward within your working doc. Assign tasks with due dates, share with external partners, and watch as your teammates make live edits to documents.
Create dedicated folders for teams or projects, and control who can access the project at the group, folder, and document level.
Make informed decisions faster — with fewer meetings, better meetings, and no messy file versions that slow down progress.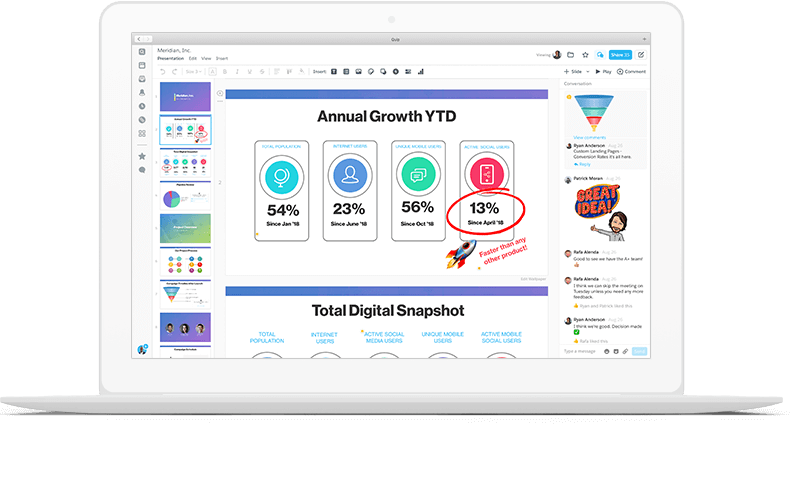 Build slides collaboratively with built-in chat, real-time co-editing, and pinnable comments. Keep feedback loops visible in Quip, not buried in email.
Skip constant updating or copy-and-pasting data — showcase live, always updated data from Salesforce, spreadsheets, and other systems right in your Quip slides.
Use interactive prompts throughout your slides to gather feedback, approvals, and direction from your audience. Send the deck to your team in advance, and you might not need your next meeting.
Use read receipts and analytics powered by Salesforce Einstein to gauge your presentation's traction across teammates, execs, and customers.
Create spreadsheets that drive faster decisions with live Salesforce data, real-time chat, and more embedded in your slides.

Access, create, edit, or discuss your spreadsheets from your phone or tablet. Dive into your spreadsheets offline and merge any updates when you're back online.
Edit, review, and stay updated about your documents in real-time. @mention your teammates to bring them directly into a cell in your spreadsheet.
Sometimes, nothing tells a story better than a bunch of rows and cells. Add spreadsheets to your documents to give the full context and increase visibility.
Never worry whether the data you're looking at is out of date. When something is updated in Salesforce, it's instantly updated in Quip, too.
Turn every workspace into a connected dashboard with Live Apps — embedded tools, apps, and up-to-date data that keep everyone moving forward together.
Give your team visibility into every part of your business. Add live Salesforce records directly to any Quip doc so you can view, update, and discuss any field.
Use Quip's extensible API to build your own Live Apps and create a solution that fits your team perfectly. Build your own Live Apps, and deploy them to your Quip docs, sheets, and slides.
Bring your critical apps — like Box, Lucidchart, JIRA, Dropbox, and more— directly into your docs and slides. Show your team the latest data, update it right from Quip, and discuss with context to make decisions faster.
Escape endless emails and meetings. Use the Quip Collaboration Platform to become a happier, faster team today.