The Quick & The Dead - Why Responding First is Critical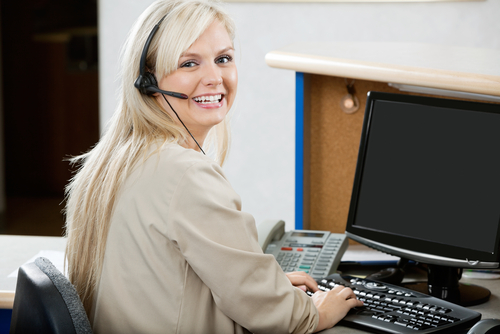 Try this on for size: 78% of new business goes to the first responder. A study of small/medium business published by the Harvard Business Review shows just how high the bar is set in the age of the internet. You either get there first or you're not in the race. Yet few around 16% according to research b2b companies are equipped with marketing automation tools to respond quickly. User-based subscription services have made these tools easy to access and more affordable, so why aren't businesses getting on board?
The folly of lean
In discussing this conundrum with a number of local businesses I kept hearing the term "running lean". Digging a little deeper I made better sense of the expression, which seemed to point to a deep reluctance to invest – a parsimonious twist on the traditional definition of 'lean' (the systematic elimination of waste).
Some businesses rationalised their scrimping on the basis of business size. "We'll invest in better systems when we grow," they said. Others make do with a collection of 'productivity' systems that "do the job" and yet recognise the appeal of better systems, but recoil at the perceived disruption of a technology upgrade. Both positions don't wash. When being the first responder is everything, you're simply not in the race if you don't have the tools to keep up with your competitors.
How fast is fast enough?
When almost everything is at consumer fingertips (blame Google and Apple) you've got to be there – on the right screen. Most businesses agree and have invested in SEO and online advertising to show up to the right people at the right times. But here's the thing – in many cases the money businesses throw at online marketing is going up in smoke. A Forbes study shows 71% of internet leads are wasted, because businesses fail to respond fast enough. So while they're good at grabbing attention, they quickly disappear off the customer radar because they don't have tools that score, track and respond to enquiries quickly.
Harvard's audit of 2,241 U.S. companies shows just how much faster companies must work if they're to bridge the gap between customer expectations and their current performance. According to the research, the average lifespan of an online lead is only five minutes, and if businesses can crunch a 60-minute response time to five minutes they stand to increase contact rates by 900%. There's work to do. So much work to do: the average response time to customer enquiries is 42 hours. 37% of companies responded within the hour, and 16% responded within 24 hours. One quarter (24%) took more than 24 hours, and a similar number (23%) failed to respond at all.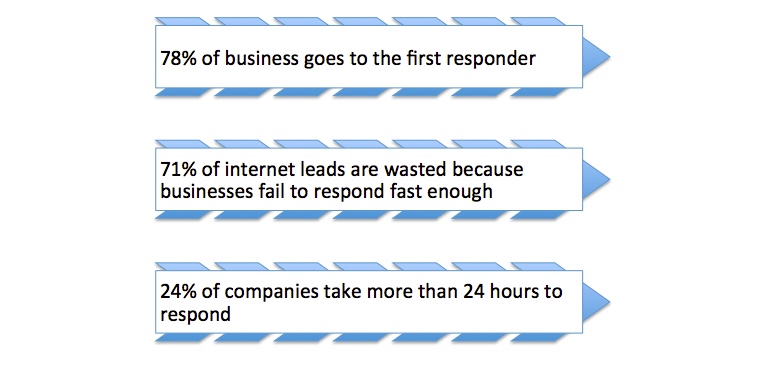 Timing is never perfect
Is there ever a perfect time to invest in new technology? There's not. There's no magic moment, no right size that justifies new investment. But when the numbers are stacked against you, sooner is better. What's more, there's a growing indication that many small businesses are on the cusp of making their first foray into marketing automation. A study published in AdAge found that nearly all (98%) of small-business software buyers are shopping for marketing-automation software for the first time (the same study also found that 47% of small-business buyers were still using manual methods to manage their marketing activities).
What this research doesn't show is a new wave of technology start-ups that have worked with marketing automation from day one. It's part of their DNA. For this new breed of operators, marketing automation is the key to scaling up quickly and, by virtue of the technology itself, installing a sales methodology that keeps them working at the speed their customers expect.
Recently I bumped into Sydney-based Salesforce customer CohenHandler – a small real estate organisation that is changing the rules of real estate and growing like crazy. Serving property buyers rather than sellers, they've grown from start-up to 20-plus agents in one year.
CohenHandler pays special attention to nurturing prospective clients. They cast their prospecting net wide, harvesting leads from a variety of social sites, and more traditional channels, including email, events and website visitors. To do the job, CohenHandler makes good use of Salesforce Pardot – a campaign platform that automates marketing outreach and feeds information into Sales Cloud. Tracking and analytics score prospects, so agents don't end up chasing deadwood. Pardot also makes it easy to maintain a consistent presence in social media. Agents can post to multiple channels simultaneously and track the success of their efforts.
"In the one year that we've been using Salesforce, our revenue grew 150%," said Ben Handler, CohenHandler CEO. "We can take on more people and measure their performance and contribution. Salesforce is instrumental to how we run our business. We'd be dead without it. It's growth without barriers."
Dead without it.
Middle ground is fast disappearing – you're either in the hunt or you're not. Cohen Handler is a classic example – they've got it right and are growing quickly. Yet, by their own admission, without marketing automation they'd be dead in the water.
Small businesses can still run lean but they will need to rethink their investment in technology in order to remain competitive in the future.
For some technology pointers for your business, you can download our CRM Handbook by clicking on it