Transform your business model with a unified quote-to-cash solution.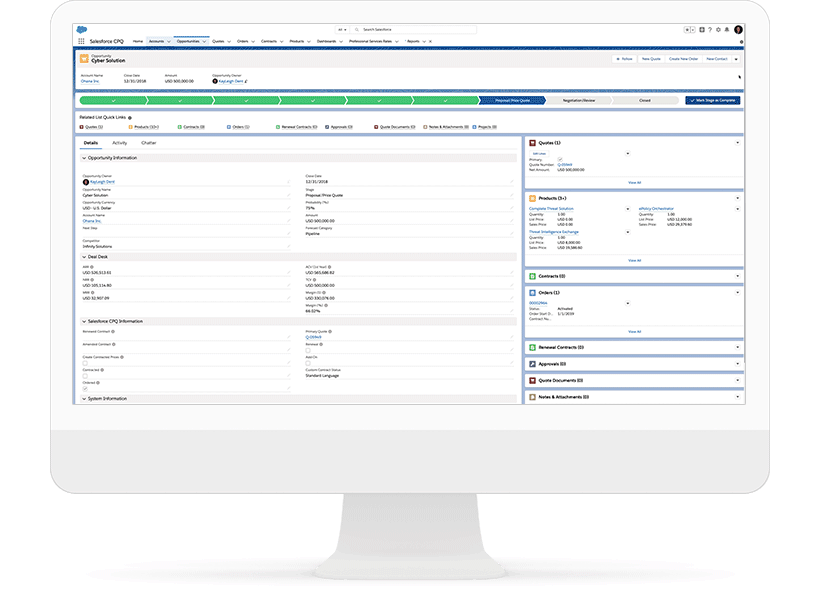 Go beyond single sales to create recurring revenues with CPQ & Billing on the #1 CRM platform.
Get so much more than quote-to-cash software with fully integrated invoicing that's ready in minutes, and perfect every time.
Accelerate direct and channel partner sales with a scalable process.
Turn reps and partners into trusted advisors with easy-to-navigate complex product catalogs
Create customer solutions easily with preconfigured or customized bundles
Model deal scenarios, refine pricing with intelligence, and create branded quotes
Streamline quoting approvals and ensure sales compliance with product rules
"Quoting went from the Wild West to a smooth, transparent process with appropriate controls. And now, it can scale with our growth."



Gartner named us a Leader in the 2020 Magic Quadrant for CPQ.
See how you can transform your quote to cash processes on one platform with Salesforce CPQ.

Align quotes with your customers' needs with subscriptions and usage billing options.
Scale growth by automating contract amendments, usage pricing, and renewals
Deliver on promises with centralized visibility of subscriptions and entitlements
Streamline cross-sell and upsell with price uplifts at renewal and coterminous add-ons
Reduce attrition with automatically generated renewal opportunities
"Having a single view of our customers' assets in a single place, in a single platform that is well-defined architecturally, has helped us significantly. And we'll keep improving on it."



Benchmark: 68% of businesses get 20% or more of revenue from recurring streams
Download the report to learn about the challenges in adapting to a recurring revenue business model.

Streamline quote to cash by breaking down front and back office silos.
Streamline sales order acceptance and easily pass quote details downstream
Automatically consolidate all billable charges onto one, unified invoice per customer
Streamline electronic payments via credit card or ACH
Facilitate revenue recognition by spreading revenue transactions over financial periods
"We estimate the amount of 'dirty' orders — orders that were not complete enough to go forward — have been reduced by 50% or more."


CPQ
Configure, price, and quote software
USD/user/month*
(billed annually)
CPQ Plus
Configure, price, and quote software with increased process control and automation
USD/user/month*
(billed annually)
CPQ & Billing Growth
Integrated quoting and billing solution
Pricing varies on your needs
CPQ & Billing Plus
Complete quote to cash solution
Pricing varies on your needs
Learn the fast, easy way to streamline quoting and automate billing by watching our demo.