"There are a lot of product updates that continuously spark new ideas and possibilities we potentially hadn't thought of."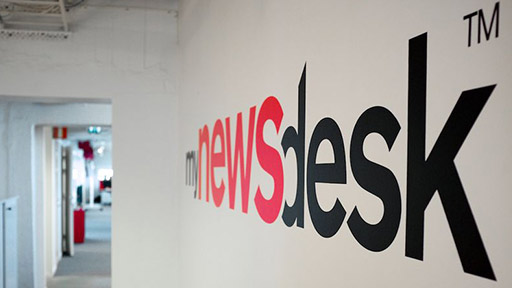 The university of anywhere
When Jonathan Bean, Chief Operating Officer at Mynewsdesk headquartered in Stockholm Sweden, first stepped into the office in 2009, they were only about 20 people - web enthusiasts, journalists and tech innovators - all struggling with the challenge of changing the world of PR into a faster and more efficient industry. The goal was to bring relations back into PR.; Now, merely three years later Mynewsdesk is growing at record speed, spreading its "red culture" through offices in seven countries and helping over 40,000 PR communicators and marketers worldwide with a platform to reach out and engage the most important influencers in their industries.
Mynewsdesk was founded in 2003. After an amazing journey at an a astonishing pace, the company now has 130 employees in seven countries. And once you hear it, you can't help but to be moved by their vision.
Mynewsdesk is driven from the bottom up, which means that employees are encouraged to take part in strategic decision-making and to come in with new ideas. The unique and open company culture at Mynewsdesk is also strongly associated with the color red. Almost everything is red: the logotype, the office rugs and chairs, even employees' shoes.
"The color of love and customer intimacy", Jonathan Bean explains.
"Our culture is very open and we allow our employees to fail because we believe that they will evolve. All of us in the company feel responsibility for driving the company forward providing world class customer service and a unique sales experience", he says.
Social interaction and transparency between departments is vital in an innovative and social company faced with the task of growing internationally at a rapid pace. Mynewsdesk uses Salesforce because it's a CRM system that allows them to work at the speed that they need.
They use Salesforce for a dashboard view over real time performance, cross-functional talks and to link different departments together with the ambition to increase transparency and save valuable time.
"Everything from the opportunity report to forecast feels extremely transparent and visible", says Jonathan Bean.
Kenneth Wagner is in charge of Salesforce at Mynewsdesk. He has been assigned the task of keeping the company a "lean mean fighting machine" when it comes to their systems.
"Salesforce is truly making a significant difference for us as a business, and will continue to be an integral part of it in the future", he says.
With all the transparency from the real time data in the system, he feels it's easy to create transparency, collaboration and increased productivity.. At least that's the ambition.
"What impresses me with Salesforce is how simple it is to manage. Salesforce is easy to use and manage even for business users with little technological background, and can easily be customized and integrated across different platforms"
Salesforce plays a critical role in identifying potential lost clients of Mynewsdesk's online platform. By integrating data with Salesforce, the account managers at Mynewsdesk can now see every client's product usage frequency and pattern. With that information in hand combined with other Salesforce reports, they can identify who needs some more love or training and make direct contact with those customers. The account managers can also keep track on their client portfolio via reports and real-time dashboard.
"Now we have the insight to identify potential lost clients before their contracts are up for renewal. That is a huge advantage for our customer success team who now knows which clients to target first", says Kenneth Wagner.
For a fast-growing company the ability to keep up the pace is important, and with Salesforce, Kenneth Wagner feels that there are always new features and tools in the system and there's available support when needed.
"Their pace of innovation is similar to ours. There are a lot of product updates that continuously spark new ideas and possibilities we potentially hadn't thought of. That encourages us to push our boundaries", says Kenneth Wagner.
Salesforce has made his job more efficient. Reporting from a sales performance perspective has gone from a basic level and from being a time-consuming activity toward a more sophisticated and faster matter.
"Salesforce is more sophisticated than any system I have used before. You can do much more with it, and faster. I think the ease of use and the pace of it is unique", he says.
Fortsätt att läsa liknande berättelser
Har du några frågor? Vår personal har svaren.
Fråga om Salesforce-produkter, priser, implementering eller någonting annat – våra välutbildade representanter är redo att hjälpa till.