Improve first-visit resolution and onsite job management using the mobile solution that delivers real-time collaboration with access to job schedules, van inventory, knowledge articles, and more — with or without the internet.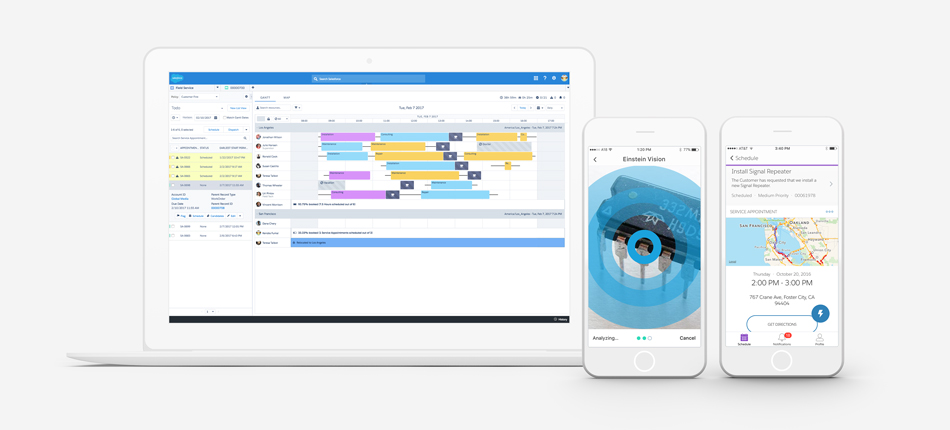 With work orders, you can efficiently track repairs, maintenance, or other work taking place in the field. And work orders are integrated with accounts, contacts, assets, cases, entitlements, and service contracts so you can pull in data across Salesforce.
Dispatcher Console lets you ensure that the right job is assigned and routed to the right mobile employee every time. Immediately see alerts for issues that need attention and take action. Schedule bulk jobs with just one click, and track and monitor the service delivery in real time.
Track information about all of your customers' products with Advanced Assets. Additionally, you can leverage asset hierarchy to track products made up of several parts all in one view. This makes it easier to identify which parts of an asset need repair faster.
Give your mobile employees access to work orders and other key information at their fingertips. With the Salesforce1 Mobile App, service technicians can use automated processes to support a full range of field activities. They can even connect to experts and reports from anywhere and access information offline.
With Smart Scheduling, you can instantly book service appointments from Lightning Console. It also increases employee productivity by automatically assigning appointments to the right technician based on time, skills, location, and business rules.
Salesforce's real-time reporting and analytics let you tap into business data from multiple systems to know more about your customer. Drill down into data on the fly from any device. And gain visibility into agent, dispatcher, technician, and partner performance from a single platform.
You can start delivering lightning-fast customer service in a few easy steps. Plus, access our Success Community to learn from other users, and more.