Amaze your customers with apps that deliver beyond expectations, while giving sales and service reps the customer insights that build deeper relationships.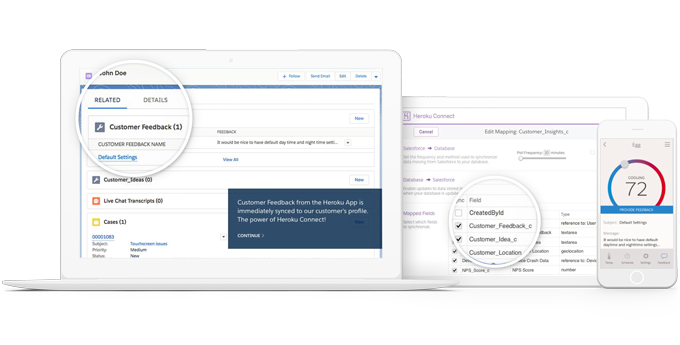 Unleash the art of the possible with mobile and web apps built on Heroku. Give your developers the power to code in their choice of open source languages — including Ruby, Node.js, Python, and Java — so they can quickly design and deploy apps with the kind of interactions and the perfect interface that your customers will love to use.
Connect your web and mobile apps to your CRM to deliver instant sales and service insights to delight customers at every moment. Enable a 360-degree view of your customers that lets employees and partners take actions to drive customer satisfaction and loyalty.
Have a sudden surge in app usage? With one click you can meet the needs of the most demanding, high-traffic applications. And with support for modern architectures, as well as solutions that span Salesforce and Amazon Web Services (AWS), you can deliver real-time experiences with event-driven apps.
Meet even the most stringent industry regulations with Heroku and the world's most trusted enterprise cloud, Salesforce. Plus, with Private Spaces, you can quickly build environments with network isolation and dedicated compute runtimes for enhanced privacy.

See how you can turn ideas into apps, fast on the Salesforce platform.