Gill Payne & Robert Vergunst
Gill Payne is VP Employee Success for the EMEA region at Salesforce. Gill has been with the company for 14 years and has seen Salesforce UK and EMEA thrive and grow to its current size. She is passionate about innovation, developing leadership and scaling our workforce. Prior to joining Salesforce Gill held HR roles in investment banking, consulting and spent 18 months completing an internship in New York.
Robert Vergunst is Senior Director, Employee Success for the EMEA region at Salesforce. Robert is a Human Resource Management professional with more than 20 years of experience in leading organisational development and human resource initiatives, linking human capital to strategic business results. Since joining the company in 2016, he has been a part of the Employee Success Team that has experienced an incredible period of growth in EMEA. Before joining Salesforce, Robert has held leading positions in HR at Microsoft and ABN AMRO.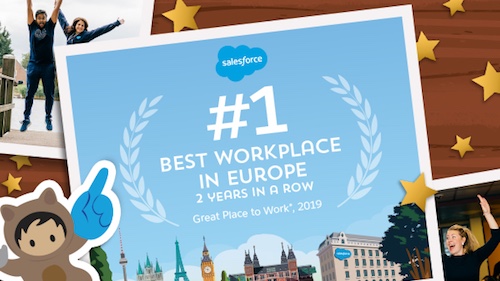 Jun 05, 2019 By Gill Payne & Robert Vergunst
Last night, Salesforce was named the #1 Best Workplace in Europe by Great Place to Work. In the two years that we've been eligible for this award, this is the second time that we've ranked as #1. We're honored by this recognition and know it would not have been possible without our incredibly... Read More