Read why Salesforce Indy made the Indiana Chamber of Commerce's list of best places to work for the third year in a row.
For the third year in a row, the Indiana Chamber of Commerce has honored Salesforce as one of the Best Places to Work in Indiana. Achieving top status for the past three years — alongside so many other great companies — is something we're incredibly proud of.
For nearly two years, I've been on the ground in Indy and experienced first-hand the city's burgeoning tech scene, vibrant culture, and unlimited opportunities. As our second-largest hub, Salesforce Indy has amazing growth potential and a world-class Salesforce Tower (the tallest building in the state!). But, at the end of the day, it's about the people here. The atmosphere is different than any place I've been, and "hoosier hospitality" is for real. From our employees to our customers to the folks I pass on my walk into the office, our Indy Ohana are some of the friendliest people you'll meet.
Our Ohana culture is at the heart of what makes Salesforce Indy such a great place to work. We work collaboratively with each other — and with our customers, partners, and the community — to make the world a better place. Also, we always make sure that we take care of each other and have plenty of fun while we do it.
Salesforce Indy Is Future Ready With a Focus on Volunteering and Workforce Development
The Salesforce Indy team is growing and giving back on an unprecedented scale. Employees based in Indiana have volunteered over 200,000 back to our local communities, with 92% of our local workforce participating in volunteer time off activities. Some of our favorite organizations include Gleaners Food Bank, Habitat for Humanity, Indianapolis Public Schools, The Indianapolis Cultural Trail and Girls Inc.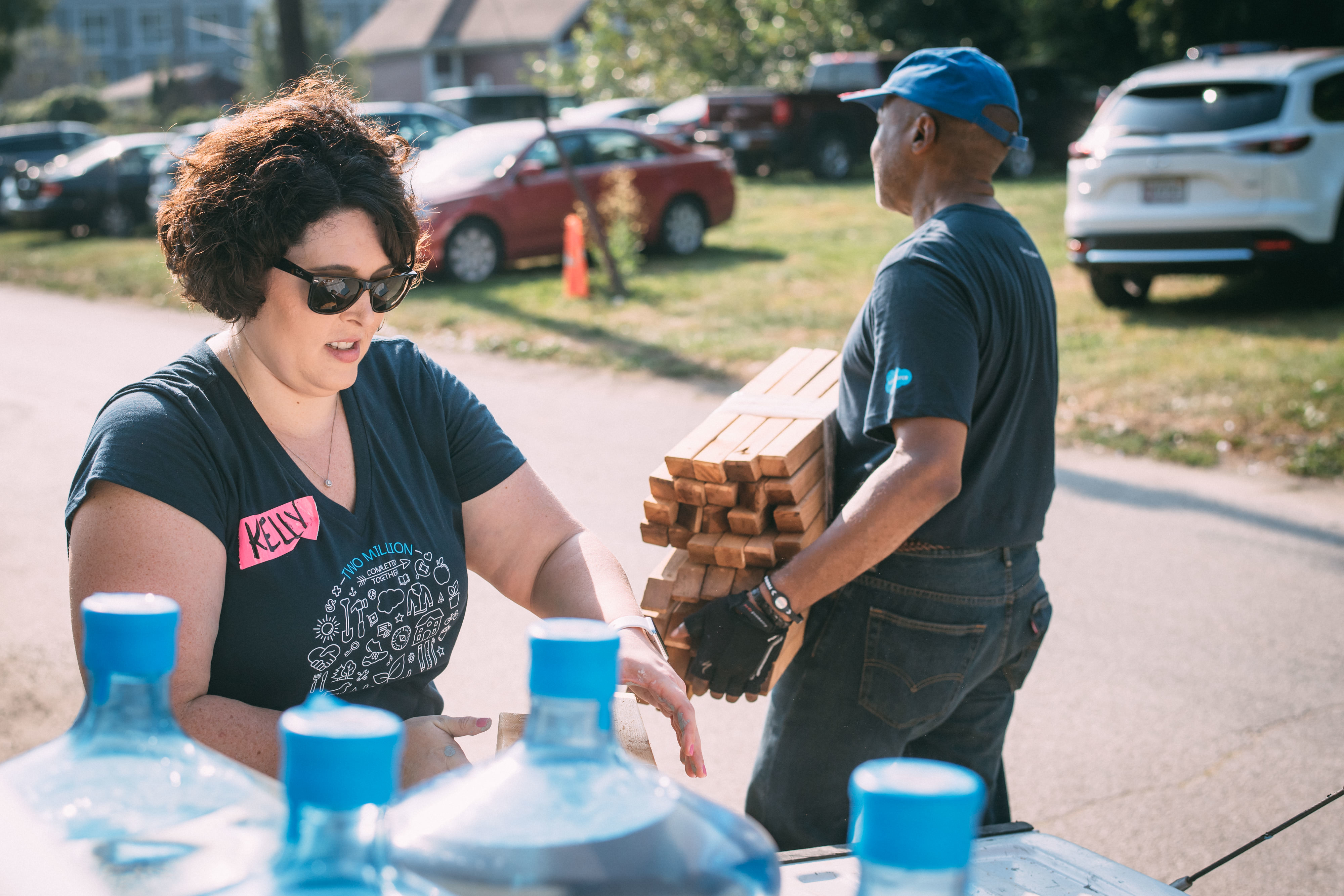 Beyond volunteering, Salesforce.org invests in youth from the classroom to the boardroom, and all the milestones along the way through our Future Ready initiatives. Just this month, Salesforce.org announced a $500,000 grant to Indianapolis Public Schools to support their College and Career programs and the launch of a new Information Technology Academy at George Washington High School. Combined with the power of our employees' volunteer time, we can make a huge impact for students in Indianapolis.
In addition to our philanthropic efforts, I'm especially proud of our efforts to help build the workforce of the future. We've hired interns in Indy for as long as the company has had an office here — even though the "official" Futureforce program wasn't launched until 2013. Our programs cover roles in Engineering, Infrastructure, IT, Sales, Customer Success, and Global Business Operations. This year, we're excited to launch our Futureforce Solution Engineering Scouts program, with 50 scouts set to join our Indy office this July. These new grads will receive six months of hands-on training before being deployed to Salesforce hubs across the U.S.
We put in all of this hard work to ensure our customers are positioned to connect in new ways with their customers in the Fourth Industrial Revolution. A big part of that connectivity comes from our Salesforce Marketing Cloud — and Indy is our home base for that product. While we take our work seriously, we like to make sure we're not taking ourselves too seriously along the way. From #AlohaFridays, to Funforce Events, and Coffee in the Clouds, we are always taking time out to refresh and reconnect with each other. The fact that fun is one of our company values really says a lot about what makes Salesforce Indy such a great place to work.

And what could be more fun than sponsoring a car in the Indy 500 (the greatest spectacle in racing)! This will definitely be a highlight of the year for our whole team and the whole town. There are so many great things on the horizon for Salesforce Indy, and I can't wait to see what we'll do next.


Interested in joining the #SalesforceOhana in Indianapolis? Click here to learn more.