Salesforce MVP 2020 Nominations Are Now Open: Learn How to Nominate
Nominate Trailblazers who go above and beyond to help the community learn, connect, have fun, and give back together to be a Salesforce MVP.
Editor's note: This article is among our most popular, so we've updated it recently to keep things fresh.

Every year the community comes together to nominate Salesforce MVPs as an expression of gratitude for the Trailblazers who go above and beyond to help them learn, connect, have fun, and give back together.
We're happy to announce Salesforce MVP nominations for 2020 are now open, and we're excited to award our new class in just a few months. If you are a Trailblazer Community member or Salesforce employee and know someone who deserves the honor of becoming a Salesforce MVP, we encourage you to nominate them by December 23, 2019.
To help you decide which of your community heroes to nominate here's some background on Salesforce MVPs and how the process works below.
What is a Salesforce MVP?
Salesforce MVPs are lifelong learners who go above and beyond to share their expertise and help the entire community blaze trails. You can learn all about our current Salesforce MVPs and connect with them via the Trailblazer Community Salesforce MVP page.
What do we look for in a Salesforce MVP?
Salesforce MVPs have several common characteristics that make them stand-out leaders within the Trailblazer Community. These include:
Expertise: Maintains a strong, current understanding of Salesforce products and Ohana culture
Generosity: Contributes and responds openly and actively to help others succeed
Leadership: Consistently seeks opportunities to innovate and leave a path for others to follow
Advocacy: Advocates for Salesforce and our core values of trust, growth, innovation, and equality
What do these look like in practice? Here are some real-world examples of how the characteristics of expertise, generosity, leadership, and advocacy come to life as contributions to the community:
Share valuable product expertise and insights through books, blogs, social channels, and Chatter Groups
Help customers get answers fast on the Trailblazer Community — in Answers and Chatter Groups, and responding to Twitter #askforce posts
Participate in programs like Salesforce MVP Office Hours, Mentorship Central, and Community Conferences
Foster and lead exceptional Community Groups
Share insights, ideas, connections, and success stories to inspire the next generation of Trailblazers
Read some examples from last year's nominations.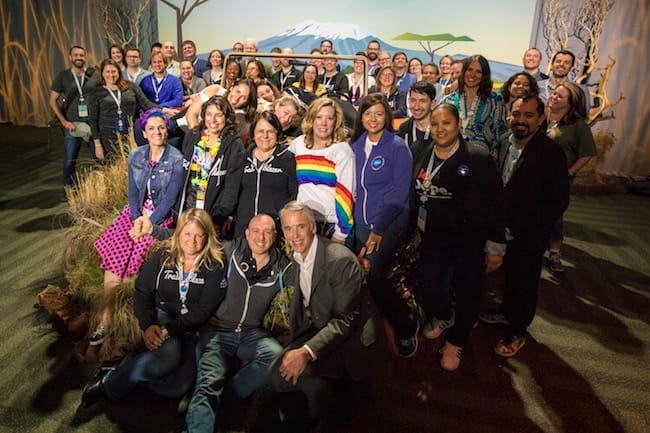 How can you nominate a future MVP?
To be eligible to be chosen as a Salesforce MVP, nominees must have been active in the community for at least twelve months.
The official Salesforce MVP nomination process:
Like everything we do in the Trailblazer Community, the process is designed to be very community-driven! Here's how it works:
Nomination: Salesforce MVP nominations are open once a year for several weeks (this year's nominations will close December 23rd). We receive thousands of unique nominations from community members and Salesforce employees. (Note: it only takes one nomination to be considered!)
MVP Review: Current Salesforce MVPs provide the first round of review on nominations. They are able to weigh in based on real-life experience interacting with nominees in a variety of channels.
Salesforce Stakeholder and Employee Review: Keeping in mind the Salesforce MVP feedback, we review nominations again with a diverse set of people from across the company. This group includes members from teams like Salesforce.org, AppExchange, Alliances, Salesforce Developer Relations, Salesforce Admin Relations, and others. This wide group helps us make sure all communities, groups, and regions are fairly represented. We then meet to review nominations and share stories about all of the awesome things the members of our community are doing.
The Final List: Finally, we create the list of new Salesforce MVPs to be awarded! The new class is notified the night before we make the official announcement on Twitter, in the Community, and on the Salesforce blog.
Keep in mind that participation in the program is reviewed annually, and Salesforce MVPs are often renewed based on their ongoing contributions during the most recent year.
Now that you know all about the program and process, please share your nominations!