3 Field Service Mistakes You Can Fix, First Time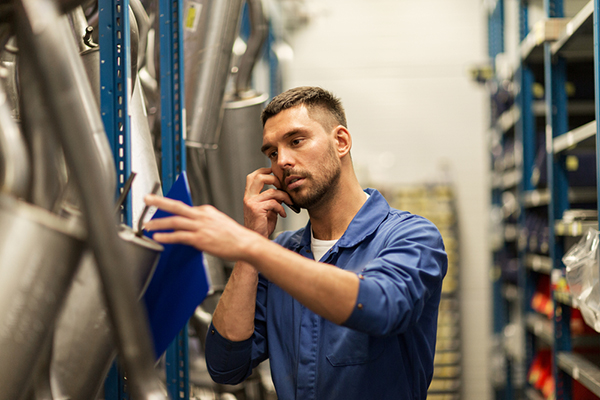 When a field service technician sees their phone light up, chances are a customer is waiting on a quick fix.
74.5% of the time, field service technicians are called out to repair a broken product – not perform maintenance (according to a recent Service Max survey). The 'first-time fix rate' is often called the holy grail of field service, and for good reason.
The customer expects their technician to come prepared, but unfortunately this isn't always possible, and two or three repeat visits are not uncommon.
Delivering a truly connected field service experience, gives you real potential to stand out from the crowd. On average, the top 20% of companies for customer satisfaction achieve a first-time-fix rate of 88%; the next best performers? Just 63%.
Clearly, your first-time fix rate is something your customers really notice. Fix yours, by avoiding these all too common field service management mistakes…
Mistake #1: Failing to come prepared on the first visit
If they turn up without the right parts, tools or briefing to complete the job, your field service agents are left at the mercy of a (hopefully) forgiving customer.
There are countless reasons why a service agent might be under-prepared for the job, but common causes include:
Insufficient briefing on job requirements
Short notice jobs, giving little time to find the right equipment
Poor inventory management
The attitude of 'we can always come back again' doesn't wash, either. 76% of customers have voiced dissatisfaction with field technicians for failing to resolve on a first visit.
And the pain is mutual, as underprepared service agents are needlessly exposed to understandable grief from disgruntled customers in turn.
So, how can you help your agents to be better prepared when they arrive? One option is a connected fierld service system, which connects them over a unified platform in the cloud, for painless job management, scheduling and dispatch.
That means you can communicate with, inform, and monitor agents from any mobile device, and ensure everyone has access to the resources they need to prepare for every job, every time.
Mistake #2: Not communicating with peers and customers
Communication really is key to a successful working environment – and that counts for double in field service. If your service agents are ill-equipped to communicate with their peers and dispatch, how can they ensure a strong first-time fix rate? They can't.
For example: a customer requires an urgent fix within 3 hours of contact, so you assign the nearest technician to the job – only they can't make it in time, as their last job took longer than expected. If they fail to inform their peers, a frantic panic ensues to find a closer technician, leading to a missed deadline or a repeat visit due to a lack of time to prepare.
Poor communication can have a significant impact on service efficiency, and customers recognise this, with 'slow response rates and poor communication' being one of the biggest causes for disgruntlement.
Is this the agent's fault, or is a lack of access to the right communications technology to blame? As of 2016, 52% of service agencies still use manual methods to handle their field agents. These methods leave you and your agents stuck without the means to easily communicate with colleagues', and spot availability in a hurry.
Companies need technology that enables them to see and talk to their entire service landscape. Agents' movements should be monitored in real-time, allowing your team to easily direct and communicate with all technicians for a more efficient, empowered and unified workforce.
Mistake #3: Missing the chance to collate and use field service data
If till now you've seen analysing service data as 'something you might get around to one day', you are not alone. 80% of service providers say they "proactively use less than half of their available data". That's a huge missed opportunity to make each call more efficient and effective, and to impress customers by solving potential problems before they happen.
For example: the same customer keeps phoning in, and your technician repeatedly 'fixes it' – but in reality, they are doing so incorrectly, leading to yet another failure. If your service data was being monitored properly, this trend would be flagged and a different technician could be sent to investigate – hopefully resolving the problem.
Similarly, taking a closer look at service data can help you identify underlying issues at the customer's site – perhaps incorrect use, or a wrong specification. Spotting these causes enables you to act proactively, saving the customer – and yourself – time, money and stress.
Neglecting data also causes trouble for service agents themselves, leaving them without access to the vital insights that can help them fix things quicker, first time. In fact, 38% of service agents say they can't access all the information they need on the job.
With Salesforce Field Service Lightning, we can help you get the most out of your data to improve both the customer and service agent experience. Monitoring and managing agent performance in real time lets you refine your service – while agents get the easily accessible (and plainly presented) information they need to prepare for the job ahead, and recognise underlying issues before they even arrive.
Likewise, if a product is showing signs of repeat failure, both you and your agents will know about it, allowing them to gear up and resolve it, fast.
Field service agents want to do a good job. Help them.
Connecting your service agents not only helps minimise communication frustrations (yours and theirs), but it can have a significant knock-on effect on your overall first-time fix rate.
Agents will have all the information they need to prepare for a job in their pocket, and if they do run into a sticky situation, they can easily update their peers and call for help. They're empowered to provide the quality of service both you and your customers expect – and they want to give.
We designed Salesforce Field Service Lightning to help – and it isn't just for field service technicians either. We have consistently delivered great results for retailers, healthcare specialists and the financial services – offering each the connected, handheld access to provide the kind of service customers notice:
Manage your workforce in real time with one-click scheduling
Access data and customer insights from any mobile device
Create work orders from any case and track job completion, fast
Monitor agents' performance in real time with reports and analytics
Unify your team with transparent scheduling and communication
You know what your customers expect – but you can do more. You'll see the results in your customer satisfaction scores – and your team will be happier, too.
To learn more about improving your field service experience, be sure to read the Transforming the Customer Experience with Field Service e-book.